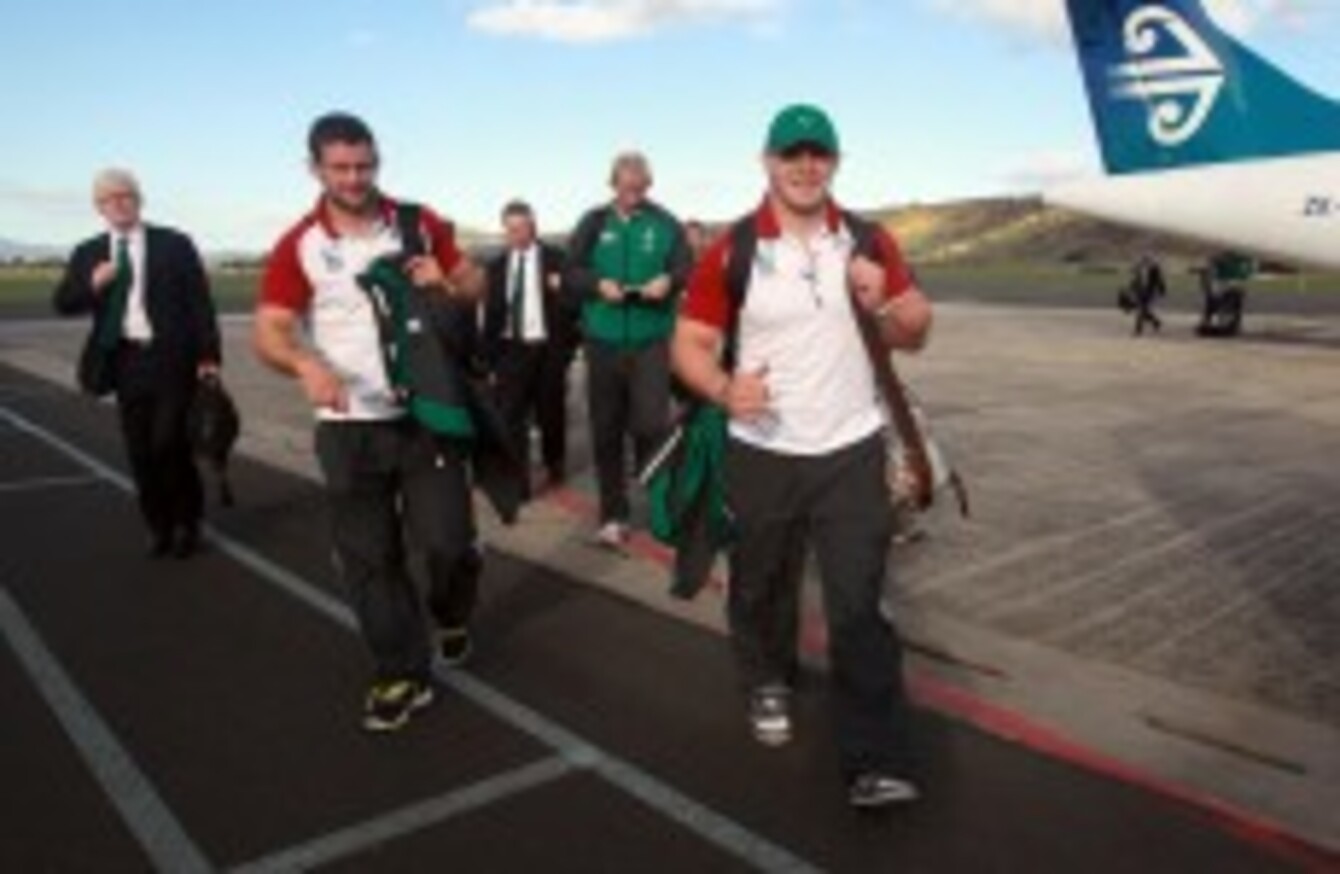 Image: ©INPHO/Dan Sheridan
Image: ©INPHO/Dan Sheridan
THAT'S THAT, SADLY. We had a massive opportunity and we let it slip. To say that we're gutted is a bit of an understatement.
After the disappointment of last Saturday, we flew out of Wellington on Monday but I still haven't managed to make it home yet. I'm not the only one. Myself and a few of the lads have been in Dubai for the last few days, catching a bit of sun and just chilling out.
My initial reaction? This place is mad, skyscrapers everywhere, 30 degrees plus every day.
I've actually got a buddy working out here but I never got a chance to visit before so it made sense to stop off on the way home.  Stephen Ferris, Sean [O'Brien], Rory Best, Sean Cronin and [Denis] Leamy are all here as well so we've got a nice little crew to wind down with.
What might have been
Last Saturday might seem like an eternity ago now, but it's still a tough one to take. I'd known since early on in the week that I wasn't going to be part of the 22 on matchday. I wasn't expecting to get a nod, but I thought I'd done enough to give myself a good shot. When you find out, it's shit, but you've just got to get on with it.
That's probably been one of the strengths of this squad, actually. The lads have always remained positive, even if they weren't playing that much, and put in huge shifts in training to fire up the guys who were going out there to do the job.
We had a team run out in the stadium the day before the Wales game and everyone was looking pretty sharp. If I was putting money on it, I would've lorried into us. All the lads were really up for it, focused and determined.
On the bus out to the ground the next day, hardly anybody opened their mouth. You could sense the concentration. Headphones on, some of us flicking over notes from the coaches. The nerves were there, sure, but everybody's head was in the game.
The dejected Irish team look on (David Davies/PA Wire/Press Association Images)
Like any match, we went out with the intention of getting on the scoreboard first. Obviously, when they scored after three minutes or whatever it was, that plan went out the window. But we had our chances with a couple of penalties not long after.
In hindsight, it might have been a good idea to get ROG to kick the points and narrow the gap but Paulie and Drico know what they're at when it comes to making those decisions and they wanted to go for the jugular by hitting the corner. With the wind all over the place, it would have been a big ask for ROG to nail those penalties from out on the touchline so that was probably a factor as well. You've just got to go with your gut.
When Keith scored to bring us back into it at 10-10, it really was all to play for. Letting Mike Phillips in for that soft try on the blind really rocked us, but it wasn't until Davies went over for the third that I felt it slipping away. There was a good bit of time on the clock and we could've got another couple of chances but we just didn't look like taking them. We were dead and buried.
Tears
It was pretty bleak downstairs in the dressing room afterwards. There were tears. Everyone was just gutted. This wasn't the way we thought it was going to end.
The hardest thing for me to take was sitting there beside guys who will never have this opportunity again. These lads are model professionals who've helped to build a great rugby legacy in this country and this was their last chance. There's just nothing you can say.
When we finally got our stuff together, we headed back to the team room and watched the England-France game but nobody was really in the mood. It was all just really subdued. We did get a little bit of a sing-song going with the friends and family who where there and that brought a bit of a smile back to a few faces. We'd a couple of beers that evening, but that was it.
Exclusive NZ - IRE
Rugby Analysis
Get Murray Kinsella's match analysis and Garry Doyle's updates from New Zealand exclusive to members
Become a Member
The flight — flights, actually — on Monday were a bit of a mixed bag. Everybody just kind of did their own thing. Drico, Leo, Sexto and Reddan have their own mini card school going so they had a few games, and a few of the others watched the films. As for me, I was straight to sleep. Nothing like it.
Two of the Blarney Army in full voice (Junji Kurokawa/AP/Press Association Images)
Envious
As I said, I only managed to get as far as Dubai while most of the lads travelled on home. I was happy to stop and get off for a few days in the sun, but it was a bit of a pity that we missed that marvellous reception for the lads at Dublin Airport.
I texted Rob [Kearney] after they landed and he was totally overwhelmed by the whole thing. Nobody was expecting that, but I reckon it gave them a good flavour of what the mood has been like in the country for the last few weeks. The support has been incredible. It was just a pity that it all came to a rather premature end.
I'll be heading home tomorrow but I think we've managed to time our flights so that we don't miss either of the semis. I'll be glued to both of them and, having beaten us, I hope Wales go as far as possible now.
They're getting ready for a World Cup semi-final while we're half the world away. It's tough and I'm pretty envious.