Ireland players Fergus McFadden and Shane Jennings will pen weekly columns from the squad's base for TheScore throughout their involvement in the Rugby World Cup. Here, the Leinster centre kicks off proceedings.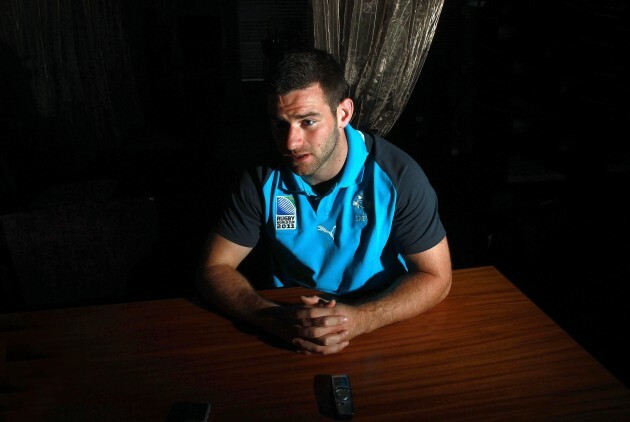 WE'VE BEEN HERE now for two weeks or so and I'm really enjoying it. There was a fair bit of settling in over the first few days in Queenstown… but what a place to start.
It's a beautiful town amongst the mountains and surrounded by beautiful landscape. If there's adjusting to do and jet lag to beat, this is the place to do it.
We packed a lot of craic in with a few bungee-jumps and luging as well as rafting and stuff. We moved onto New Plymouth then last Tuesday ahead of the USA game and were based there for the match.
Compared to Queenstown there's less time for us to do any activities and I suppose that was no harm ahead of our first game and we got a lot of work done.
The USA game itself? We didn't cover ourselves in glory against a fired up USA team on a poor night condition wise, but I think it sets up nicely ahead of Saturday.
We're best when our backs are against the wall and I know there's a lot of people writing us off. We're in a bit of a fishbowl here so we're not too aware of the reaction at home or in the media and that's no harm. We need to focus on what we do ourselves. Clearly we have to up our game for Australia but we're in with a great shout.
Bunk-up
I'm back rooming with Rob Kearney this week. I was with him the first week in Queenstown. He can be a messy, messy guy – but sound. I was in with Eoin Reddan in New Plymouth and now that we're in Auckland, I'm back in with Rob.
We didn't get to see the All-Ireland hurling final. Donnacha Ryan, one of the rubbers Willie Bennett and Denis Leamy were very keen to see the game but couldn't find it anywhere in the town and had to rely on internet updates. I think they planned on catching the highlights on the RTE player later.
As a Kilkenny man though it was great to see Tipp well beaten. I'm sure there's a few Dubs in the camp that will hope to be celebrating on the double this weekend.
There's a fines committee in place within the camp, so if anyone turns up at something in the wrong clothing or maybe uses a phone at meal times, there's a $10 fine.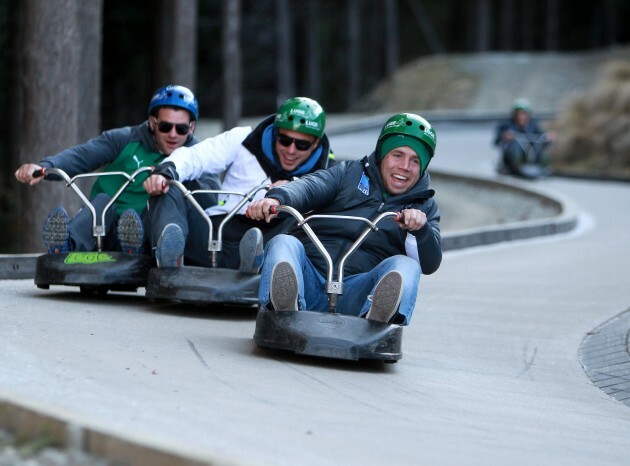 Issac Boss, Tommy Bowe and Fergus McFadden during some down time in Queenstown. (Inpho/Dan Sheridan)
If it happens again though there's a special dice with different options which comes into play. You have a two-in-six chance of getting out of the fine, there's a roll again side and then there's the dreaded forfeits.
Each player wrote a suggested forfeit on the back of a card before the tournament. I put down a head-shaving, there's 'get an earring' and some other ridiculous options.
Sean O'Brien is the only one to get that far yet – he'll have to play a €250 'out' – as it's called-  if he wants to escape a spray tanning to his legs.
'They have some real game-changers…'
There are mixed emotions within the squad when a team is announced. It goes without saying that everyone wants to start the game but even for those not in the first XV, there's a part to play and at the end of the day the goal is the same: an Irish win.
I watched Australia a lot myself, in the Tri-Nations especially recently. They won the last game against New Zealand and will no doubt take an awful lot from that as the All Blacks are most people's favourites for the World Cup.
But anyone can be caught on any given day. They have some real game-changers in the likes of Cooper and Pocock at seven and they're a young team. But when you look through our team, we have a lot of winners too and a lot of experience.
It's a massive occasion and I'm really looking forward to it.