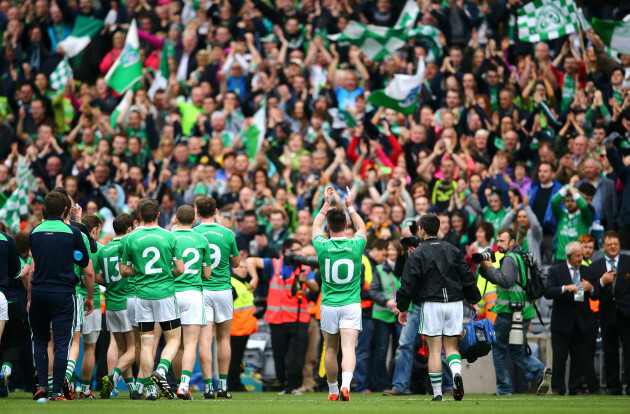 Cathal Noonan / INPHO Cathal Noonan / INPHO / INPHO
AS PETE MCGRATH sat in the bowels of Croke Park, beaten but proud nonetheless, he offered the first glimpse at Fermanagh's plans for 2016.
"I think an Ulster title is everyone's ambition," he pondered.
"Why should Fermanagh not be able to stand up and say, 'Our objective for next year is to win our first ever Ulster Championship?'"
McGrath could not have set forth such a lofty ambition in 2015 — not publicly, at least – but that is a measure of how far his team has grown.
After clinching promotion to Division 2 in the spring, their fairytale championship started with a first provincial win since 2010 — and ended with them scoring 2-15 against eventual All-Ireland champions Dublin in front of almost 60,000 in Croke Park.
The season wasn't without its disappointing moments. Who knows what might have been that day against Monaghan, whom they trailed by just three points before Ryan McCluskey's red card took the wind out of their sails?
It was after that defeat in the Ulster semi-finals that McGrath sat his men down and outlined new objectives for the season. It was 21 June; this team wanted, was capable of, and deserved, to still be playing football in August.
Three wins in the qualifiers and they would have a place in the last eight of the championship.
Presseye / Andrew Paton/INPHO Fermanagh manager Pete McGrath. Presseye / Andrew Paton/INPHO / Andrew Paton/INPHO
Coming from five points down to beat Roscommon a few weeks later gave them every reason to believe. They never stopped, not even when they came toe-to-toe with the Dubs.
There were two ways to play it. They could take a leaf from Westmeath's playbook and try to contain Jim Gavin's free-scoring favourites, a route which would most likely end in defeat.
Dignified defeat, but defeat nonetheless.
Or they could stick to the gameplan which had carried them to that point and trust their system. If they were going out — as everyone told them they would — they may as well be carried out on their shields.
"We were confident in our abilities and the style we play," defender Tiarnan Daly recalled.
We knew that if everyone is on top of their game that we could push this Dublin team. We didn't really change from the way we played the whole year because we had a system and fellas knew what they were doing.
"We weren't going to change what we could do. It was more like, 'We know what we can do, let's go out and prove it.'"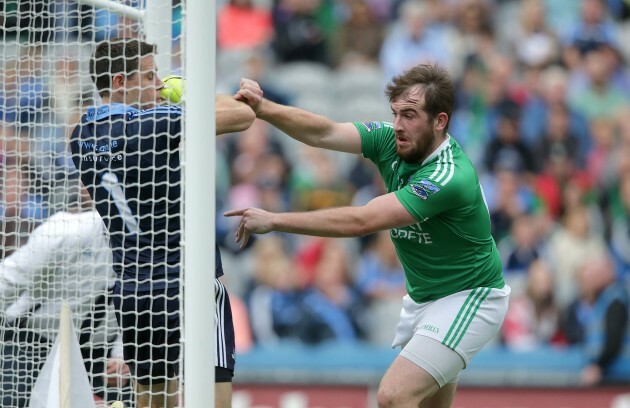 Morgan Treacy / INPHO Sean Quigley shoved Stephen Cluxton into his own net. Morgan Treacy / INPHO / INPHO
This was no day for underdog stories or Hollywood endings. Bernard Brogan scored an early goal to quell any nerves, and with 10 minutes to play, the Dubs were up by 13 points and cruising.
But after putting in the hard yards to hit their target, Fermanagh weren't about to roll over and allow themselves to be disgraced. There was an element of good fortune about their first goal, when Sean Quigley shoved Stephen Cluxton back over his own line, but they cut the deficit to eight and left Headquarters with their heads held high and their sights set on bigger and better things to come.
Daly will have to win his own personal battle first before concentrating on any county ambitions. He suffered a serious knee injury while in action for Trinity College and faces a long road back to full fitness.
"The calibre of the counties that play, there is very little between all the players," Daly explained after the inter-county season.
"It's maybe a mental thing that you've seen them so often on TV and they have won titles that might just creep in, but you have to believe in yourself that you are the same as any player from any county be it Tyrone, Donegal, Kerry and Dublin.
You are still an inter-county footballer, doing the exact same training and when you get out there maybe there's an awe, but you get that out of the way. You just realise you are there to play a game and not just stand and watch great footballers because you know yourself and your team are great footballers too.
It was the end of a rollercoaster campaign, one that will be fondly remembered alongside the unforgettable 2003 and 2004 journeys, and no mean feat for a county with just 60,000 people and 18 GAA clubs.
The image of players and staff marching towards Hill 16 to thank the small but loyal band of supporters who followed them all the way was one of the defining ones of the championship.
It drew a few media pot-shots, with Jim McGuinness painting their reaction to defeat as accepting a culture of mediocrity.
But for Fermanagh, this wasn't relishing in failure. It was a recognition of how far they had come.
"It wasn't really celebrations. It was more respect for the fans that had followed us from the very beginning," Daly explained.
"We had a great turnout from them and it was a recognition of them more than anything.
Your season finishes with your county when you lose in the All-Ireland championship and that was the quarter-finals for us. It had been a long time since we had been there before. It was right that we could hold our heads high and that we gave a good representations of ourselves and our county and our families.
"Maybe I thought it was a little bit unjust they way we were treated because we didn't do anything wrong.
Morgan Treacy / INPHO Morgan Treacy / INPHO / INPHO
"Of course you are disappointed. I was very disappointed and you never want to go out to any game and lose. When you got that sort of flak you just think, 'What was the point of that?'
"That was a bit harsh in my opinion that it was deemed we were celebrating our loss which it wasn't. We were celebrating a phenomenal year we had."