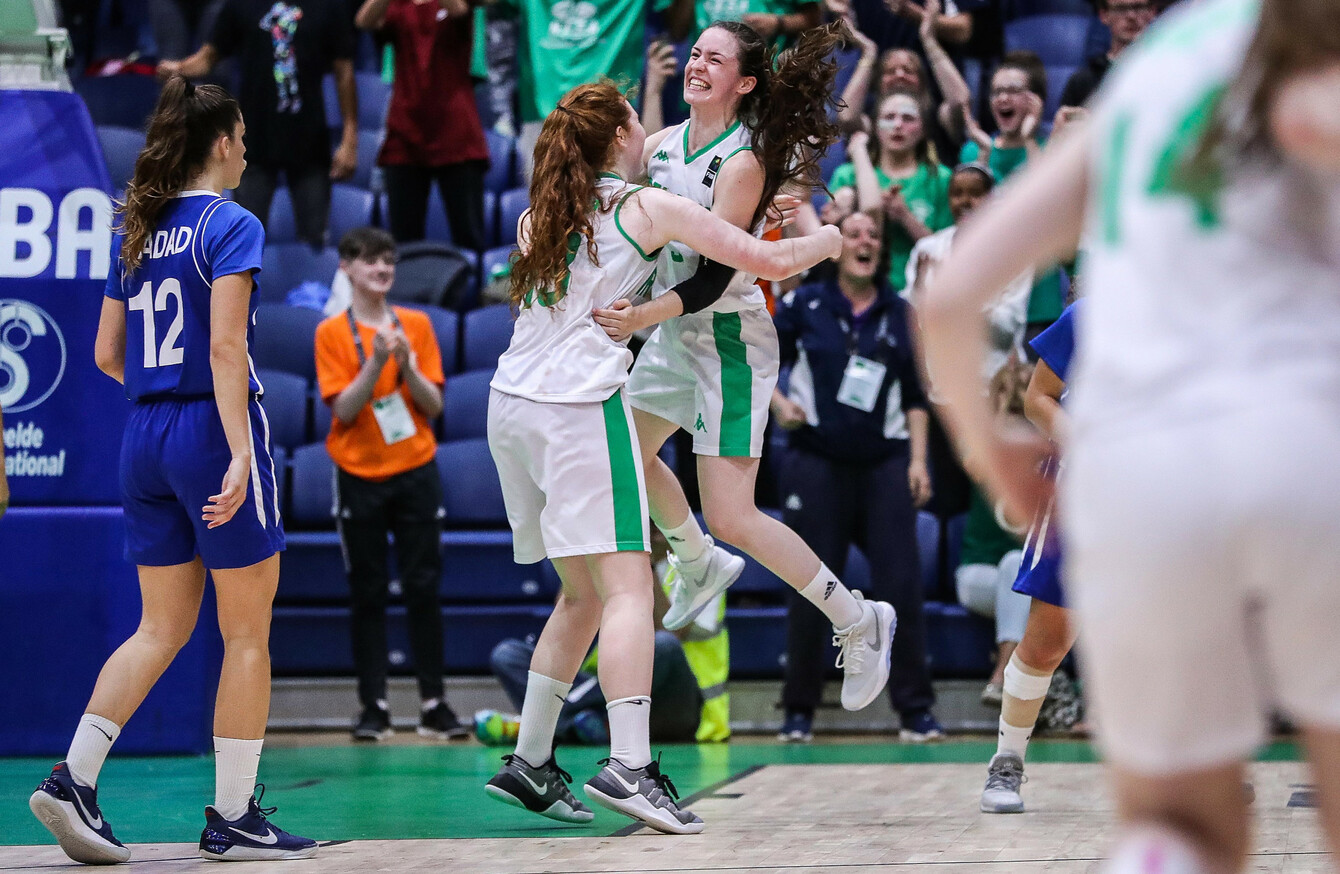 Image: Tommy Dickson/INPHO
Image: Tommy Dickson/INPHO
THE CROWDS WERE on their feet at the National Basketball Arena in Tallaght this evening as a capacity crowd was on hand to witness history being made in Irish underage basketball.
The Ireland U18 women's team are the first underage Irish basketball team in history to reach the semi-finals of a FIBA European Championships and did so in thrilling fashion with a 60-55 win over Israel. Next up for Tommy O'Mahony's charges is an equally challenging semi-final against Poland on Saturday evening at 6.15pm – which leaves no time to reflect on taking Irish basketball to new heights.
"We would have come into this tournament with aspirations of making the semis," said the delighted Head Coach. "These girls have high expectations for themselves. It would be nice to celebrate a little but the fact is, we are straight into preparing for the next game. That's the challenge and we are up for it."
Both sides looked under pressure in the opening exchanges – Ireland from expectation and Israel from the hosts' sheer intensity. Rachel Huijsdens broke the deadlock and Dayna Finn drained a three-pointer for Ireland to take the initiative in the second minute. There was both craft and graft in Ireland's first quarter, with Claire Melia's ability to improvise in distribution giving her side an edge to lead at the buzzer, 18-16.
It was clear that Israel were at another level to Ireland's previous opposition. Four of their starters were up against Russian, Italian and Turkish opposition in last year's Division A Championships and on a mission to regain promotion at the first time of asking. Israel's penetration was starting to wear down the Irish rear guard and shooting opportunities started to open up with Nikol Mihailetz picking off six points and Hadar Hadad driving full court to put Ireland behind for the first time in the tournament. Israel held on to lead 33-31 at the turnaround.
Ireland found another gear in the third quarter. Rachel Huijsden's reintroduction helped to make the ball stick on offence and Ireland exposed a weakness in the low post. Bronagh Cassidy's 12-footer gave Ireland the lead 2 minutes in and Sorcha Tiernan capped a 12-0 run to put eight points between the sides. Israel's shooting prowess kept them in touch and a pair of three-pointers left it 49-46 heading for the final quarter.
The fourth quarter began and Israel missed nine consecutive attempts before Shirelle Berman left it at 54-50 with 3:28 remaining. A massive three-pointer from Maeve Phelan had the crowd chanting Olé Olé Olé and they held on to win 60-55. While this side certainly aren't finished yet, their place in history is assured.
Meanwhile, there was also a huge win for the Ireland U16 men's team in their second group game at the FIBA U16 European Championship Division B in Bulgaria earlier today as they overcame Slovak Republic 54-49 in a thriller. The squad had to bounce back quickly off the back of their narrow loss to Hungary last night, and they did so in style, with double-doubles from both Paul Kelly and Sanmi Fajana.
The side now face Norway tomorrow in their third group game. Speaking afterwards, Head Coach Pat Price said: "I'm delighted for the team. They felt that they left last night's game behind them so the first battle we had today was a mental battle and they did well with that. Our defence kept us in it when our offence went slack and there were huge contributions from our bench today too.
"We've been taking it one game at a time, but we will need to go to school on Norway a bit tonight. Day three is always tough, you have tired legs out there. We're taking nothing for granted out here. Norway are a big side and we will have to contend with that."
The FIBA U18 Women's European Championship Division B in Dublin is proudly supported by Sport Ireland, Fáilte Ireland, BBX Ireland and South Dublin County Council.
You can watch Ireland's victory over Israel in full below:
Subscribe to The42 podcasts here: