AS HIS PLAYERS exploded in joy down on the pitch in Saint-Étienne, Fiji head coach Simon Raiwalui sat back calmly in the coaches' box up in the stand and removed his spectacles.
Clearly, he wasn't surprised. Raiwalui has been around the block in rugby and so, he would have known from quite a while ago that this Fiji squad had a big World Cup in them.
Their win over Australia must go down as an upset given the Wallabies' history in Test rugby but this was far from the most shocking of shocks. Fiji came into Pool C as the top-ranked side, having beaten England in Twickenham in their final warm-up game after enjoying a clean sweep of their Pacific Nations Cup games.
Still, to pull off a win like Sunday's 22-15 success just a week after their agonising defeat to Wales was deeply impressive from Fiji. They went to the well against the Welsh and came up short in a game they probably should have won, then they produced an even better performance to down Eddie Jones' Australia.
Having notched two losing bonus points against Wales, there's no doubt that Fiji are in a nice spot heading into their break weekend. When they get back into action, they conclude their Pool C campaign with games against Georgia and Portugal, both of whom they'll be fancied to beat.
A quarter-final beckons, with two bonus-point wins guaranteeing a knock-out spot, but Raiwalui seems like the right character to keep this Fijian group focused on what's directly in front of them.
One of the most striking features of this Fijian team is their discipline, both in terms of not giving away silly penalties but also in collectively adhering to a game plan that balances their attacking instincts with a focus on kicking well and putting the opposition into pressurised spots.
Having kept their penalty count to nine against Wales – anything under 10 is good – the Fijians conceded just seven penalties against Australia, limiting the Wallabies' chances to kick points or gain territory. The IRFU's Johnny Lacey, through World Rugby, has been helping the Fijians with their discipline for this World Cup campaign and has clearly done an excellent job.
Photosport / Andrew Cornaga/INPHO Sam Matavesi in Saint-Etienne. Photosport / Andrew Cornaga/INPHO / Andrew Cornaga/INPHO
In contrast, the Wallabies conceded a whopping 18 penalties and Fiji kicked 15 of their points from those penalties.
Scrum-half Simione Kuruvoli's goal-kicking accuracy was a big part of this win. When first-choice out-half and goal-kicker Caleb Muntz was injured before the World Cup, there was concern but Kuruvoli was superb from the tee, slotting five from five.
The Fijians kicked maturely out of hand too, finding grass in the Australian backfield on several occasions, while also exiting out of their own 22 very well. As with goal-kicking, tactical kicking has sometimes been a weakness for Fijian sides in the past but this team appreciates how important this area of the game is.
Indeed, the only Fijian try of the game came directly from a box kick down the left. They needed an Aussie botch job to lend them a hand but the outstanding Josua Tuisova was on hand to claim the bouncing ball and streak away.
The Fijian kick chase was relentless all day and they do look fitter than ever before.
Defensively, it was a superb day for Raiwalui's side. They conceded two tries but there were many moments of resilience and technical quality without the ball. Australia only made three linebreaks in total and the Fijian ferocity at the breakdown was a constant thorn in their side.
Fiji won six breakdown turnovers, while also turning the ball over in the tackle on a couple of occasions, as centre Tuisova, openside Levani Botia, wing Semi Radradra, and lock Te Ahiwaru Cirikidaveta all made their presence felt. So often, big Fijian steals at the breakdown seized momentum back.
There were some weak tries conceded against Wales, so clearly Fiji were out to make a point in defence last weekend. They certainly did that.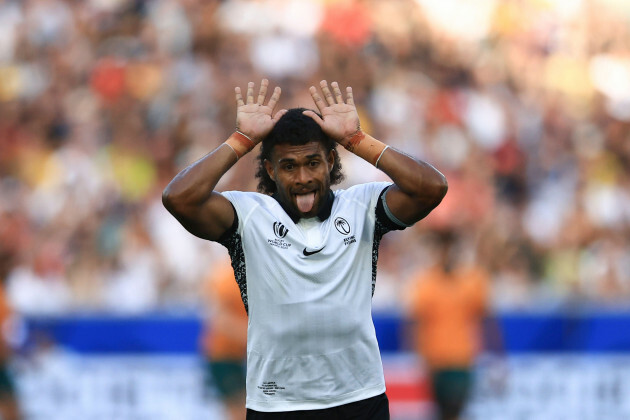 Alamy Stock Photo Scrum-half Simione Kuruvoli was key to the win. Alamy Stock Photo
The Fijian scrum went well aside from a penalty concession in the 60th minute. Raiwalui's pack won two scrum penalties of their own, including on what was essentially the final play of the game. What a confidence boost that will be.
The lineout, however, had a bad day with six losses on the Fijian throw. There were also serious issues here against England in Twickenham a few weeks ago and it's one area that will need to be much better moving forward. Fiji have dynamic jumpers and lifters but they lacked rhythm at key times and appeared to over-complicate their calls on a couple of occasions.
We haven't even mentioned the Fijian attack yet. There were glimpses of its brilliance in Saint-Étienne but it was far from the most important element of this win. Tuisova did serious damage with ball in hand in the number 12 jersey, but Fiji also used his passing skills intelligently, catching the Aussies off guard a few times.
We saw far more of the classicly thrilling Fijian attack against Wales and in the warm-up win over England, with just two linebreaks against Australia last weekend.
That points to the fact that Fiji can probably get even better than this performance against the Wallabies. Everyone has spoken about the weaker side of the World Cup draw presenting opportunity for England, Wales, and Australia, but it applies to Fiji too.
The Fijians look like the real deal and they could go deep in this World Cup.