PAUL FINLAY RETURNS to the starting fifteen for Monaghan for Sunday's Ulster senior football final against Donegal in Clones.
Finlay came on as a second-half substitute in the semi-final win against Cavan and converted two frees as Monaghan claimed a narrow victory last month over the Breffni County.
He gets the nod to start at right half-forward and is joined in the half-forward line by the other new inclusion, Castleblayney Faughs player Dermot Malone.
The two players to make way are Gavin Doogan and Tommy Freeman.
Monaghan, managed by former Fermanagh boss Malachy O'Rourke, are chasing their first Ulster title since 1988 with 32 year-old captain Owen Lennon having shaken off injury travails in recent years to command a starting berth this year.
"I cracked a disc in my back when I was 28. Thankfully this last three or four years I have stayed injury-free and it has extended my career a wee bit longer.
"I went over to Lilleshall in England and they put me on a flexibility programme with stuff like that, posture and all that crack. That made a massive difference. I still have to continue it on. If I didn't I would have serious back pain again.
"It's because I am tall and a lot of tall men would have very bad posture. Paul Grimley actually put me in contact with Lilleshall. Oisin McConville was over with them in England as well and that's how I got the contact.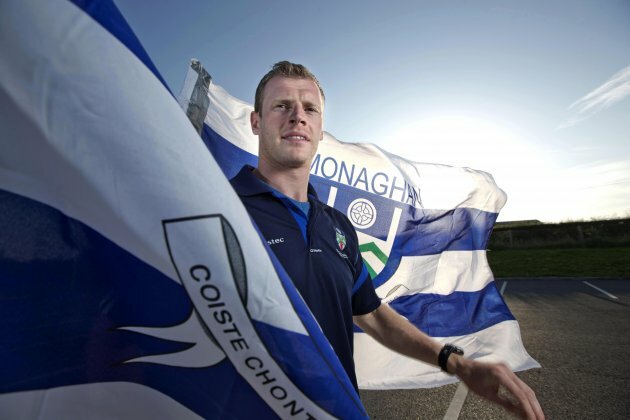 Monaghan captain Owen Lennon
INPHO/Morgan Treacy
"I was nearly retiring at that point, to be honest, with all my injuries. That was the last straw and I just said I would go over and try this and after a couple of months I felt completely at ease."
"Even going and standing at matches I had serious back pain just standing up straight and people wouldn't realise that. Then when you go out and play a match and maybe play poorly you have people saying 'Jesus, what's wrong with him? You'd think he'd finish up' or whatever.
"But there was a lot of underlying problems that would have been there down the years but thankfully they are all behind me now anyway."
MONAGHAN: Rory Beggan (Scotstown); Kieran Duffy (Latton), Drew Wylie (Ballybay), Colin Walshe (Doohamlet); Vincent Corey (Clontibret), Neil McAdam (Monaghan Harps), Dessie Mone (Clontibret); Owen Lennon (Latton), Darren Hughes (Scotstown); Paul Finlay (Ballybay), Stephen Gollogly (Carrickmacross), Dermot Malone (Castleblayney Faughs); Christopher McGuinness (Ballybay), Kieran Hughes (Scotstown), Conor McManus (Clontibret).