WHILE MUCH OF the discussion on team selection day at Carton House revolved around the well-earned opportunities for a number of players against USA this weekend, Finlay Bealham's name barely featured in those conversations.
In what will be one of the final chances to take a closer look at some of his squad options before next year's World Cup, Joe Schmidt will be keen to see how the likes of John Cooney, Stuart McCloskey and Tadhg Beirne stand up to the test.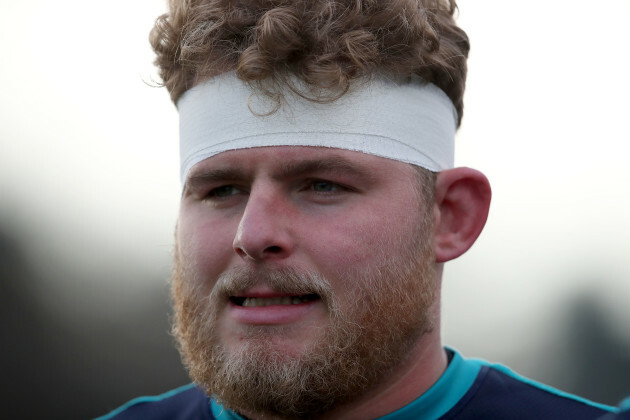 Dan Sheridan / INPHO Bealham starts against USA. Dan Sheridan / INPHO / INPHO
But a first home start for Ireland in two years, on the occasion of his ninth cap, is a significant moment for Bealham, who is deserving of this chance more than anyone on Saturday's team-sheet.
Having fallen out of the picture in the last 18 months, falling below Andrew Porter and John Ryan in the tighthead ranks behind Tadhg Furlong, it is easy to forget Bealham had established himself as the understudy upon his breakthrough in 2016.
A debut off the bench against Italy in that season's Six Nations was followed by second-half cameos in South Africa and in the famous win over the All Blacks at Soldier Field, before further appearances against Canada, New Zealand and Australia in November 2016.
But his form for Connacht dipped after their Pro12 title victory and then during Kieran Keane's difficult tenure, as he went off the international radar during an 18-month period after his seventh cap against Japan in June 2017.
"It was obviously a bit upsetting," he says of not being involved in Schmidt's plans for that time. 
"I had to have a look at myself in the mirror and focus on things that I can do, make little changes all over. Just consider where I was then and where I could improve.
"Make 1% changes in all these different areas. I've just had a good look in the mirror and focus on what I can do and then if I can put good performances together for Connacht then hopefully I can get myself back in the frame to get selected again."
Just as Dave Kilcoyne has done by searching for greater effectiveness in dropping the kilos, Bealham quickly realised his trademark ball-carrying ballast and energy was being compromised by the need to bulk up and improve his scrummaging.
Closing working with Connacht's strength and conditioning staff, the 27-year-old has made small, but significant, tweaks to his training regime and diet to ensure he has the energy and dynamism required to perform throughout 80 minutes at Test level.
"A few years ago I was really concerned with what body weight I was playing at," he explained. "Then at one stage, I was playing at 124 kilos and I was really struggling around the scrum although I felt reasonably good at scrum time.
"So my bounce around the pitch was pretty poor because I was carrying all this excess weight and, to be honest, it wasn't good weight for me.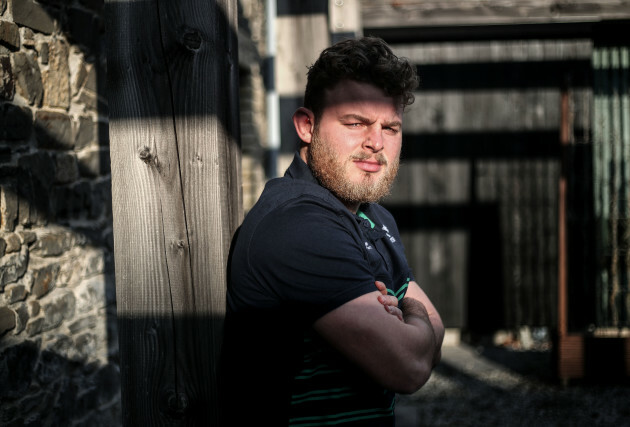 Dan Sheridan / INPHO Bealham pictured in Carton House yesterday. Dan Sheridan / INPHO / INPHO
"I was a bit heavier around the midriff. I have slimmed down a lot. I'm at 117/118 kilos now and I feel way better around the pitch. I have more energy and I can bring more to the game.
"I don't feel too bad in scrum time as well so. I am lighter, I am more energetic and I can provide more for the team." 
Bealham explained the changes he has made.
"I've been doing lots of fasted cardio, just trying to strip off a bit of the fat I had. Eating the right stuff at the right time because before I just would kind of load it into me.
"Now I have a bit more awareness of timing my meals around training and the way I have adjusted my cards around training days. Small improvements over a lot of areas which I felt have made a big difference.
"When I first started playing, my X-Factor was I was really good around the pitch and I had a really big impact. I was working on my scrummaging and I got a bit heavier as I was trying to gain a bit of weight but then that took away from what I was bringing around the pitch.
"I was quite lethargic in some of the stuff I was doing, and now I've focused on the diet side of things and I can provide more energy for the lads and have good moments later on in the game.
I was getting a bit tired before. Small improvements and in my game as well; doing lots of video work and analysing teams more and getting a better understanding of my role. That's been really big for me.
The change of management at Connacht may have helped, too, with Bealham rediscovering his form of old this season under Andy Friend, evidenced in some of his powerful and influential performances for the western province.
Recognition in the form of a November squad call-up followed and Bealham made his first Ireland appearance in 18 months when coming off the bench for Andrew Porter in the victory over Italy earlier this month.
And now he is preparing for a starting opportunity against USA on Saturday evening, in what will be his first outing in green at the Aviva Stadium since Australia two Novembers ago. 
"It's a massive honour," the prop continued.
"My girlfriend's family are all from the west of Ireland, the likes of Galway, Connemara. They're all super proud of me and they're coming up to the game this weekend. Look, it's a massive honour and I can't wait to run out there on Saturday in front of them and in front of all the Irish fans.
Ryan Byrne / INPHO Bealham is relishing his starting chance this week. Ryan Byrne / INPHO / INPHO
"The last game I played [at home] was the Australian Test in November 2016 so it has been a while between drinks. But look, I am looking forward to getting out there, I can't wait to be involved in the weekend.
"It was difficult [missing out], I had been involved in some big games and then I was out for a while. I had to look myself in the mirror and just think, right how am I going to get back in there and make a plan for myself for the next 18 months or so.
"I have a massive opportunity this weekend. I'm just looking forward to getting back out there again and being involved with the boys and having a really good performance."
Packing down in the front row alongside Niall Scannell and Kilcoyne against the Eagles, Bealham adds: "I'm really grateful for the chance and for the trust from the coaches to get the start. I'm absolutely thrilled. Just doing the basics well will be really big for me.
"Just scrummaging, my lineout and maul work and then being effective around the field. Sticking to the systems we have. Just fitting in."
With this opportunity comes a pressure to perform, and Bealham is aware if he is to force his way back into the reckoning on a consistent basis that he'll need a big performance in all facets. 
"I am just thriving in the environment," he adds. "I'm focusing on my role and my contribution to the team. I don't get too worried about things, I just take each moment as it comes in the game and do my best to win that moment. And if I don't win it then I don't put too much pressure on myself." 
Subscribe to our new podcast, Heineken Rugby Weekly on The42, here: