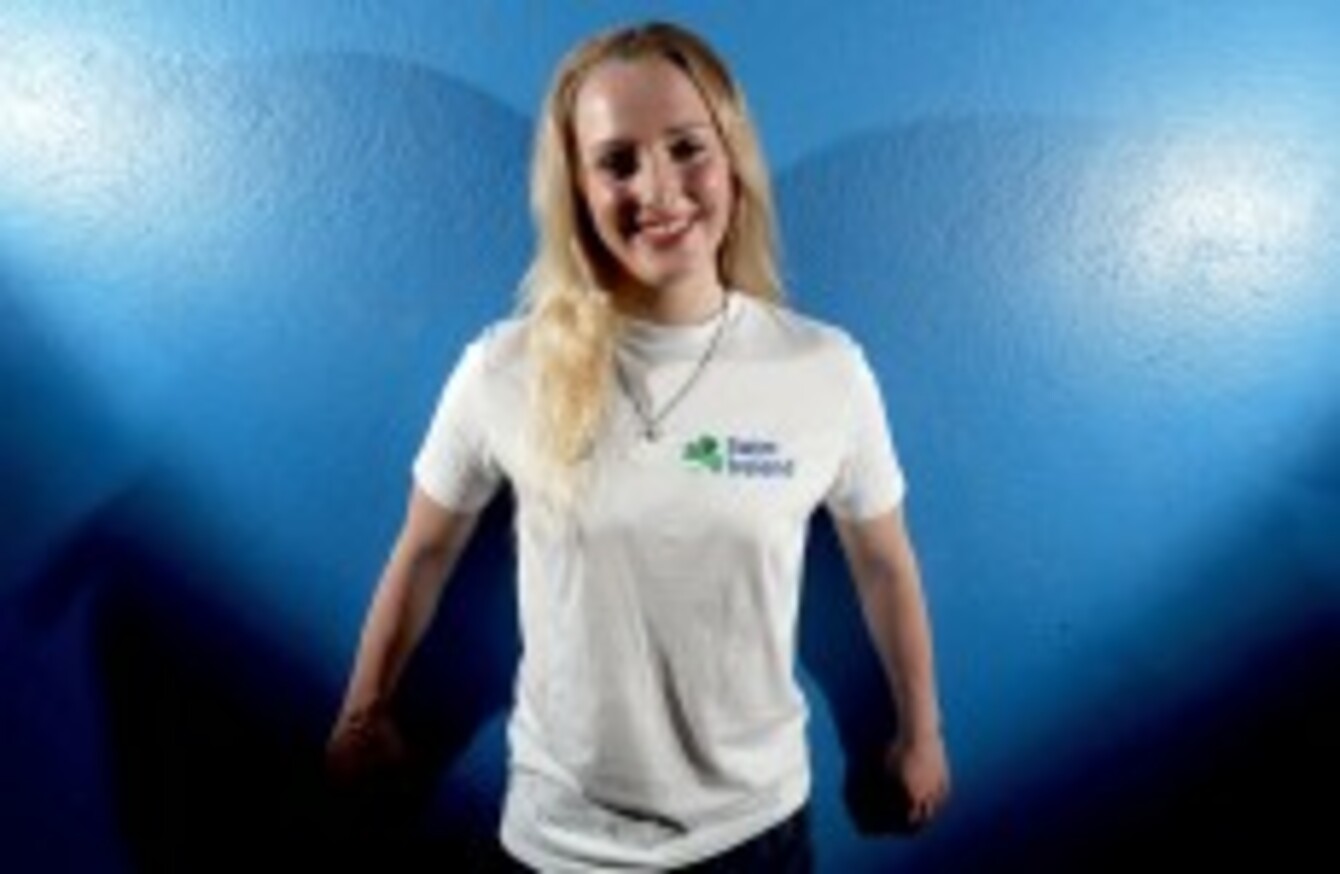 Image: ©INPHO/Dan Sheridan
Image: ©INPHO/Dan Sheridan
SHE HAS RECENTLY rocketed into the nation's consciousness, and is Irish Swimming's big hope when she goes to the blocks at the World Championships in Barcelona tomorrow.
But Fiona Doyle moves down the side of the pool not with trepidation or a weight of expectation, but with the look of a woman walking on air.
When she met TheScore.ie it was a full 10 days since she claimed 100 metre breaststroke silver at the World University Games in Kazan – Ireland's first 'Universiade' medal since 1991.
It's a fact that still hasn't fully settled with the Limerick native, yet it still feels 100 times more real than the seconds after she stopped the clock.
"I actually touched the wall after the 100 and starting shaking my head: 'you didn't do it, Fiona. You tried as hard as you could but you didn't do it.'
"I had nothing left; the last two metres," she says, continuing to rekindle the disbelief of the day with her inner monologue.
"I couldn't even take a stroke, just glide to the wall and touch it. So I was kind of like 'that's it, you're out of it — there's no way you could have possibly won a medal with that'.
"So I turned around and to even see my name highlighted, I was like '…what?'"

'This isn't supposed to happen.'

"'What, I won a medal?'
"Then I looked over to an American girl [Laura Sogar] beside me and she was like, 'really good job, was that a best time?'
"So I was like 'what's she talking about?' I looked up and, to see that not only had I won a silver medal, but that I bettered my best time by over a half second. I was in shock. Some of the photos that were taken prove that. Just shock."
After getting her heart rate up, she needs to pause and take a deep breath in while adding:
"It's starting to sink in a little bit – my goal going [in Kazan] was to win a medal so to come out with a medal was like 'oh, you can actually achieve your goals'.
Phenomenal
"I went in knowing I could better my best previous time that I'd done at the Irish Nationals in April. But to actually touch the wall and see the time that I'd done that was 0.6 second better than I'd done, it was phenomenal."
Perhaps it's the addition of a Canadian accent that makes the positivity flow so powerfully from Doyle. It's a voice that certainly didn't lend itself to gloom as she fields questions in the heavy chlorine-filled air of the NAC.
Although she admitted shock at the time, the result and the medal achieved in Russia; this was a medal won by much more than just happy thoughts. Fourth in both her heats, Doyle displayed that great unquantifiable quality, the big-meet temperament, to go out and take the turn in third before coming second only to (Olympic breaststroke bronze medalist over 200 metres)  Yuliya Efimova at the finish.
Be part
of the team
Access exclusive podcasts, interviews and analysis with a monthly or annual membership.
Become a Member
'Just. Shock.' ©INPHO/Cathal Noonan
All of this – the medal, the national records the qualification in Ireland's three-strong squad for Barcelona – is a world which is dramatically different from the disappointment of failing to reach London 13 months ago. Swimming for her university in Calgary, Doyle stepped back, took stock of where she stood  and was honest with herself.
"I think the biggest thing is that I'm happy," the 21-year-old says with a sagely nod. "I made a couple of changes back in September and I think not making the Olympics gave me that kick up the ass that I really needed in order to say, 'right, I have got to change something because things aren't going the way we need them to go'.
"I put my head down and said: 'you got to really work on nutrition and doing things right, and maybe you can't go out as much as you'd like to.' But I think the biggest change I made over there was mentally — I've started getting more and more confidence in myself.
"That's not to say if I had stayed in Ireland that that wouldn't have eventually come, but at the time, moving to Calgary was the best thing for me and I have fantastic coaches over there and I have continuous competition because there is always somebody right behind you who wants to outdo you."
Doyle's confidence comes not only from her biggest success to date, but also the most recent disappointment: Tuesday's fourth place in the 50 metre breaststroke, beaten to a medal by one hundredth of a second. Denied, literally, by a single decision to attempt to glide rather than reach for another stride reminiscent of Michael Phelps' dramatic butterfly defeat to Chad LeClos in London.
"Yeah that one stung a little bit," she stays still smiling. "Just because when I touched the wall I didn't realise how close I was to the medal. I already knew it was a poor finish: I took an extra stroke when I knew I shouldn't have. I touched that wall and I was annoyed at myself for making that poor judgement call, but then to turn around and see that I was 0.01 away from that medal stung.
"In saying that, I've learned a lesson from it and I've gotten back in the pool and I've started working on my finishes to make sure that doesn't happen again so you have to take the positives out of the negatives."
YouTube credit: alexi182k
There's little doubt she is doing that successfully having chopped 1.2 seconds off her personal best in less than six months. She admits herself that it's unheard of before gravely nodding her head while explaining what else has changed:
"I think the biggest change that I've made in the last couple of months is my belief in myself - Something kind of clicked at the Irish Nationals and I got some belief in myself.

"I qualified for the World Championships and then it went from there. To go into the World University Games and go from around seventh going in to fourth after the heats, and then fourth after the semi-finals, it kept giving me more and more confidence.
"So when I got into the final, I was like: 'this could be down to anyone, it could be anyone's medal.
"'Why shouldn't it be me?'"