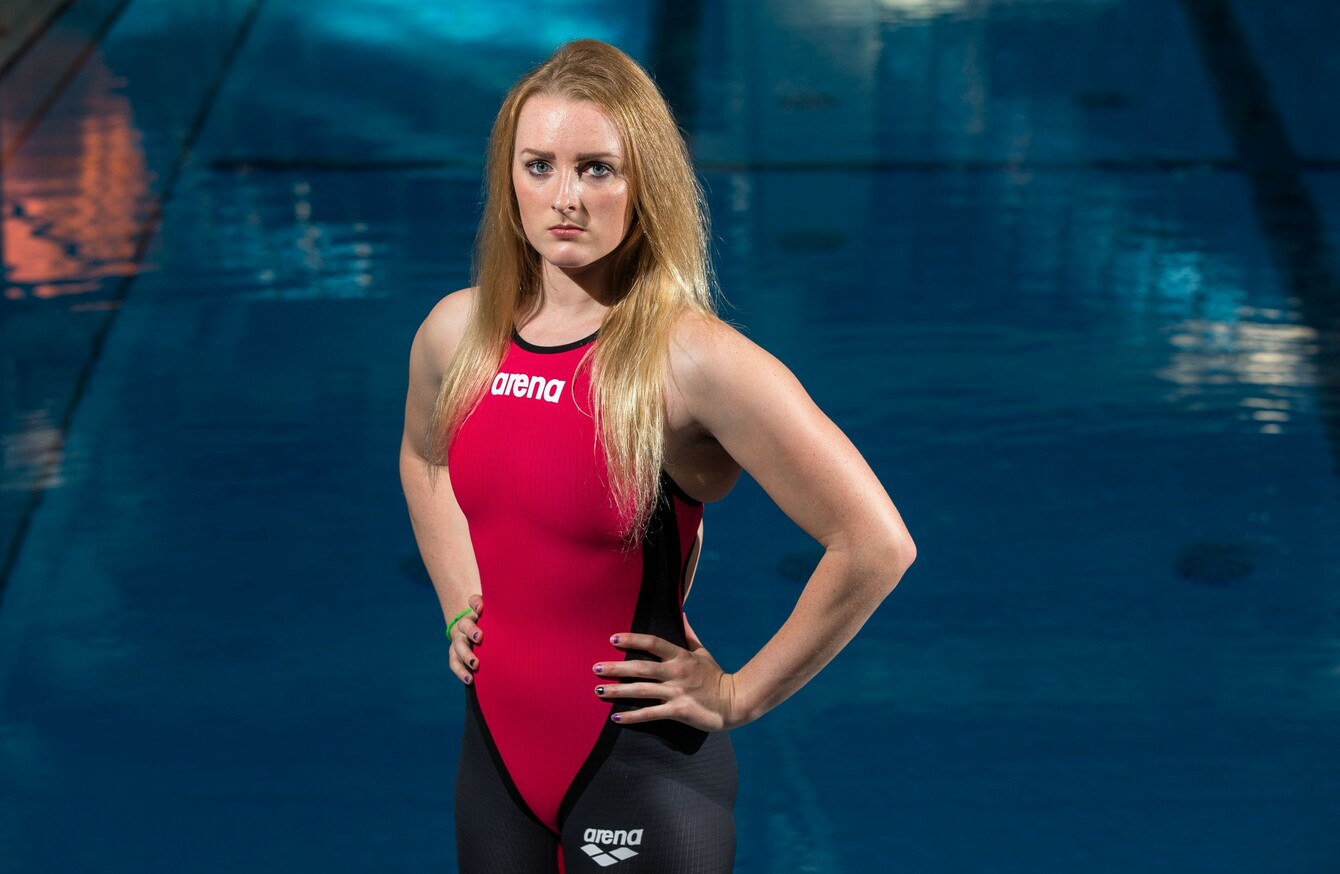 Doyle is in the middle of an intense training schedule ahead of Rio.
Image: Cathal Noonan/INPHO
Doyle is in the middle of an intense training schedule ahead of Rio.
Image: Cathal Noonan/INPHO
FIONA DOYLE WAS always destined to become a swimmer. The sport is part of her family's DNA. Her grandfather was the founding figure of Limerick Swimming Club and she was in the pool from the age of five.
Her talent was such that success was almost instant. Through her teenage years, Doyle swam, and won. She is the national record holder in six events and has represented Ireland for more than half her life. 
So it was perhaps understandable that she began to take her ability and promise for granted. Not such much complacency but a lack of focus. When you've achieved so much, so early, that level of drive and motivation can begin to wane.
"I fell into the trap of thinking I just needed to get in the pool and that was it," Doyle tells The42. "Unfortunately that mentality isn't going to get you anywhere and I realised it a couple of years ago."
London 2012 served as the wake-up call. Watching from home, it proved to be a difficult fortnight. Doyle had missed out on qualification by about half a second. It was a bitter pill to swallow but the realisation she hadn't done everything in her power to be there was the turning point.
"On one hand, not qualifying for London was the best thing that happened to me," the 24-year-old explains. "I realised then if I wanted to qualify, I had to do everything right and work on all aspects of my life."
It all began eight years previous. Doyle's swimming career had started long before then but her journey to Rio 2016 was launched in her family living room during the 2004 Games in Athens.
Turning to her parents and five siblings, Doyle, aged 12 at the time, announced: "I'm going to swim in the Olympics."
It was a bold declaration. Beijing came and went, as did London. So Doyle knew something needed to change because doing the same thing over and over again and expecting different results is, as Einstein coined, a form of insanity.
For Doyle, there was method in the madness but she wasn't entirely convinced. Having moved to Canada in 2012 to study at the University of Calgary, it was difficult to live like a monk.
She made allowances for nights out and social events. Nothing major, one or two nights out a month, but when the margins are so fine, she could no longer afford to make compromises. Her parents were the first to tell her. It was all or nothing.
"My mental focus had to change. Swimming had to come first and I needed to be mentally prepared for that. I had to be 100% committed. I had to keep on top of college work but swimming had to be the focus."
Then, last July, all the sacrifices paid off. A memorable week at the University Games in Gwangju not only earned her silver and bronze but a qualifying berth for Rio. Doyle secured the "A" qualification time in the semi-final of the 100m breaststroke clocking a time of 1:07.67.
"It makes me very happy that I get to achieve what I set out to do," Doyle continues. "Hopefully I can put Irish swimming on the map and show the world what we can do.
"Because I've waited so long for this, it does make me kind of nervous. You only get one shot at this, at least I only get one shot at this. I mean the Olympic Games is the biggest sporting event and only comes around every four years.
"So it's a little bit nerve-wrecking but I'll be 100% ready for it when the Games come around. I've waited too long not to put everything in between now and August. I'm confident in my training."
Doyle spends most of the year in Canada, where she is in her final semester studying kinesiology and pedagogy. Her decision to move abroad was born out of frustration. Doyle felt she wasn't receiving the right coaching or guidance in Limerick.
What are they
really like?
Rare insights on sport's biggest names from the writers who know them best. Listen to Behind the Lines podcast.
Become a Member
After a short time in Dublin, she upped sticks and joined forces with coach Mike Blondell in Caglary. It took time but eventually she settled into life thousands of miles from home and her results in the pool reflected that.
"At the time, when I was deciding what to do, I wasn't happy with where I was at here," Doyle explains. "I was living in Dublin away from home and just wasn't happy.
"I wanted to get away, a fresh start. Coaching had something to do with it, I had looked into the background of swimming in Canada, more depth in terms of events and it was a little bit more appealing for me.
"I do find it hard being away from home, being away from that support system, but everyone over here is fantastic and my coach is great.
"He's worked really well to ensure I have all the opportunities available to me so I can do the best I can at the Olympics."
Her training and academic schedule means Doyle only gets home twice a year. She's back in Limerick for Christmas, and her sister's wedding, but her life, for now, firmly lies in Canada.
The swimmer's day begins at 5am, when she spends two hours in the pool before heading to the gym. After breakfast, a brief rest, lunch and another pool session, Doyle will spend the rest of the evening coaching young kids in the local club or studying.
It's a gruelling schedule when you're repeating the same process seven days a week.
"The next six months are just crazy," she admits. "Training is right up until Christmas Eve and then resuming the day after St Stephen's Day.
"I've training camps the whole month of January, two international meets in January and February, the European Championships in May and maybe one or two more events in June.
"It's a lot of work and a lot of travelling but training is going very well at the moment.
"Qualifying for Rio was always a goal but it was never the end goal. The goal for me was to perform well at the Olympics, maybe make a final and who knows after that, it's anyone's game.
"Doing this level of training and amount of work ensures I have as much of a chance as anyone when I stand on the starting block."
When she walks out at the Aquatics Centre in Rio with the Irish flag on her hat, Doyle will have plenty of supporters cheering her on. Her parents will both be in the crowd while her siblings and close friends are currently searching for ways, and the means, to get to Brazil and back.
"I don't think I can describe what it would feel like," Doyle says. "It will mean everything. All the bad times wouldn't be erased but forgiven almost. It would mean more to me because I could show my family it was all worth it and make them proud."
For Doyle, each of the last three Olympic Games have proved to be significant junctures in her career but she hopes the next will be her defining moment. As her inspirational quotes says, pain is temporary, pride lasts forever.