WHILE THE ZIKA virus made worldwide headlines when it first came to prominence last year, it had disappeared from both the front and back pages until a Canadian professor called for the 2016 Olympic Games in Brazil to be postponed earlier this week.
That was swiftly followed by Rory McIlroy suggesting he might skip Rio as he and his fiancee Erica Stoll could want to have children in the future and the Irish Open winner wouldn't want to do anything to affect that.
So it's little surprise that the virus has been in the back of Irish Olympian Fiona Doyle's mind since she qualified for this August's showpiece.
However, while some of the 24-year-old's family will be staying at home as a precaution, Doyle herself is fully committed to going.
"Obviously it is a concern for anyone going but especially women because a lot of us are at child-bearing age and either in our late teens or early 20s. I have three sisters and two brothers, and my sisters are not going to go because they're at that age and they're very upset about it.
"My older sister Sinead just got married and Rio was supposed to be her honeymoon so she's obviously gutted.
"I'm probably not going to go to the next Olympics so it was their one opportunity to come and support me but unfortunately, it's too much of a risk for them.
There is a concern for me but I've been training for 12 years to try and make the Olympics.
"So it's not as easy for me as it is for Rory McIlroy to say he's going to skip this one and come back in four years' time. It doesn't work that way in swimming. I'm right at my peak at the moment in terms of the right age and this is my last chance."
While Doyle won't receive any advice from Swim Ireland or the Olympic Council of Ireland until she is officially selected in June when the qualification period is over, the kinesiology student has done her own research and spoken to those more qualified than her on the subject.
"Although it is kind of nerve-wracking that there's a chance I could catch it, this is my only opportunity and I will do everything I can do in order to prevent getting it — and there have been recommendations of how to avoid it.
"I know women who have gone over there and they have been fine — but, with everything you do there are risks and, like I said, this is my only shot and I'm not going to pull out of it because there's a chance that something bad might happen. 
"If it happens, I'll deal with it then. The medical team for the Olympics are always very good and send out a lot of advisories and are very cautious — they don't want their athletes getting sick or catching anything — so it'll be a matter of making sure I follow up the guidelines they are recommending."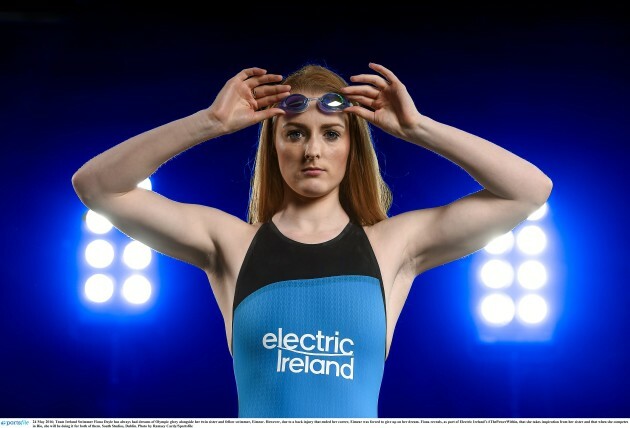 Ramsey Cardy / SPORTSFILE As part of Electric Ireland's #ThePowerWithin campaign, Doyle has spoken about the inspiration for competing in Rio. Ramsey Cardy / SPORTSFILE / SPORTSFILE
Born in Limerick, Doyle moved to the University of Calgary on a scholarship after her Leaving Certificate and, while she is thankful for the support of Swim Ireland in recent years, she believes that travelling to Canada was the only way to study and train full time.
"When you do a degree over there, it's much more generalised than it is here. If you want to do engineering, you don't just do engineering but a more general degree and then you specialise later.
"Ireland isn't really geared towards athletes and education like that.
"If you want to be a top level athlete in Ireland, you have to choose your sport or your education unless you are naturally very smart and you can do both and you don't need as much work as everyone else.
"In Canada, it's much more accommodating and, I suppose, a lot of students would say it's too focused on athletics, but the professors are very accommodating if you need extra time for assignments or need to defer an exam.
"You get to plan your own semester and, in order to be eligible for the Canadian collegiate championships, you have to take either three classes a semester or six in a year.
"You can then choose to work those classes around when your sport is. I ended up taking only 15 classes my first four years because I was trying to make 2012 so it meant I could reduce the workload and focus more on my swimming.
"Last January to May, I was able to reduce the amount of classes I was taking to help me as I was trying to qualify for Rio.
"In Ireland, it's a lot more difficult to get exemptions, it's a lot more difficult to defer work. Chris Bryan (the Irish open water swimmer) was able to split a year in half but I think you're only allowed do that once here.
"The Leaving Cert is difficult and, even if you have all the time in the world to study it's still hard, but it's a lot easier to get the points you need for the course you want if you don't have a sport. When I was doing it, my schedule was so tough that I maybe only had an hour to study (and eat) before going to bed.
"Over there, second-level education is continuous assessment so it's a lot easier to achieve the 90% you need to get into engineering that way than to sit one exam and try achieve that score."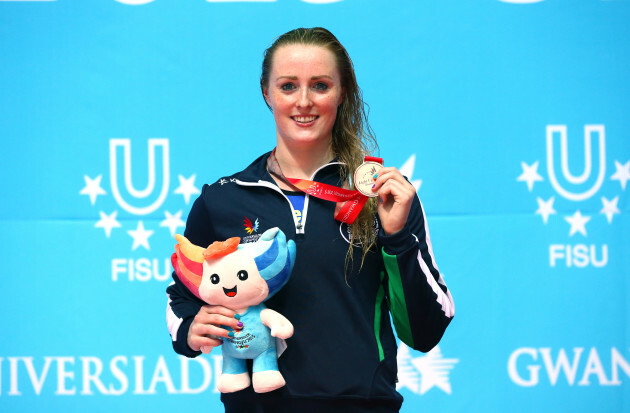 Cathal Noonan / INPHO Doyle with her University Games medal. Cathal Noonan / INPHO / INPHO
One challenge for Doyle ahead of Rio is that she may not have her long-term coach by her side at the games as the accreditation rules could prevent it. Another is the weight of expectation from fans and media, something that Doyle knows should not play on her mind but inevitably does.
I know myself that I push myself a lot. I'm not okay with just being okay and I want to push myself to do better every time I train, every time I race.
"When we go to meets, we're very aware that there is media and fans and it's not just us who are there and there are other people watching.
"Those other people don't necessarily know what's going on in your life or how training has been going and, I guess, in one sense it's important for us to make people aware of how it is we're doing via social media, etc, but it's also difficult too as there's pressure on every time we race.
"People are very quick to judge. It's one thing I fear going to Rio. I'm a people pleaser and I want to please the Irish fans. When people are watching the Olympics though they need to realise that I didn't just decide one morning that I was going to go to the Olympics.
"This is not something I just decided four years ago. I've wanted to go to the Olympics since I was 12. It's so difficult to make it.
"Every four years there are only 10,000 people who get to go to the Olympics and, of that, 10,000 only 900 are swimmers. Break that down 50:50 and there are only 450 women in the world who get to go every four years and I'm one of them. People forget that so easily.
"If I go to the Olympics and I don't perform I'm going to be really upset because I spent so long trying to get there and worked really hard at it but I'm also aware that I'm going to let other people down so that's nerve-wracking.
And, after missing out twice before, what does it mean to finally make it to the Games?
"I don't think I can put it into words what going to the Olympics means to me. When I didn't qualify back in 2012 I was devastated, it was like somebody had died, and I didn't even watch the Games when it rolled round because I'd trained my whole life for it and I missed out by less than half a second.
"To be able to come back, it's actually surreal to think I'll be going to Rio. It kind of feels like a dream."
Fiona Doyle was speaking as part of Electric Ireland's #ThePowerWithin campaign which sees athletes share their inspiring stories ahead of this year's Olympic Games.
– First published 06.00
The42 is on Snapchat! Tap the button below on your phone to add!