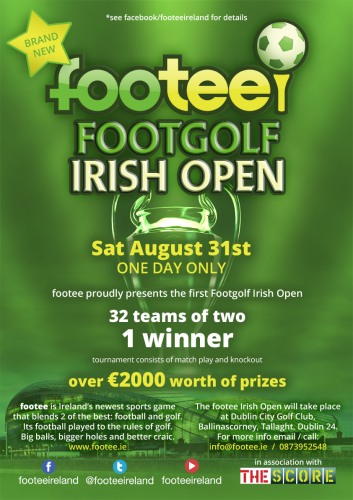 ON SATURDAY 31 August, the country's footgolf enthusiasts will come together to battle it out as Dublin hosts the inaugural Footee Irish Open in association with The Score.
At the beginning of the summer, a couple of innovative entrepreneurs realised their dream by opening Ireland's first footgolf course in Ballinascorney on the outskirts of Tallaght.
The sport, a hybrid which, as the name suggests, combines football and golf has proven to be a real hit here since Footee opened its doors.
"Being the first of its kind in Ireland, we thought it would prove very popular but we've done even better than we expected," says co-founder Michael Maher.
One thing that has surprised us is the diversity of the groups who come up to play. We see everything from sports teams to families and groups of friends to people going on dates!"
Now the lads have decided to host a one-day matchplay tournament – consisting of 32 teams of 2, which will be broken up into two groups to compete in a knockout format. The last two pairs remaining will compete in the final (played over 12 holes) with the winner being crowned Irish Open champions.
"There are a couple of reasons why we decided to host this now," Maher explains. "We're the first in the market and wanted to give something back. We believe it's the ideal way to get fans of footgolf together for a great day out and to find out who is the best around.
"That said, you don't need to be an expert and first-timers are more than welcome."
Credit: Facebook/Footee Ireland
As well as €2,000 in prize money, there will also be spot prizes handed out for the likes of longest shot and best dressed.
We're really hopeful that people make an effort to dress up and look the part. The more unsual the better!"
After the final whistle, everyone is encouraged to head back to the nearby Old Mill Pub where an afterparty and presentation ceremony will take place.
Credit: Facebook/Footee Ireland
The event is limited to 32 teams so apply now to avoid disappointment. To enter, you can apply online here or alternatively visit the main office in Ballinascorney (click here to see directions).
For more information, visit the Footee website or their Facebook page