AT THE START of the season, if you'd told Munster scrum coach Jerry Flannery his side would be where they are now he wouldn't have believed you.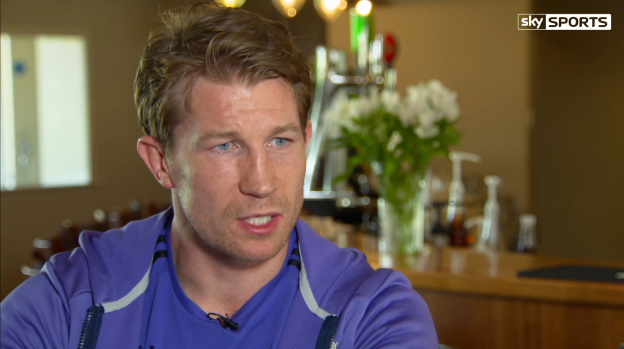 Jerry Flannery spoke to Sky Sports about Munster, Rassie Erasmus and Anthony Foley.
It's been a roller coaster year for the southern province. There's been both ups and downs, but they find themselves in a welcome position as the we hit the business end of proceedings.
"If you ask me am I surprised by this year, I'm 100% surprised," he told Sky Sports in an extended interview ahead of this weekend's Champions Cup quarter-final against Tolouse.
Since the addition of Rassie Erasmus as Director of Rugby during the summer, there's been changes. He's had a huge impact on the side.
Flannery admits however, that he was apprehensive of the South African's introduction at the beginning.
"It was such a difficult situation coming in with Axel [Anthony Foley]. I went into the job really unsure of how things were going to be. Axel's been my mate and he's been a consistent part of my life since I've been 12 years of age.
"Munster brought Rassie in with a long-term view and I wasn't sure what was going to happen. When I met Rassie before I was deciding to stay with Munster again, I went, 'this guy, he's emotionally intelligent. He's a good guy.' When I spoke to Axel, he said, 'yeah, I like him, he's a good guy.' That was the main thing. You can learn about rugby but if the guy you're working with is a d**k, then you're not going to get on with him.
"What he's done is, he came in, he empowered all of us as coaches. He empowered Axel. He helped develop me as a coach. He creates an environment where hard work and honesty is rewarded. It genuinely is rewarded. When you look at the way teams have been selected, it's not always the big names that get selected. It's the guys who rock up, who train the hardest, who put Munster and the team before themselves.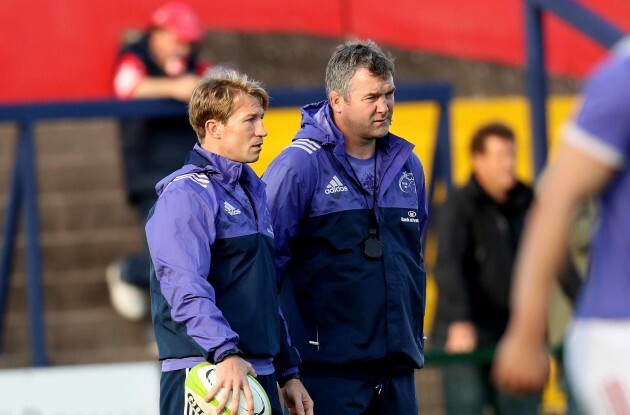 Billy Stickland / INPHO Flannery and Foley. Billy Stickland / INPHO / INPHO
He's been a huge asset to Munster this season. How he's managed Axel's passing as well has made it so much easier for everyone else. I don't know how anyone ever gets upskilled in something like that. No one gives you a book and says 'this is what happens when something like this happens' He really made it a lot easier for us to deal with it.
"Rassie is just a really emotionally intelligent man. That's what was so needed this season at times. He's top class. It's easy to say that he has a fantastic rugby brain."
Upon Erasmus' arrival, they started strong and began to tot up consecutive wins, while the defeats came narrow. But then suddenly, the camp was of course hit with the tragic passing of head coach Anthony Foley.
Foley died in Paris ahead of their Champions Cup clash with Racing 92. The game was postponed as the province, and the entire country mourned one of Munster and Ireland's most influential rugby figures.
His spirit has lived on though, and Munster have honoured 'Axel' accordingly with every game they've played. They've shown incredible character and now find themselves in the knockout stages of Europe.
Former teammate and fellow coach Flannery admits how hard it has been, but is impressed with how his players have responded to Foley's death.
It's tough because you miss him all the time, but in a way every time we train and we play now we're paying tribute to Axel. It's not clichéd because it's genuine.
"If you ask me am I surprised how the players have responded with Axel — 100%. I never envisaged something like this happening.
"I'm very inexperienced when it comes to coaching. I haven't coached a team before and then seen them make that swing the following year, that when things were bad last year I said we'll be back up challenging, we'll be second seeded in Europe.
You have to think that an awful lot of it is down to Axel. You can't string consistent results together just on emotion, there has to be a plan behind it.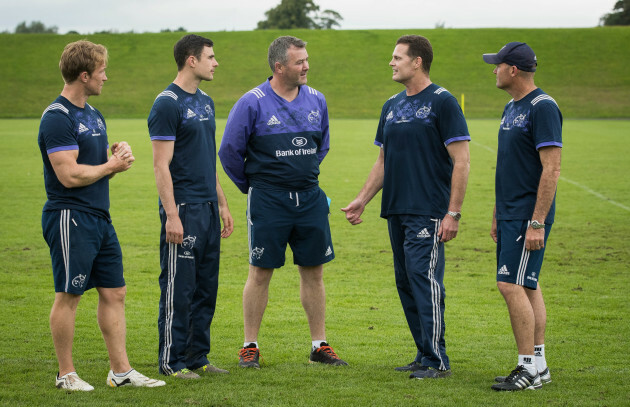 Ryan Byrne / INPHO Scrum coach Jerry Flannery, technical coach Felix Jones, head coach Anthony Foley, Director of Rugby Rassie Erasmus and defence coach Jacques Nienaber. Ryan Byrne / INPHO / INPHO
"If you look at something like the Glasgow game, those players that had to play that game, that must have been one of the toughest weeks of their lives. For them to go out and have everyone watch them and study them in that game. Everyone who was involved in rugby wanted to know how they would respond.
"Then to see how they did was incredible. It shows there's an insane level of mental strength there. You've got to attribute that to Axel. That's what that was on the day. We'll always benefit from referencing Axel and reminding ourselves of what he wanted from that team."
Foley has been a huge part of Flannery's life. He spoke movingly about how he knew him from the age of 12, and how he always looked up to 'the main man'.
When Flannery was in first year in St Munchins, Foley was in sixth year.
Exclusive Six
Nations Analysis
Get Murray Kinsella's exclusive analysis of Ireland's Six Nations campaign this spring
Become a Member
"I just saw this huge guy walking around school. We went out and watched the Schools Cup games and he was demolishing everyone. Then, when I'd go into the pub and listen to my Dad and his friends talk about rugby, all they used to talk about was 'Foley, Foley, Foley.'
"Before I even met him, I knew about him and he was this aspirational figure. Then, all the way through, he was Munchins, I was Shannon, I was Munchins, he was Shannon. I remember him getting his first cap for Ireland and my Dad bringing me into the pub and everyone was in there from Shannon watching it. They were playing England and they hockied Ireland, but Axel took a quick tap and scored a try in the corner. And that was it, maybe it was a little bit short term but everyone was delighted that Axel had done that.
Billy Stickland / INPHO Foley and Flannery won the Heineken Cup with Munster in 2006. Billy Stickland / INPHO / INPHO
"For me to go on and play with this guy was crazy. I was like 'wow, I've always looked up to him.' Even when I played with him, I put Axel on a pedestal. You experience so much success and Axel would always be a mentor to you.
"The only reason I'm back here is cause of Axel bringing me back."
Flannery, and his side's focus is all on Tolouse this weekend however. The two outfits face off at Thomond Park on Saturday with a coveted place in the Champions Cup last four on the line.
"I'm looking forward to the game. Tolouse and Munster have a pretty good history going back. I'm not sure if both teams are as relevant now in European rugby over the last three or four years, but there's tradition there and hopefully whichever team wins will kick on and get back up there.
"That's something that we have here, we have players with a good attitude. "If you ask me what's the one thing or most important thing I look for in a player, I'll say 'attitude'. If he's got attitude we can work with everything else. The most talented guy with a crap attitude is no good to you.
"Undoubtedly we could win it [Champions Cup], but we're far from favourites."
The42 is on Instagram! Tap the button below on your phone to follow us!