POUND-FOR-POUND KING Floyd Mayweather ran his perfect record to 46-0 with a 12-round majority decision over Marcos Maidana in a welterweight world title unification bout.
The 37-year-old American retained his World Boxing Council world title and took Maidana's World Boxing Association belt, winning the fight on two of the three judges' scorecards, with the third scoring it a draw.
"It was a tough competitive fight tonight," Mayweather said. "I stayed in there. I wanted to stand and fight. I could have made this fight easy but it would have been boring."
Mayweather, who was an 1/11 favourite heading into the fight, received scores of 117-111 and 116-112. The third judge scored it 114-114. He did not get the decisive victory that so many had predicted as the more aggressive Maidana gave him all he could handle.
Argentina's hard-punching Maidana, 30, who was making the first defence of his title, suffered the fourth loss of his career to go with 35 victories. Maidana was upset with the way the fight was scored, saying he was "robbed" of the decision.
"I definitely think I won," Maidana said. "He didn't fight like a man. Nobody has ever attacked him the way I did. And nobody has ever landed punches the way I did."
Most of Mayweather's recent fights have been boring tactical affairs, but Maidana's relentless pursuit of the unbeaten champion and willingness to go toe-to-toe made for an exciting bout. Many in the crowd also thought Maidana had done enough to win the fight and his supporters in the arena booed the decision, then tried to drown out Mayweather's post-fight interview.
Mayweather made a grand entrance befitting his superstar status. He was accompanied into the ring by pop star Justin Bieber and rapper Lil Wayne.
Floyd Mayweather vs Marcos Maidana / YouTube
Some of the other celebrities in attendance at Saturday's fight at the Grand Garden arena inside the massive MGM Grand hotel-casino complex included rapper Drake, former heavyweight world champion Mike Tyson, entertainer Snoop Dog, comedian George Lopez and basketball legend Magic Johnson.
The first few rounds of the main event bout were electric as Maidana stuck to his pre-fight promise to come out swinging. Mayweather seemed to be content to lean on the ropes and absorb the overhand rights that got the crowd excited but appeared to do little damage early on.
Mayweather did suffer a cut over his right eye in the fourth round from an accidental head butt. "After the head-butt I couldn't see for two rounds. But that is what champions do, they adjust," Mayweather remarked.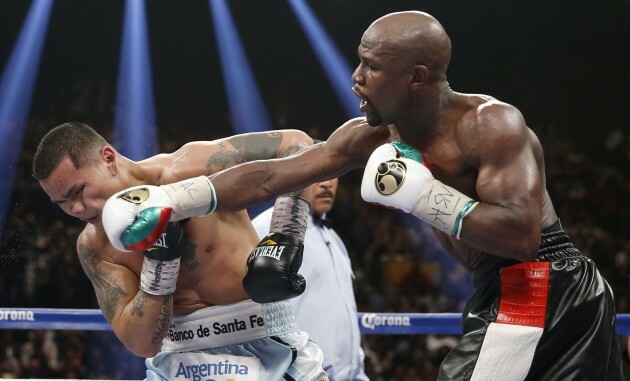 Eric Jamison Eric Jamison
Both fighters resorted to some questionable moves later in the fight. Maidana hit Mayweather with a low blow in the eighth and, later in the round, 'Money' tried to surprise his opponent with a ghost punch. This was as the Argentinian was trying to communicate with the referee about something Mayweather was doing that he didn't like.
In the 11th, Maidana pushed Mayweather partly through the ropes then threw more punches while Mayweather was leaning over backwards almost falling out of the ring.
Rematch likely
Maidana landed a total of 221 punches — more than any fighter against Mayweather in his last 38 fights. Mayweather praised Maidana for taking the fight to him but blamed the Argentinian for the rough stuff.
"I thought I was the boxer and he was the WWE wrestler," Mayweather said. "It was the toughest wrestling match I have ever had. Miguel Cotto was a tougher fighter and he hit harder."
But asked if he would give Maidana the rematch that the Maidana says he wants Mayweather replied, "Let's do it again."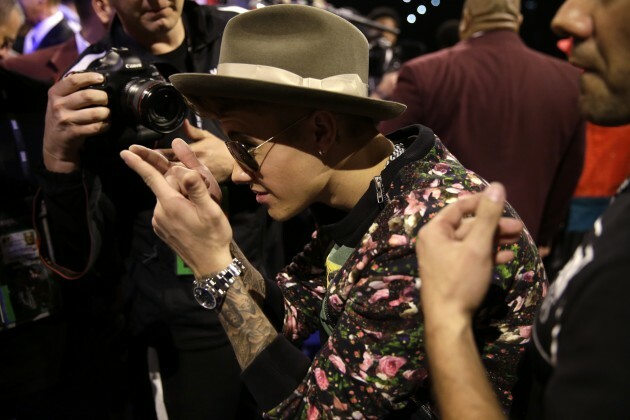 Isaac Brekken Justin Bieber: boxing's biggest good luck charm. Isaac Brekken
Some see Mayweather's inability to dominate like he has done in the past as a sign that father time might be catching up to him. "He is getting older and showing a lot of mistakes that he didn't used to do. It is a great time to catch him," said British boxer Amir Khan who beat Luis Collazo on Saturday's undercard and is also hoping to land a title bout against Mayweather.
Several people were injured and taken out of the MGM on stretchers to the hospital after hundreds of fans stampeded out of the front doors of the Grand Garden arena immediately following the fight.
"People just started yelling and screaming and next thing I knew some guy jumps over my table and hits me on the head. There were a couple of ladies on the floor next to me. It was chaos," said Carlos, who works as a photographer for the hotel. It was unclear what triggered the stampede.