EURO 2012 MAY have been a complete failure on the pitch for Ireland but one set of fans have had a win of their own off it today.
The supporters' now famous flag, emblazoned with the cheeky slogan 'Angela Merkel Thinks We're At Work', was sold earlier for over €15,000, with another €5,000 also raised for charity.
Crumlin Children's Hospital and the Oscar Knox Appeal hosted by Neuroblastoma Alliance will share all the cash raised in the deal with Iris R&D and Glendun Group. The flag was auctioned off on this morning on RTÉ 2FM's Ryan Tubridy show with well-known Dublin pub Copper Face Jacks donating €5,000 to the cause despite losing the auction.
"What we lost on the pitch in Poland, we gained in the stands and terraces thanks to the Irish fans and their sense of humour," said Tubridy afterwards. "The Merkel flag was the funniest joke of them all and now the joke has been put to good use by a bunch of decent lads and a heap of generous listeners. Fans – 1, Begrudgers – nil."
The new owners plan to send the flag on an international tour; visiting the offices of winning bidder, Oonagh McInerney in Dublin and Barcelona before making its way to Sydney, Australia to hang from the Sydney Harbour Bridge. The flag will finally be presented to Oscar Knox, the young supporter who was an internet hit himself when he mimicked the flag with this effort before one of Ireland's Group C games: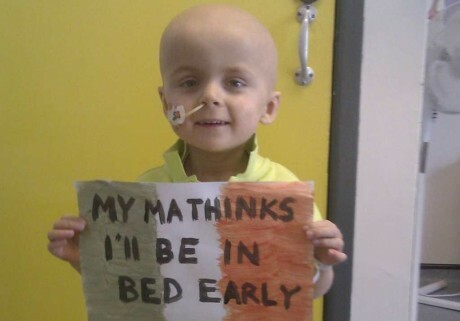 And the fans behind the banner? Friends Gerry Nolan, Richie Tuohy, Richie Leahy, Eoin Cantwell and Eoin O'Brien have been invited to the German embassy on Monday. "And we're nearly sure it's not a trap," they wrote on Twitter.