FOOTBALL CLICHÉS ARE inescapable. With the levels of TV coverage devoted to the sport currently at an all-time high, it's naturally gotten to the stage where one individual, Adam Hurrey, has devoted an entire blog and Twitter account to the phenomenon of pundits' and commentators' excessive use of certain well-worn phrases.
And Hurrey has acquired considerable success with this endeavour, amassing over 37,000 followers on Twitter and subsequently having his articles appear on The Guardian and Mirror Football among other sites.
Somewhat ironically, Hurrey's success with @FootballCliches has even prompted a number of imitators to set up similarly-themed Twitter accounts, meaning the idea of deriding football clichés is now, in itself, effectively a cliché.
Despite their omnipresence however, Hurrey tells TheScore.ie that football clichés are not necessarily the bane of the sporting world.
"Clichés don't have to be a bad thing — most football clichés qualify as such because they're inextricably true," he says. "On the other hand, a misinformed cliché (where some insightful analysis would come in handy) can be frustrating. Football commentators and journalists are generally very good at what they do — co-commentators and pundits are arguably the most culpable.
"I mindlessly repeat this point a lot, but it's the mindless repetition that stands out. The language of football is pretty rigid and, after a while, you know what's coming out of a co-commentator's mouth before they've said it."
Hurrey, who admits that it's ultimately impossible to avoid using football clichés at least occasionally when discussing the sport, has talked previously about how his decision to start writing about football clichés arose "after countless pub conversations, usually after playing Sunday League football against cliché-spouting morons".
"Nothing compares to the boiling frustration of an opponent shouting 'ALL DAY! ALL DAY!' as your overhit hoof upfield runs out for a goal-kick," he adds. "Some of the Sunday league connoisseurs used to taunt my team for being 'shit'.
"[I said] look, mate, this is Sunday league football — we're all shit."
He originally started off with just his blog, at one stage even going to the trouble of doing a 'Cliché-by-Cliché' liveblog of a Tottenham v Stevenage FA Cup encounter on ITV. Nevertheless, it was through Twitter that he became more well known.
"Twitter had got to the point where not having an accompanying account for your blog/website seemed odd, so @FootballCliches was inevitable," he explains. "But Twitter certainly lends itself better to picking out the oddities of football, especially during live games."
And having presumably spent a considerable amount of time contemplating the subject, is there any cliché that he's particularly fed up with?
"Pundits/co-commentators describing penalty/offside decisions as "borderline", "soft" or "touch and go" is about as annoying as it gets. They're already spoiled by the camera angles and slow-motion, yet still can't bring themselves to make a call.
"The greatest cliché, for its sheer complexity alone, is still 'if anything, he's hit that almost too well' — a muddle of non-committals and anti-logic, yet everyone still knows exactly what it means. Perfect."
And is there any journalist or commentator who is particularly adept at avoiding such all-too-common pitfalls?
"Brian Glanville is still finding unique ways of giving modern football a ticking off, at the ripe old age of 112," he jokes. "Martin Tyler, despite being surrounded by the Sky hype machine, does a very good line in self-awareness when it comes to football's more obvious clichés."
Hurrey, whose favourite football analysis of all time is "pretty much any goal commentary from John Motson or Barry Davies before 1992," is also vaguely aware of the arguably less cliché-ridden and certainly more abrasive form of Irish soccer punditry adopted by the likes of Eamon Dunphy and John Giles.
"I'm sure it looks more entertaining to us in the UK, but we don't have to put up with it every weekend," he says. "But do we really care about punditry? Outside of the 90 minutes of the game, I'm only half-listening at the best of times."
He is, however, quite impressed with Gary Neville's much-praised style of analysis, even if he does have some reservations about it.
"He's not infallible (his reluctance to criticise Joe Hart has been widely noted, for example) but he's obviously working very hard to give us something well-considered.
"However, Gary Lineker made a good point recently in defence of the Match of the Day pundits — they don't get two hours to play around with a touchscreen like he does. ITV have improved their broadcasts, meanwhile — they squeeze an admirable amount from their limited air-time."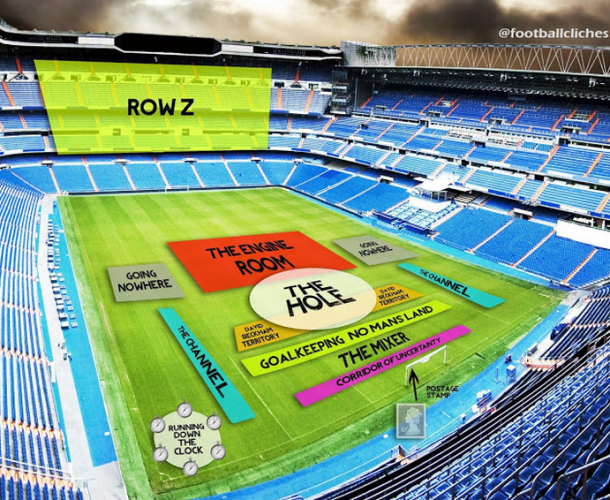 The sardonic attitude and strong level of self-awareness that Hurrey clearly possesses leaves him open to the charge of being a football hipster. Does he consider himself one?
"I'm not sure there's a consensus on exactly what a football hipster is, but each to their own. I don't want to watch South American football at 2am on a weekday, but I wish I did. The moderate abuse I got for revealing that I'd never, ever seen £30m Erik Lamela play suggests I'm not quite there."
He also says he has no interest in developing his brand to cover other sports, though concedes "a short, mid-summer burst of Wimbledon Clichés"  is enjoyable.
And while some may interpret his wit as cynicism borne out of a weariness from watching too much modern-day football as well as the sub-par punditry that often goes with it, he insists he enjoys it "more than ever" now.  He even rejects the suggestion that there's too much football on TV nowadays, explaining: "There's always Thursdays to get other things done."
Nevertheless, there is one aspect of modern football that he's thoroughly sick of — Transfer Deadline Day.
"It's moved beyond cliché," he explains. "I can't bear the words 'Harry Redknapp' and 'car window' in the same sentence now.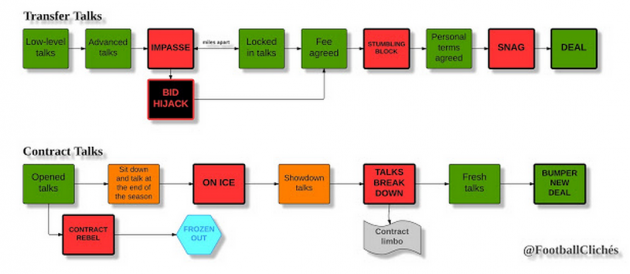 All images used with permission from Adam Hurrey. See more by visiting his blog.