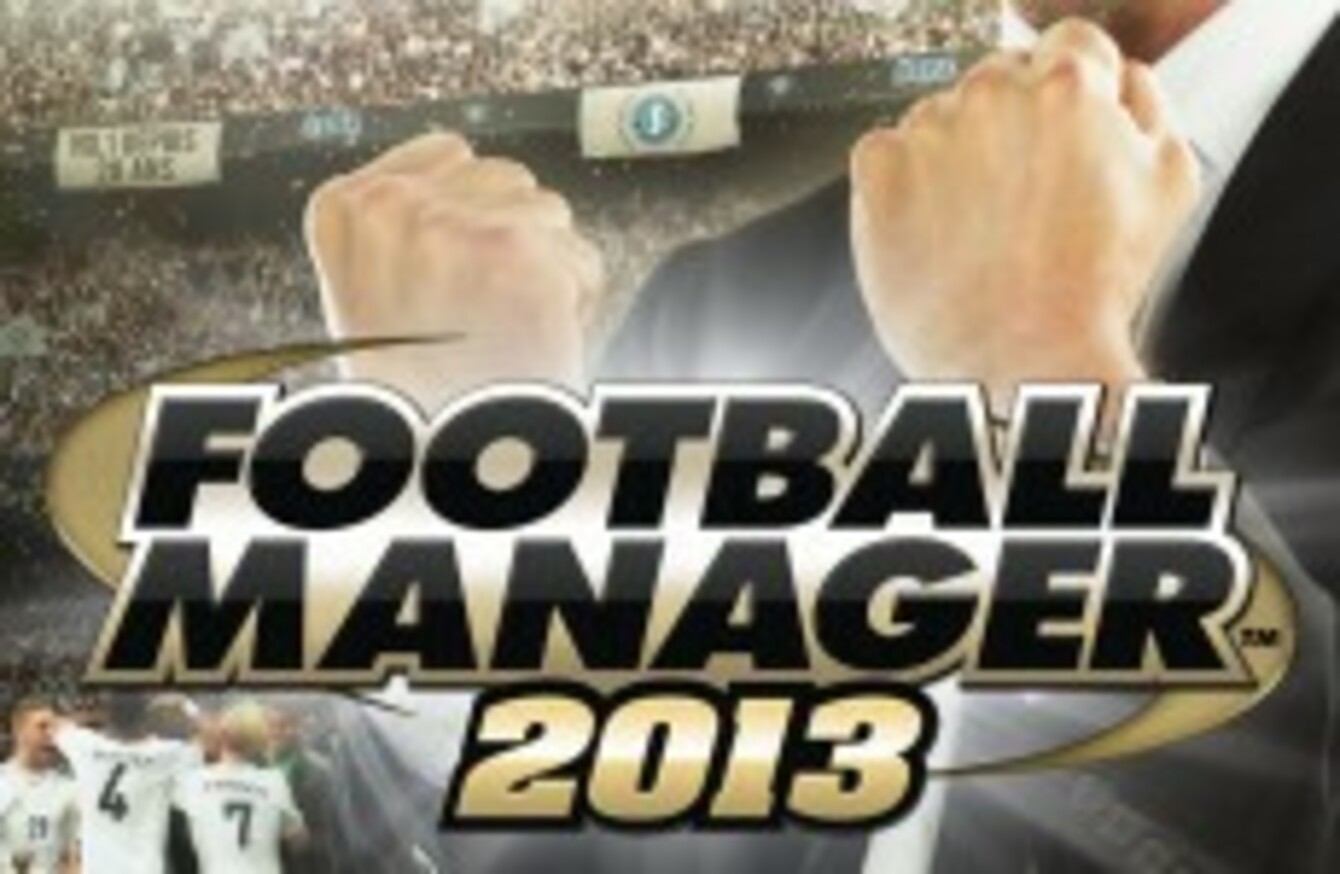 The cover of the 2013 edition.
Image: http://www.gamespasta.com/
The cover of the 2013 edition.
Image: http://www.gamespasta.com/
The comedian Jason Manford tells a story on stage which sounds too ridiculous to be true but, according to those who have spoken with him, , is completely genuine. "I went and did a gig at Manchester City and met a load of the players," says the self-confessed City fan. "I met Micah Richards, the defender, and I was a bit rude to him. Afterwards my dad, who was with me, said 'you were a bit rude to Micah Richards'. I said 'yeah, I don't know why'. It was only when I got home I realised on Football Manager he'd turned up late for training a couple of times."
"That's probably the best FM-related anecdote I've ever heard," says Miles Jacobson, studio director of Sports Interactive, the developers behind Football Manager and the head of the team currently in the process of creating the 21st edition of the computer game, which is scheduled to be released later this year.
"It was about 10 years ago that someone told me there was this up-and-coming comedian called Jason, who, as part of his routine at the Edinburgh Festival, was doing stuff about Football Manager. I decided to go see him and although this was before the Micah Richards thing had happened, the stuff he was saying was still really funny and really complimentary. It was then that I realised we'd broken into the mainstream."
Alongside Manford there a host of other famous figures who have come out as Football Manager fanatics, including fellow stand-up Kevin Bridges, Andy Murray and Stuart Broad. If anything, however, they are merely the well-known faces of an ever increasing community of people – some of them geeks, some of them natural obsessives, all of them football lovers – who share a passion for seemingly cryptic phrases and practically unheard-of footballers. Just watch their eyes light up at the mention of "DMA RLC" and "Nii Lamptey".
"Fans of Football Manager are like members of a cult," Jacobson says. "But it's a very big cult and one that is growing all the time. Dads who played the original games are introducing it to their children while big brothers are doing the same with their siblings. Football Manager 2013, our most recent game, has been our most successful to date – 1.2 million copies sold on PC and Mac and over 10 million illegal downloads in the past year. The interest is growing, which for a game that's been around for over 20 years is remarkable."
The first Football Manager came out in 1992, and back then was known as Championship Manager. The premise was a simple one – allow the user to manage any club across England's top four divisions in an authentic a way as possible. That meant buying and selling players, picking a team and their tactics for league and cup fixtures and, if the opportunity presented itself, the chance to move on to a big and better job.
The graphics were simple, as was the gameplay and range of options available to the would-be Fergie or Clough, but that to a large extent was the appeal. Users could find their stride easily and quickly and once they were in – well, as practically anyone who has played Football Manager would testify to, it was almost impossible to get out.
As the game's popularity grew so did its scope and depth, with Jacobson boasting that Football Manager 2014 (the name change occurred a decade ago following a split between Sports Interactive and games publisher Eidos) will contain close to 1,000 new "items".
Among the advancements are up to 10 new player-roles, including a shadow striker and a regista ("a deeper deep-lying playmaker"), individual player-instructions, a revamped "live" transfer system and even the option of offering long-serving squad members a testimonial.
"There is a lot of pressure on us to deliver a bigger and better version each year," says Jacobson, who joined SI 20 years ago as a tester and regularly speaks to over 50 people directly involved in football to keep the game as accurate and realistic as possible.
"The love Football Manager fans have for the game is intense ? I regularly get death threats on Twitter from people who aren't happy with an element of the game or who've just lost in the Champions League final and for some reason think that's my fault. That's pathetic but it shows how much FM means to people, and alongside the abuse we also get a lot of compliments. It's particularly nice hearing from managers and players who claim they have developed their understanding of football from the game. Ole Gunnar Solskjaer, for instance, told us that he developed his understanding of the tactics he uses at Molde from playing Football Manager."
For all its innovations and increasingly slick graphics, Football Manager's greatest asset remains its database of players. Alongside the 60 SI staff who work full-time on developing the game, there are 1,500 researchers spread across 51 countries and regions around the world whose job it is to liaise with managers, youth coaches and scouts in order to accurately rate, across a number of different skills and strengths, the 550,000-plus players and staff available for purchase, sale and hire in the game .
"SI's biggest claim to fame is that it was us who first found out about Lionel Messi," Jacobson says. "He was playing for Barcelona B at the time and Alex McLeish tells a story of when, during his time as Rangers manager, his son came up to him and said he should sign this amazing young forward called Messi who he'd come across on Football Manager. McLeish said he'd never heard of him and forgot about the whole thing. The rest is history."
But as well as stumbling on the next superstar, SI's researchers have also been known for wildly over-estimating the talent and prospects of less well-known players, none perhaps more famous than Lamptey, the Ghanaian forward who was a must-have foreign signing in Championship Manager 93/94.
In real life his career proved less than fantastic, with a starring role at the 1991 Under-17 World Championship – and the subsequent claim that he was the "next Pelé" from Pelé himself – the high-point. There was naturally much excitement among CM fans when Lamptey signed for Aston Villa in 1994 but, up close, it quickly became evident that he had as much chance of being the next Pelé as Dalian Atkinson.
"When you've got a database of 550,000 players and staff there are naturally going to be a few mistakes, and in the case of Football Manager the mistakes have become cult heroes," Jacobson says. "The fans love them but I don't. I strive for accuracy and see any mistakes in the database as a failure on our part."
But that, as Jacobson intimates, is not how Football Manager devotees judge the likes of Lamptey, Kennedy Bakircioglu, Ibrahima Bakayoko, Cherno Samba, Tonton Zola Moukoko, or any of the other cult heroes created by game. Indeed, the comedian Tony Jameson devotes an entire section to them in his one-man show, Football Manager Ruined My Life, which he is performing to sold-out crowds at the Edinburgh Festival.
"There's probably no part of the show that gets a greater cheer," he remarks. "The majority of the people who come along are Football Manager fans and for them the likes of Lamptey and Bakircioglu are universally loved figures."
Jameson describes his show as a "mid-life retrospective" examining how a game he first played two decades ago turned him from an enthusiast into an addict. "I've worked out that, on average, I've played Football Manager for three hours a day for the past 20 years. That works out to 21,915 hours, or two-and-a-half years, of my life."
Jameson is on his 35th consecutive season as manager of Blyth Spartans, having taken the Northumberland club from the Northern League to Premier League and Champions League success. "I'm 76 in Football Manager years," says the 33-year-old. "I was going to apply for the Brazil job a little while back but realised that would probably be too much of a commute for a man in his 70s."
It has been during his time in charge of Blyth that Jameson has displayed the kind of obsessive-bordering-on-mentally-unstable behaviour that separates a casual Football Manager player from a genuine addict. "The worst it got was probably when I reacted to getting a touchline ban by playing the game from outside my room," he says. "I hit start, left the room, came in again at half-time, hit start and left again. It was a Champions League tie against Espanyol. We lost 1-0."
That is nothing, however, compared with some of the tales journalist and self-confessed FM addict Iain Macintosh gathered in the process of putting together Football Manager Stole My Life: 20 Years of Beautiful Obsession, the book he co-wrote alongside Kenny Millar and Neil White.
"We heard some horror stories," he says. "There was the student whose friends staged an intervention, holding him down and smashing the disk in front of him, and then the chap, another journalist, whose wife found him sat with his head in his hands in the kitchen late one night. 'What's wrong?' she said. 'I've been sacked,' he mumbled. His wife burst into tears. She was pregnant, they'd just taken out a mortgage, she was terrified for their future. It took him several minutes to clarify that he'd only been sacked on a computer game, not in real life."
Macintosh himself once wore a suit and played Abide With Me through Spotify before managing a team in an FA Cup final and ultimately a simple question has to be asked – why have so many people become so obsessed with Football Manager? So much so that it was cited as the cause in 35 divorce cases last year.
"I'm a comedian, but like most lads I dreamt of being a footballer, or being involved in football, and Football Manager gives you that hope of making it," Jameson says.
"It's a basic concept executed fantastically well and as the game has become more in-depth and detailed the more people who play it have been able to engross themselves in the art of management. There is a genuine sense of achievement when, for instance, you complete your first giant-killing in the FA Cup despite the fact that essentially all you've done is defeated a load of pixels on a giant spreadsheet."
This article titled "Football Manager craze has matured into a full-grown national obsession" was written by Sachin Nakrani, for theguardian.com
© Guardian News & Media Limited 2014
SEE SPORT
DIFFERENTLY
Get closer to the stories that matter with exclusive analysis, insight and debate in The42 Membership.
Become a Member