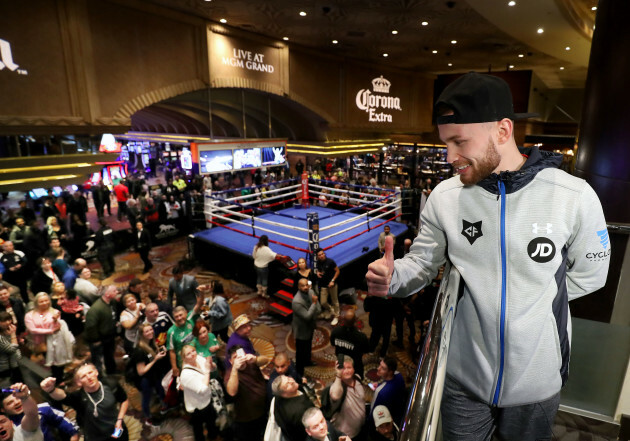 Presseye / William Cherry/INPHO Carl Frampton at his open workout yesterday at the MGM Grand. Presseye / William Cherry/INPHO / William Cherry/INPHO
Joe Callaghan reports from Las Vegas
IT'S A HOT topic, power.
This corner of the desert may be a barely disguised theme park for adults, but that doesn't mean it's immune to the naval gazing of the rest of this deeply divided nation.
The United States' existential crisis at electing a sociopathic 70-year-old toddler to its highest office squawks across the food courts and lobbies of Las Vegas day and night.
Sin City, though, is nothing if not the world capital of distraction. So it is that Carl Frampton finds himself front and centre here this week, his debut under the blinding lights of the MGM Grand offering him the chance to back up unprecedented hype for an Irish bill-topper in the Mecca of fighting.
So, back to the power. Frampton renews hectic hostilities with Leo Santa Cruz at the Garden Arena on Saturday night, putting his WBA featherweight crown on the line in a rematch of 2016′s fight of the year. It is just six months since the pair put on a hell of a show on one of the most glorious Irish fighting nights in recent memory.
As the friendly foes get ready to rapidly run it back, observers are looking for subtle differences between January in Las Vegas and July in Brooklyn. According to the architect of Frampton's finest 36 minutes, there is one difference that will be nothing but subtle once seconds are out.
John Locher Frampton and Santa Cruz at yesterday's press conference. John Locher
Shane McGuigan, the Jackal's trainer, has backed up the claims of his father Barry that Frampton, in his second fight up the ladder at featherweight, has rekindled his power punching ways.
"I haven't seen him hurt sparring partners the way he's been hurting guys, really hurting them, in this training camp," revealed McGuigan Jr, who hasn't seen his fighter KO an opponent in almost two years.
"And these are guys who we've sparred with in previous camps. We always have a new sparring partner who comes in [for] the last four weeks, that really resembles the opponent. But to get him fit, we always use the same guys.
"I'm not going to name names, but we had a guy in who has always been in our camp for the last couple of years, always a reliable guy and Carl went in and knocked him out cold. To see that — and they've sparred hundreds of rounds — but to see that just 'boom!' and it was such a devastating knockout, it was a real 'wow' moment."
Frampton battered Santa Cruz last summer in their first meeting, but he didn't bury him. Arguably the island's best counter-puncher of all time, the 29-year-old let his movement and his footwork guide him to a second world title at the Barclays Centre.
Exclusive Six
Nations Analysis
Get Murray Kinsella's exclusive analysis of Ireland's Six Nations campaign this spring
Become a Member
But this week he has openly spoken about the possibility of stopping the three-weight world champion Mexican who comes here hunting revenge. McGuigan Sr has the look of a trainer who concurs.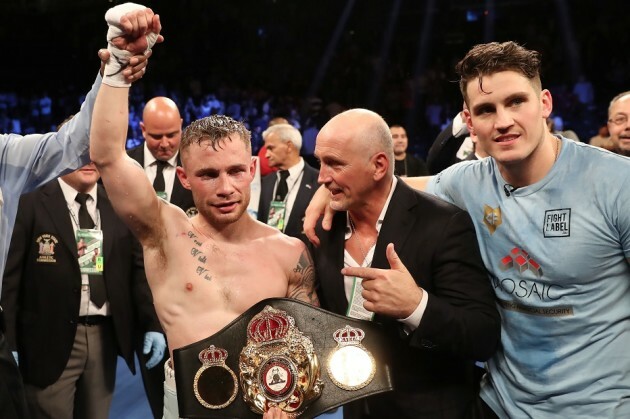 Presseye / William Cherry/INPHO Frampton with Barry and Shane McGuigan after he defeated Santa Cruz last July. Presseye / William Cherry/INPHO / William Cherry/INPHO
"When you have the confidence in your power and see the effect on a guy who you've sparred so many times go down like that, you start believing in your power again," he added. "You've got a guy like Leo Santa Cruz, who has a fantastic chin. Nobody has hurt him like Carl hurt him in that last fight."
McGuigan Jr is a central player in the Frampton fairytale. While his father inevitably draws the flash bulbs, this son stands to the side, always seeming to be pondering the next play.
He guided Frampton so supremely through 2016 that the Jackal was an all but undisputed fighter of the year. Yet he sees plenty of room to improve on Frampton's performance in the first bout with Santa Cruz.
"Yeah, he went back in straight lines, didn't step off, he threw his hook from too far. Loads of things. And it's stuff that I can openly tell Leo Santa Cruz 'this is what my guy done wrong, what did you do wrong?'" boomed McGuigan Jr.
"Because we can make the adjustment, I don't think he can. The only thing he can do is put his hands up, hope that he doesn't get nailed hard early on and set an uncomfortable pace. That's what I think he will do."