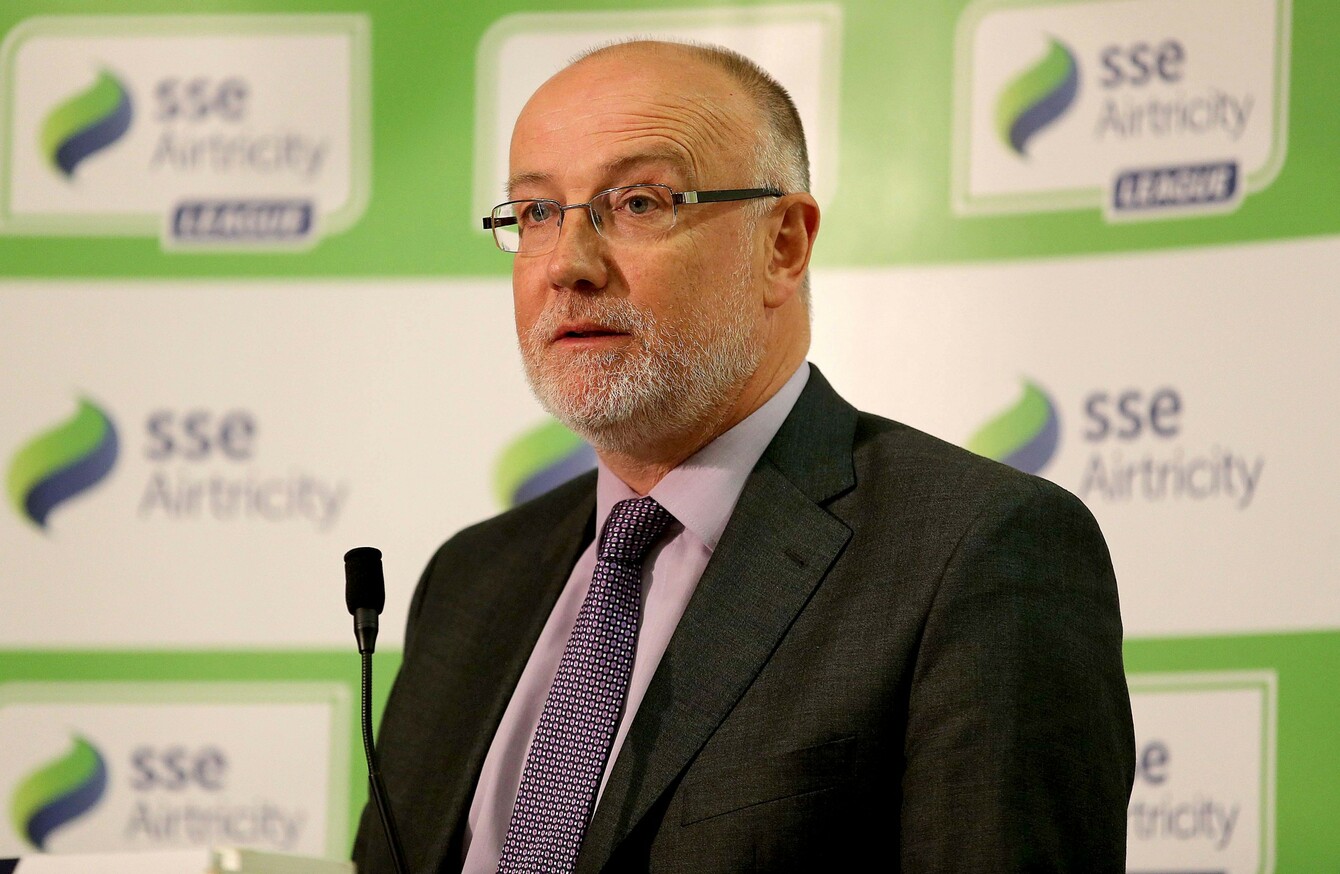 FAI director of competitions Fran Gavin.
Image: Donall Farmer/INPHO
FAI director of competitions Fran Gavin.
Image: Donall Farmer/INPHO
FAI DIRECTOR OF competitions Fran Gavin was keen to put some distance between the association and recommendations made in the latest report on the League of Ireland last night.
Brand expert Jonathan Gabay presented his findings in Dublin yesterday evening and a number of the ideas included as well as the glossing over of key issues have since been met with criticism.
Speaking directly after the press conference, Gavin said that the review's suggestions will be taken into consideration but added that nothing has been "set in stone".
"It has to be stressed that it's an independent review," he explained. "A branding expert came in to have a look at the league's brand and that's what it is.
"There are some interesting things there and it is a small piece of where we are trying to go with the league.
"We have a marketing executive coming in, which is a big thing for us as well, but this is someone looking at it from a different point of view.
Look at it, there are lots and lot of ideas but none of them are set in stone. This is Jonathan's opinion on where he sees it.
"Some of the stuff we've heard before. Some of it is good and some may not work but that's where we are."
It's 16 months since the Conroy Report was released and findings from that have been important as the FAI and clubs attempt to improve the state of the league, according to Gavin.
"We've been talking to clubs around the Conroy Report and one of the big things he said was the need for someone to market the league and that is what we have done," he added.
"When you look at the Conroy Report and this report, they are completely different. The Conroy Report was around governance, structure and all of that in greater detail while this was purely around branding.
"But we're working through it with the clubs. Part of it was the strategic plans, which we are doing at the moment. When they're all in, we will be sitting down with each club to look at which areas they want to prioritise.
"That will happen early in the New Year and that's the commitment the FAI board has given to everyone. Myself and John Delaney and Eamon Naughton, the chairman of the league, will sit down with each club and the priorities of each will differ.
Derry's is a new stadium, Dundalk is a new pitch, Cork is the Glanmire project and Shamrock Rovers is their academy."
As he touched on, recruiting a marketing executive is high on the list of priorities and Gavin believes one could be in place by January.
"That is an appointment that should be happening in the New Year and it will drive on the marketing of the league," he said.
"We have set up an internal marketing group within the league and the FAI and that includes representatives from the clubs.
"We've sat down already and we'll be meeting early in the New Year to look at this review and the Airtricity League also have ideas so we'll see how to move it forward
"What we're trying to do here is improve with the clubs and we will have discussions on everything internally."
Gavin also pointed out that the SSE Airtricity League website will be completely revamped for the start of the new season.
The42 is on Instagram! Tap the button below on your phone to follow us!