Good evening rugby fans and welcome to our live coverage of the fourth and final World Cup game of the day as France face Italy in Pool D.
After Joe Schmidt's men comfortably opened their campaign with a win earlier, all eyes are now on Twickenham as two of Ireland's group rivals go head-to-head.
We've already seen some incredible rugby today and this has all the ingredients to be an absolute cracker under the lights in London.
Kick-off is at 8pm.
Wait, there's even more rugby? What a day it's been but we're not finished there. There were memorable scenes at Kingsholm where Georgia recorded just their third World Cup win while Ireland got the job done in clinical fashion in Cardiff.
Then, amazingly, Japan stunned South Africa at Brighton's Amex Stadium to claim one of the greatest sporting shocks of all time.
So what will this game deliver? As the build-up continues, you can get in touch with your views and predictions. Comment below, join us on Facebook or tweet us @Rugby_ie.
Right, let's check on the teams with just 20 minutes until kick-off.
France: Scott Spedding, Yoann Huget, Mathieu Bastareaud, Alexandre Dumoulin, Noa Nakaitaci, Frederic Michalak, Sebastien Tillous-Borde; Louis Picamoles, Damien Chouly, Thierry Dusautoir (captain), Yoann Maestri, Pascal Pape, Rabah Slimani, Guilhem Guirado, Eddy Ben Arous.
Replacements: Benjamin Kayser, Vincent Debaty, Nicolas Mas, Bernard Le Roux, Alexandre Flanquart, Morgan Parra, Remi Tales, Gael Fickou.
Italy: Luke McLean, Leonardo Sarto, Michele Campagnaro, Andrea Masi, Giovanbattista Venditti, Tommaso Allan, Edoardo Gori; Samuela Vunisa, Francesco Minto, Alessandro Zanni, Josh Furno, Quintin Geldenhays, Martin Castrogiovanni, Leonardo Ghiraldini, Matias Aguero.
Replacements: Andrea Manici, Michele Rizzo, Lorenzo Cittadini, Valerio Bernabo, Simone Favaro, Guglielmo Palazzani, Carlo Canna, Enrico Bacchin.
We're nearly set for kick-off at Twickenham. There was an electric atmosphere inside the stadium last night and organisers will be hoping for an equally partisan crowd again tonight.
James Crombie / INPHO James Crombie / INPHO / INPHO
Both teams are on the pitch and we'll have the national anthems performed by the London international gospel choir.
Twickenham is rocking again as a capacity crowd raise the decibel levels inside the ground.
Two hair-raising, passionate anthems performed with gusto of every single player and fan inside Twickenham.
The action hasn't even started and we're already pumped.
Martin Castrogiovanni, who captains Italy in Sergio Parisse's absence, is nearly reduced to tears. We're all set under the lights. Let's hope this one follows the tone that has been set earlier today.
Kick-off! Italy get us under-way, playing in their traditional sky blue shirts and navy shorts and socks. France, for what it's worth, are in their changed red kit.
1 min – Fast start for Italy but they're penalised at the breakdown and France have the opportunity to clear their lines.
They win their own line-out and the platform is set for Mathieu Bastareaud to make hard yards but a red shirt is offside.
3 mins – Big scrum from the French and already Italy are on the back foot at the set-piece. Castrogiovanni buckles and concedes the penalty.
But Michalak is unable to dissect the posts as he strikes a relatively straightforward attempt against the post and Italy pounce on the loose ball.
6 mins – France 3-0 Italy
France send it out through the hands and eventually win a penalty as the Italians don't roll away.
And then indiscipline from Geldenhuys as he kicks the ball away and the referee brings the penalty forward ten yards.
Michalak makes no mistake this time and France lead.
9 mins – France 6-0 Italy
TMO drama, again!
Just like last night, we have controversy as France are initially awarded a try but the big screen shows the replay as Michalak is lining up the conversion and Craig Joubert decides to go back upstairs.
The replays clearly show Nakaitaci knocked it on before grounding the ball in the corner and the decision is reversed.
However, France had an advantage and we go back for the penalty, which Michalak slots over.
The upshot of all of that is France extend their lead to six points.
12 mins – France 6-0 Italy
Italy respond as they venture into the opposition half for the first time in this contest. They win the penalty but Allan feels the pressure as his radar is off and Italy miss an opportunity to get up and running.
Meanwhile, Masi picked up a knock and he is replaced by Bacchin.
16 mins – France 6-0 Italy
To be fair to Italy, they look to be in the mood to have a real go at France and try and exploit their frailties.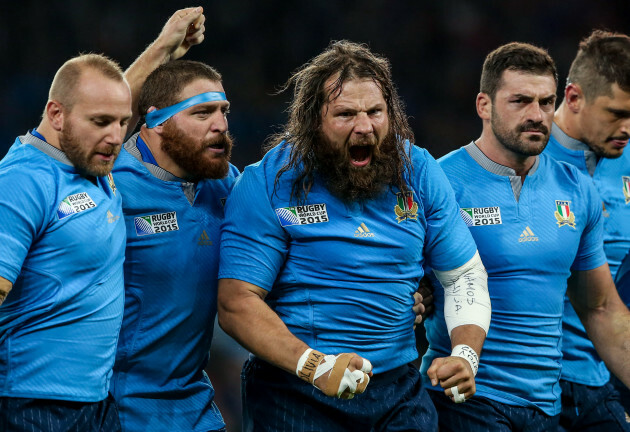 James Crombie / INPHO James Crombie / INPHO / INPHO
17 mins – France 6-0 Italy
Italy go for the short line-out but France manage to slow it down and Minto is eventually penalised by Joubert.
Bastareaud smashes through Allan and France recycle possession winning another penalty at the breakdown. But Michalak once again pings it off the post and Italy escape.
22 mins – France 6-0 Italy
That's now eight penalties against Italy and Joubert will be under pressure to produce the yellow card if those infringements continue.
But it's Italy who are on the front-foot again but they're unable to capitalise as they lose the ball in contact. France look to break from deep.
27 mins – France 6-0 Italy
It's been a stop-start opening to this game and neither side have been able to build up a head of steam as of yet. After a couple of phases of possession, Spedding opts to kick and it very nearly comes off but it just has too much on it and the ball goes dead.
28 mins – France 9-0 Italy
Again Italy's indiscipline is costing them. Zanni is pinged at the breakdown and Michalak steps up for the fifth time this evening.
After striking the post twice, he takes a little extra time over this one and sends it between the upright.
30 mins – France 9-0 Italy
France are in control and the scoreboard reflects that. They've yet to really click into gear but they're being gifted penalties and have taken full advantage.
We're hearing Andrea Massi has left the field after injuring his achilles tendon. Bad news for Italy.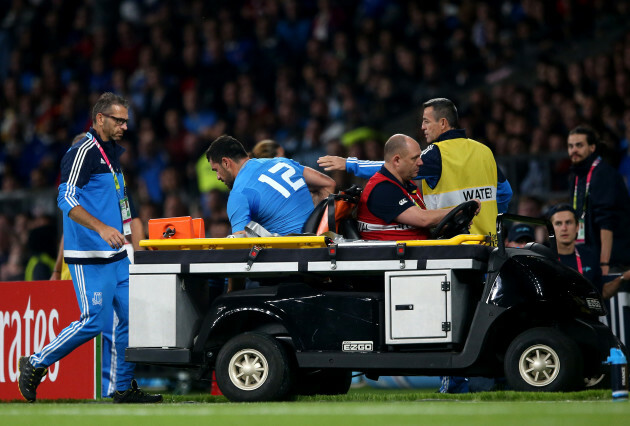 James Crombie / INPHO James Crombie / INPHO / INPHO
33 mins – France 9-3 Italy
Italy are on the board as Allan strikes it sweetly from the tee. From the scrum, Tillous-Borde was pulled up for kicking the ball out of Gori's hands.
36 mins – France 9-3 Italy
France are turning the screw and Italy just can't handle the pressure at scrum time. Another penalty is conceded and Speeding is lining-up a long-ranger with four minutes until the break.
37 mins – France 12-3 Italy
What a kick! Spedding absolutely nails the penalty from the halfway line as it drops over the bar to extend France's advantage.
38 mins – France 12-3 Italy
Italy have yet to win a scrum and it's costing them dearly. The penalties are killing Castrogiovanni and his men and they're in danger of being out of this contest by half-time.
39 mins – France 15-3 Italy
Another one. It could have been more but Michalak slots over the penalty and the lead stretches to 15-3.
Half-time! And the whistle goes for the break with France firmly in the ascendancy.
We're back underway at Twickenham.
41 mins – France 18-3 Italy
Italy continue where they left off and gift a penalty to France straight after the restart. Michalak steps up and makes no mistake.
44 mins – TRY! France 23-3 Italy
France going for the jugular as the match bursts into life and Slimani is the one to cross the line after a period of sustained pressure.
45 mins – France 25-3 Italy
Michalak adds the extras and it was his little chip through which cut Italy apart as the prop latched onto it and gathered it into the bread basket to run in.
45 mins – France 25-3 Italy
Italy are all over the place defensively as France throw everything at them.
47 mins – France 25-3 Italy
A rendition of La Marseillaise rings around Twickenham as France scent blood. They opt for touch to give themselves the perfect attacking platform inside the Italian 22.
49 mins – France 25-3 Italy
Italy's turn to ask questions of the opposition defence as Gori takes a quick tap and go and he's stopped inches short of the line.
France get back in numbers but the ball squirts out the back of the ruck and it's Gori who is first to react and dives on it over the line.
Joubert goes upstairs and after a couple of minutes, the TMO decides it's no try as Gori knocked it on just before touching down.
Italy badly need the next score if they are to have any hope of making a contest out of this.
52 mins – TRY! France 25-10 Italy
Out of nothing, Italy find a route into the contest. They'll need a monumental comeback but Giovanbattista Venditti has given them a lifeline.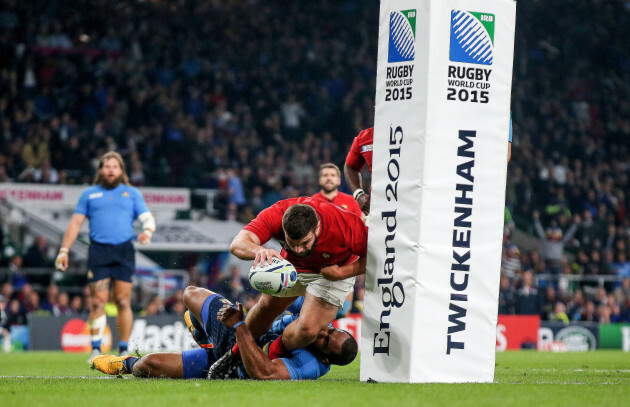 James Crombie / INPHO James Crombie / INPHO / INPHO
55 mins – France 25-10 Italy
Huge concern for France as Huget is helped off the field after it appeared the knee went from under him as he looked to come off his wing. Fickou is his replacement.
57 mins – France 25-10 Italy
A little bit of niggle creeping into the game. Minto is penalised for a neck roll and France's indiscipline then gives Italy another attacking platform as they look to swing the game in their favour.
France seem to be shell shocked after that injury to Huget.
62 mins – France 25-10 Italy
End to end now as Italy begin to increase the intensity. The sides are exchanging possession regularly and time is running out for the Azzurri to eat into this deficit.
66 mins – France 25-10 Italy
Both benches are being used now and it remains extremely scrappy. France have managed to take the sting out of any Italian revival and with just 14 minutes remaining, Les Blues are in control again.
67 mins – France 25-10 Italy
It's remarkable that Joubert hasn't brandished a card yet. We've had penalty after penalty and it's doing nothing for the flow of the game and absolutely nothing for the entertainment levels.
69 mins – TRY! France 32-10 Italy
That's surely game, set and match. Favaro is pinged for being off his feet and Michalak kicks for touch. France win their line-out and Nicolas Mas shows great strength to hold off a couple of Italian defenders to dot it down under the posts.
72 mins – France 32-10 Italy
France are now searching for a fourth try and what could be a crucial bonus point. This, of course, is Ireland's group – Pool D – and the fight for top spot is sure to go down to the wire.
75 mins – France 32-10 Italy
Italy enjoy a couple of phases of possession but they don't make any ground and it eventually breaks down when there's a knock-on in the tackle. Michalak goes off to a big ovation from the French fans inside Twickenham.
77 mins – France 32-10 Italy
France are going for the jugular as the clock ticks closer to 80. They've made good ground and are now inside the Italian 22.
78 mins – France 32-10 Italy
Spedding loses the ball in contact and now it's Italy looking to finish strongly. They've showed good spirit in this second-half but all the damage was down in the first as they gave away penalty after penalty.
Full-time! France 32-10 Italy
Hardly a thriller but 19 points from the boot of Michalak ensure France get their campaign off to a flying start.
Thanks for joining us throughout the day and we'll hopefully have more of the same tomorrow as we get a look at Scotland, Wales and New Zealand for the first time.
Exclusive Six
Nations Analysis
Get Murray Kinsella's exclusive analysis of Ireland's Six Nations campaign this spring
Become a Member