Updated 5.15pm
SIX NATIONS RUGBY has confirmed it is looking into the circumstances around the Head Injury Assessment dispute arising from France's win over Wales in the Six Nations on Saturday.
Championship organisers have also indicated that an independent citing commissioner is free to bring forward any citing complaints around the alleged biting of a Wales player during the 100-minute clash in Paris.
Damien Chouly bundled over for an extremely late France try, Camille Lopez converting to hand France a memorable 20-18 victory after camping out in the Welsh 22m area for 20 minutes past what should have been the final whistle in a firestorm of a finish.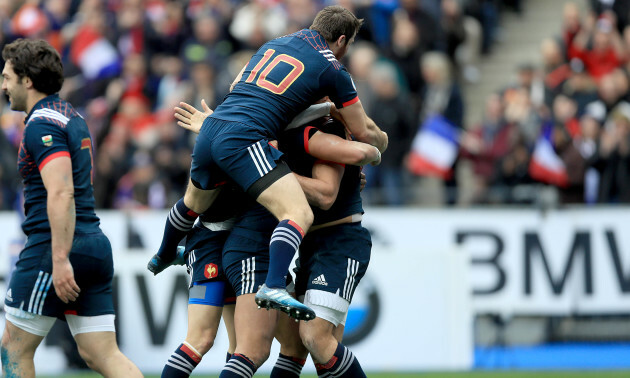 Donall Farmer / INPHO France celebrate their win over Wales. Donall Farmer / INPHO / INPHO
But there was controversy over the 84th-minute substitution of Uini Atonio, France bringing on preferred tighthead prop Rabah Slimani, known for his devastating scrummaging power, back on to strengthen the set piece.
Noves insisted it was a genuine call by his medics for a head injury, a non-sequitur for a referee obliged to follow strict concussion rules that allow teams to replace injured props with front row teammates who have been already subbed off.
"They told me he (Atonio) was injured and I took my responsibility," said Noves.
But Wales counterpart Rob Howley saw it otherwise, saying there was "evidence to suggest that the integrity of the game has been brought into disrepute".
Not only was Slimani seen warming up minutes before going back on, Howley said, but "one of their coaches outside the technical area had a conversation with their doctor and within a minute of that obviously he'd got on and taken the tighthead off… that's outside the laws of the game".
"You can hear (referee) Wayne Barnes ask him (Atonio) if he's okay and he replies, 'I've got a sore back, I'm okay' and then the doctor comes on and he goes off. That wasn't Wayne's fault, he's listened to the medic."
Asked whether he would call it cheating, Howley said: "No, I just question the integrity of our game. If you want to call it that, it's entirely up to you.
"We love our game, but what we witnessed in the last 10 minutes, I haven't seen that before in the international game."
Howley added: "Integrity in our game is pretty important and player welfare is equally important and over the last two and three years concussion has been at the forefront of our international game in many ways.
"What happened in last 10 minutes of that game should not happen on an international rugby field.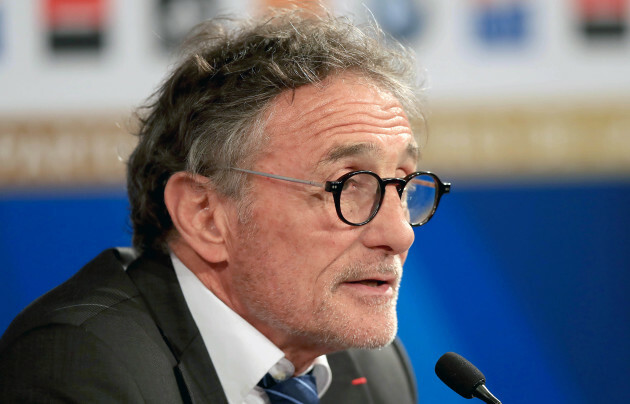 Donall Farmer / INPHO Noves dismissed any question of foul play. Donall Farmer / INPHO / INPHO
"The process leading up to the change of the French tighthead, him coming off, the way that process occurred… we love our game too much to have those decisions and ultimately the outcome of the game. It's hugely disappointing."
Six Nations Rugby released a statement on the matter on Saturday evening, indicating that the HIA incident is being looked into.
"SNRL is aware of concerns about the head injury assessment that took place towards the end of the match and is looking into the matter," read the statement
France coach Noves also downplayed concerns that Wales winger George North had been bitten on his arm in the final minutes, referee Barnes consulting the television official to check.
"I can bite myself," was Noves' glib reply.
Howley conceded that it was "inconclusive on television pictures" before adding: "There's evidence to suggest otherwise on George's arm."
However, Six Nations Rugby's statement indicates that the citing commissioner may bring forward a complaint on this issue.
"An independent citing commissioner was present at the match and will be reviewing all relevant incidents in the usual way," reads their statement.
"In the event that he wishes to make a citing complaint in respect of the alleged bite (or any other incident), because he considers that there was an act of foul play that warranted a red card, he is required to do so within 48 hours after the conclusion of the match (although in certain circumstances, for example where he is uncertain as to the identity of the player(s) concerned, he is permitted to make his citing complaint after the 48-hour deadline)."