POLAND-BOUND Miguel Delaney has studied the form, read the tea leaves and asked taxi drivers for their opinions. Here's his tournament tips…
To get through the group
Group A Russia and Poland
In a relatively even group, Russia are still the most accomplished side. Otherwise, the battle between the rest could well come down to bounces of the ball. An evolving Polish side, however, could well get the benefit and extra momentum of home advantage. Certainly, they have more fire power and flair than both Greece and the Czech Republic — who both struggle to score.
Group B Germany and Netherlands
This is a group that's impossible to call with anything like confidence. Sure, the Germans are undeniably the finest side among the four but the margins are still tight enough to make things very difficult. Certainly, it isn't inconceivable that Denmark finish ahead of Portugal — just as they did in qualifying — and even edge out the Dutch. The Scandinavians are the kind of side that do quite well out of such congestion since they're quite cohesive and have an element of innovation in Christian Eriksen. The problem, however, is that — like the Germans — the Dutch have that bit more. Given Robin van Persie's form, the Netherlands should be capable of following Jogi Loew's side into the quarters.
Group C Spain and Italy
It's interesting how the mood has changed. When the draw was first made in December, there didn't seem a chance that Ireland could got through. Now there's almost an overload of optimism. Spain are fatigued, Italy are in turmoil and Croatia are inconsistent. You couldn't say any of that about Ireland and, suddenly, every game looks a bit more gettable. But that's the thing. There's a difference between being competitive and hard to beat — as Trapattoni's team were always going to be — and actually going and claiming the five points needed to get through. When all things are considered, Spain — despite their problems — remain the best team in the group. Italy's performances of late have also been superb. Indeed, they dominate possession in a manner not unlike the Spanish. That should be enough to put both through. Just. At the least, it's going to be very tight.
Group D France and England
Had England been in any other group then you get the impression they would have been in real danger. Indeed, they still are in some. But the likelihood is that Sweden will not be forceful enough and Ukraine not good enough to punish the shambolic English preparation. Of course, that is not Roy Hodgson's fault given the little time he has had to put his own squad — let alone his own team – together. And, given the manner that Laurent Blanc has brought France along in the last two years, that should see them finish top. England, meanwhile, should still have just enough residual quality to claim the runner-up spot.
Fernando Torres
The problem with this tournament is that all of the likeliest top scorers are in the toughest groups. There will, for example, be no relatively routine wins for Robin Van Persie or Cristiano Ronaldo. And, in the groups where the fixtures are more forgiving, there are no certain starters. We still don't really know whether Russia will play Alexander Kerzhakov or Pavel Pogbregnyak. France, meanwhile, look reluctant to start Karim Benzema.
As such, the likelihood is that this golden boot could be claimed by a relatively low number of goals — like the manner in which David Villa only hit four in 2008. As such, we've got to look at the longer game. And, whatever of their problems, it's hard to bet against Spain going quite far and creating a lot of chances.
Suddenly, too, a relatively revitalised Fernando Torres looks the likeliest to be getting on the end of those chances. It was the Chelsea forward, after all, who got the first in the recent evisceration of Korea. After two years of a rut, there is at least a decent chance that Torres will return to proper form in the competition where he enjoyed his greatest moment.
Champions
If all things were equal, Spain would still be considered the outright favourites for this tournament. They remain, after all, the most talent-laden squad. And that talent is placed in the most effective, exquisite tactical system.
The only problem is that all things are not equal.
Exclusive Six
Nations Analysis
Get Murray Kinsella's exclusive analysis of Ireland's Six Nations campaign this spring
Become a Member
Since Spain started their current span of success in Euro 2008, the core of their team have played an average of 60 games a season. That's almost an extra season more, in the full four since, than every other team at the tournament. And we've already started to see the effects as they're missing Carles Puyol at one end, David Villa at the other and – in the middle – Xavi hasn't looked his exceptional best. What's more, there's the actual mental milestone of going and winning that third major trophy in a row. It takes an awful lot. For a team that has gone through so much over the past four seasons, it might take a bit too much.
In which case, Germany look the likeliest to step in. They are, after all, the team that ran Spain closest in both of the last two tournaments — the 2008 final and 2010 semi-final. They're also young, fresh and benefitting from the only infrastructure that is anywhere like the Spaniards'.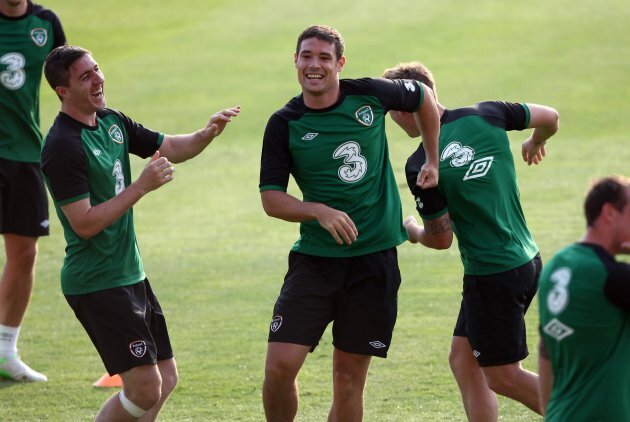 Stephen Ward and Darren O'Dea will be hoping for a clean sheet in the first outing on Sunday. Pic: INPHO/Donall Farmer
Outside bets
Germany to lose their first penalty shoot-out in 36 years While this obviously contradicts our prediction for the overall champions, Germany should perhaps be more afraid than ever before if it goes to penalties. Because, in the last two years, their players have suddenly started to miss them. Worse, they're all players that benefitted from the otherwise exceptional new infrastructure — Bastien Schweinsteiger, Lukas Podolski — that suggests something about the new preparation.
Ireland and Croatia to draw the first game First off, both teams play counter-attacking games. Secondly, the very fact that all teams usually just don't want to lose their opening match should exaggerate that caginess.