Billy Stickland / INPHO Connacht made history by winning the Pro12 earlier this year. Billy Stickland / INPHO / INPHO
IRISH TIMES SPORTS writers Gerry Thornley and Keith Duggan sit down together at the 2015 Sports Book of the Year Awards night.
Both had compositions on the shortlist with Jim McGuinness's autobiography Until Victory Always, ghostwritten by Duggan, was awarded the prize. Over a few drinks, Duggan turns to his colleague and says: "Gerry, you really should have written that book on Connacht this year."
Thornley knew this to be true and it bugged him. The following year, a second chance to write the book presented itself and he acted on the opportunity.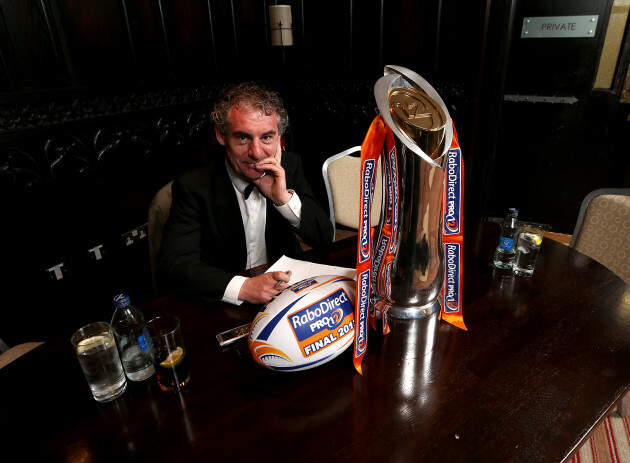 Billy Stickland / INPHO Gerry Thornley always wanted to write about Connacht. Billy Stickland / INPHO / INPHO
Thornley had been covering Connacht rugby for almost two decades at that point, so when he approached the club CEO Willie Ruane and other seasoned members of the club, that rapport built up over the years secured the green light for the rugby correspondent.
Head coach Pat Lam approved it as well but it was agreed that the ground work would be conducted discreetly while their season was still in progress. This would be his first book about a club, and a total departure from the series of autobiographies he had previously produced. But he was always intrigued by Connacht's story of alienation on the domestic rugby circuit and was keen to pursue a "fresh challenge."
He envisioned 16 chapters. He produced 27, but he's happy with the end product. More importantly, so are the subjects who contributed to the project.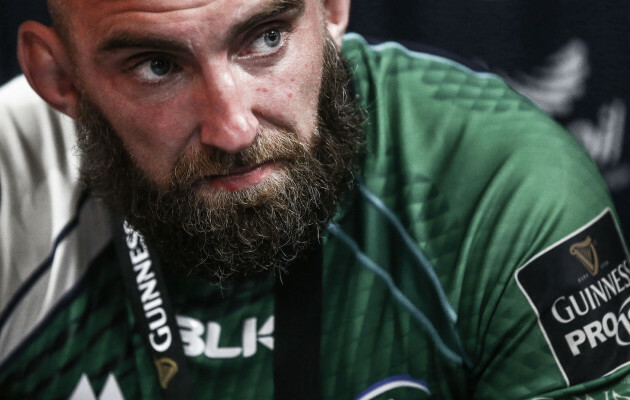 James Crombie / INPHO Connacht's John Muldoon. James Crombie / INPHO / INPHO
After Connacht eventually triumphed against Leinster in the Pro12 final, Thornley exclaimed "let me at them" to Ruane, indicating it was on. And that's where we'll begin.
"On the Friday, Muldoon had asked (Tim) Alnutt if any reception was planned should Connacht win the final. "Oh yeah, ye will have something on Sunday at three or four," Alnutt answered. Muldoon said, "Tim, if we win, yeah, of course we'll do something, but if we lose I wouldn't really want to be doing something. The last thing I want to do is go around in an open-top bus with no trophy or have a reception. No, f**** that."
– Front Up Rise Up
SF: If they hadn't won the Pro12, would this book be here?
A lengthy pause to contemplate the hypothetical scenarios
GT: It might not have happened. Would people have been willing to buy a book about a team who lost a final? I don't know. The plan was to write the book anyway but of course once they won the final, it was full steam ahead. Had they not, would they (Connacht) have been less reluctant to do it? Would they have wanted to celebrate coming second? There certainly wouldn't have been anything like the material.
sceilig / YouTube
SF: Did The West's Awake ever enter as a book title?
GT: Yes it did. It was a working title. It's too clichéd, there's already been a documentary. I find with books, the title will come. Never ever do you start off with a title that you'll end up finishing with. The Trevor Brennan story (Heart And Soul), we were well into the written stage of the book before we came up with a title.
We went around with loads of different ones, there must have been 10 different ones. It was a combination of Willie Ruane and Eoin McHugh (publisher) who came up with it and I thought "Brilliant, I love it." I ran it past a few people, wrote it down on a piece of paper and showed it to them.
SF: Without telling them what it was for?
GT: Yes, just the title and everybody went "Yeah." I can't claim credit for it but I certainly pushed for it. The little tribute inside "To Connacht, its rugby, its people," that was mine. There was going to be an addendum to it "and to all those involved in the journey" but Willie said that's got more impact. We didn't want it to be "Oh yeah, we're the champions, lift the trophy and it's all over." There had to be a sense of this is not the end of the journey either so that's why the ending is as is.
James Crombie / INPHO Bundee Aki at the Pro12 homecoming. James Crombie / INPHO / INPHO
SF: I was reading the chapter about the homecoming and wondering if the detail was secondary sources or did you go yourself?
GT: I raced down to Galway on Sunday morning just to be there. I'd always wanted to write a book about Connacht more than all the other provinces.
SF: Even when they weren't doing well?
GT: Especially when they weren't doing well.
SF: Because you wanted to know why?
GT: I wanted to do just do the story of the underdog, the most remote western outpost on the European rugby map, against the odds, financially the poorest, least number of international players, never won anything, hardcore of loyal fans, players getting poached and yet loyal diehards like Eric Elwood and John Muldoon keeping the thing going.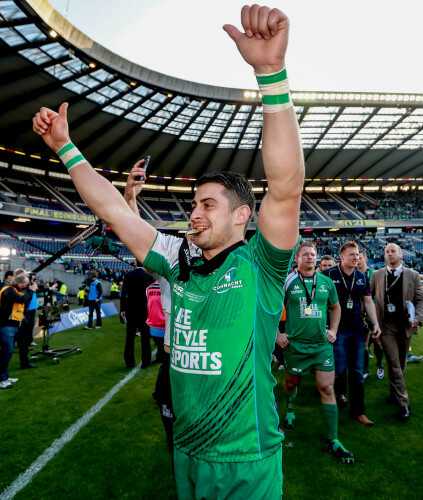 James Crombie / INPHO Tiernan O'Halloran celebrates after the Pro12 final. James Crombie / INPHO / INPHO
As soon as it was over (the Pro12 final) I was out interviewing the players on the pitch. The next day I went down early and started doing the interviews at the homecoming. I already had a very clear idea of the book, I wanted to start with the semi-final to set-up the final and then I wanted to finish with the final. I caught Tiernan (O'Halloran) and John (Muldoon) while they could still remember every minute of the day of the final and got it all down on tape straight away.
SF: You interviewed Tiernan O'Halloran's parents, why?
GT: I wanted to get the perspective of a fan in the final week and then I thought, "What better than the perspective of a fan-cum-parent?" Because the whole thing about that Murrayfield final week with the Edinburgh marathon on was it was planes, trains and automobiles and the Connacht invasion. This was the greatest expedition of Connacht fans abroad ever and I wanted to get a sense of what that was like and I also wanted to get a sense of what it was like watching the final through the prism of parents.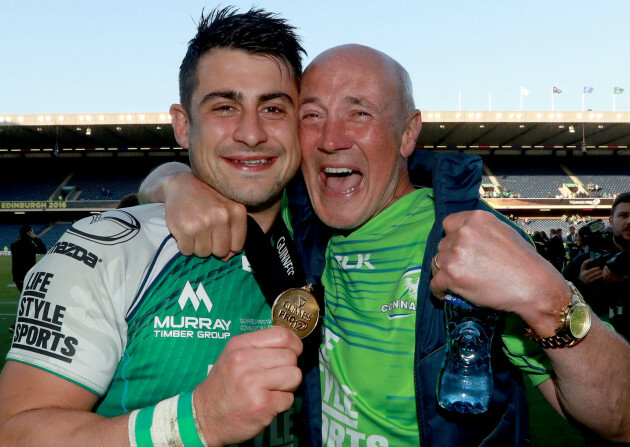 James Crombie / INPHO Tiernan O'Halloran's father is featured in 'Front Up Rise Up.' James Crombie / INPHO / INPHO
SF: You were quite lucky and unlucky in that Tiernan got hurt…
GT: And got the first try so that all fell into place. Some people within the makings of this book didn't like that idea but eventually came round to my way of thinking because it had to go in. It was just to break it up instead of just players and coaches, and add an extra dimension.
SF: There are no quotes from Robbie Henshaw. Was that a conscious choice?
GT: I felt it was well covered, also knowing that this season life would move on and he'd be elsewhere. There are a lot of things I would have liked to have done extra. I would have liked to have done an Aly Muldowney chapter, I would have liked to have done a Robbie Henshaw chapter. I would have liked to have done a Niyi Adeolokun chapter because he's such as fascinating character.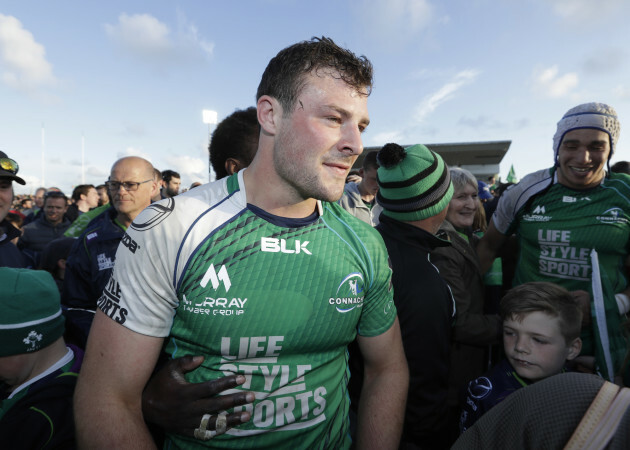 Billy Stickland / INPHO Robbie Henshaw is now plying his trade with Leinster. Billy Stickland / INPHO / INPHO
It's kind of a regret that there isn't more Robbie Henshaw in there and Aly Muldowney. But the book is already 20,000 words more than what they wanted so at some point you have to put a ceiling on it. Every book could be better.
SF: Did you prefer writing on the characters or the club?
He pauses for a second
GT: When I started out this book, it was going to be a year in the life of Connacht starting out in preseason and culminating in the title.
SF: That's what I thought I was going to read.
GT: That's what I thought I was going to write but fair play to Willie Ruane, he said he wanted the journey so I said let's do the journey.
The Kiwi connection
Kiwis have a tendency to wander. It comes with the territory, and rugby has been their best means of seeing the world. But even by New Zealand standards, Dave Ellis has led a particularly nomadic life.
– Front Up Rise Up
Dave Ellis is the Connacht skills coach who will depart the club at the end of this year to take up a role at the Auckland Blues.' The appropriately titled chapter 'The Wanderer' in Front Up Rise Up is dedicated to Ellis's life in which Thornley charts the Kiwi's fascinating existence that includes a fragmented relationship with his daughter.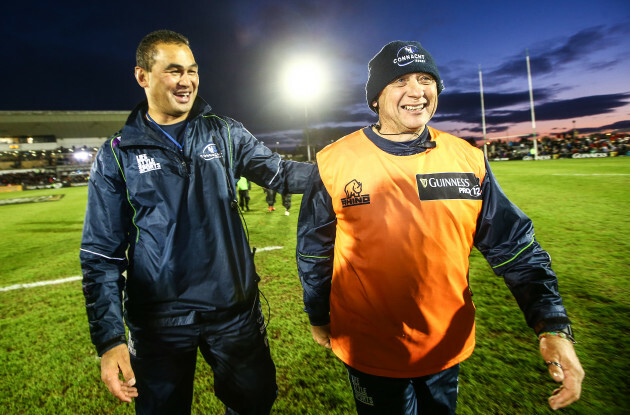 James Crombie / INPHO Dave Ellis will transfer to the Auckland Blues at the end of this year. James Crombie / INPHO / INPHO
SF: Did you expect that kind of interview from him?
GT: No. I'd no idea he'd led such a ridiculously nomadic life that had taken him to all four corners of the planet. His whole life story – taking up rugby and getting an injury and then wandering and wandering and wandering. All the experiences he picked up all over the world, he's a very unique coach and a very unique individual and nobody had ever done an interview with him.
You search him on Wikipedia and there's little to nothing about him. I was very surprised he gave me so much and very honoured that he did, I don't think necessarily that you'd get that in a newspaper interview but you're more likely to get in a book.
SF: And now he's leaving.
GT: He told me during the interview that this would be his last season, but he was happy to have done this and achieved something and be part of what Connacht did. The players speak hugely of him. He could only pass off one hand (as a player) which is why he was so intent that the players could pass from both sides of their body. If you read that book, there are so many Kiwis.
James Crombie / INPHO Tim Alnutt James Crombie / INPHO / INPHO
(At this point, I interject to inquire about the relationship between Connacht and New Zealand and why so many players from the latter relocate and settle in the former. Pat Lam, Tim Alnutt and Ellis along with the Samoan born Bundee Aki, have seamlessly assimilated into a culture thousands of miles from home.)
The42.ie / YouTube
SF: What do you think the connection is?
GT: Very often when I go to New Zealand and I drive around a bit, part of the rugged landscape and the rolling hills would remind you of the west of Ireland so I do think there is that connection there.
It just seems to be the most natural home of the four provinces. Kiwis are great settlers wherever they go. I think when you uproot from New Zealand and you decide to go abroad – and rugby is a great means of doing that – they're quite happy to set up stick elsewhere and become part of that fabric.
So many of them come from remote parts of New Zealand so I think they identify with the underdog and with Connacht being the poor relation and the Cinderella province, that appeals to them as well.
Connacht Handshake
'I told the guys to go away and nominate three players to devise a handshake. They had one week to do so. Then, for the first week, every morning everybody had to shake hands and verbally name Sligo, Leitrim, Mayo, Roscommon and Galway. They had to say it. Repetition. Eventually we didn't have to say it. It was just bang, bang, bang, bang, bang, and everybody knew subconsciously, what it represented. The five counties.'
– Front Up Rise Up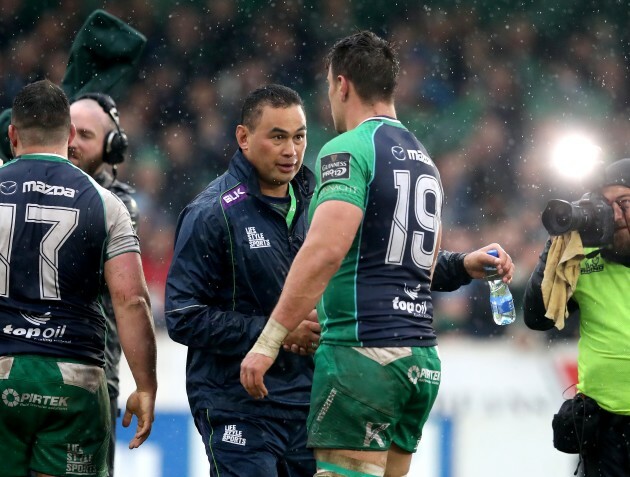 Ryan Byrne / INPHO One of the many things Pat Lam introduced to the western province was the Connacht handshake. Ryan Byrne / INPHO / INPHO
SF: Pat Lam and the Connacht handshake, I don't think I could have bought into that as a player, but when you mention it again at the end of the book as his way of separating team selection from getting along with the players and it's their problem how they deal with it, it makes more sense then.
GT: I think only an outsider might have actually pulled this off. If it was Eric Elwood being from Galway or Michael Bradley being from Cork, it might not have worked and seemed a bit corny. But this is part of the man's vision. He actually believes everything he says.
He believes in the five counties of Connacht. He believes a rugby squad is an extension of the family, not their first family, but it is family and he wanted them to reveal more of themselves to get to know each other better as human beings as well as rugby players. He was amazed himself that they knew so little about each other.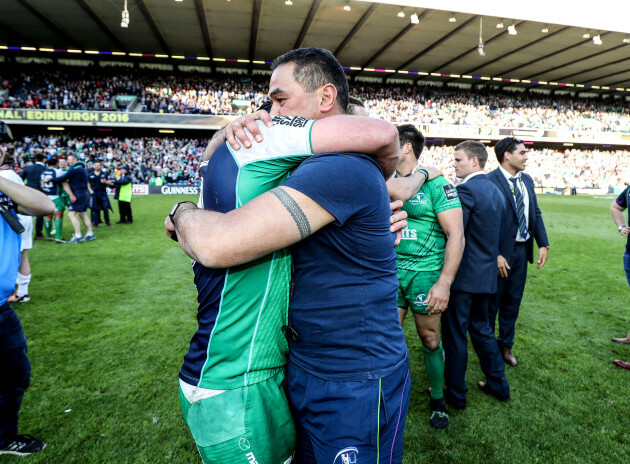 Dan Sheridan / INPHO Pat Lam and John Muldoon embrace after winning the Pro12. Dan Sheridan / INPHO / INPHO
SF: His relationship with John Muldoon is quite interesting as well. Muldoon wasn't afraid to challenge him.
GT: I think he can identify with Muldoon. He's the leader, the captain, the number eight. Throughout his career, Pat Lam was the leader, the captain, the number eight and he knows that he's very much part of the fabric of Connacht and everything Connacht are about.
Coming from Portumna and the GAA territory, staying so loyal to Connacht when he could have gone elsewhere, I think Lam can identify with that from his Samoan and New Zealand roots. There's no doubt about it that that is probably the closest coach/player relationship that Lam has had with any one player.
PRO12 Rugby / YouTube
SF: Did you surprise yourself with how much more you learned about Connacht?
GT: Yeah. Loads more than I expected. It was quite an odyssey and a journey of discovery for me. I knew a lot but it certainly was a fascinating insight into the last three years under Pat Lam and certainly it was a fascinating insight into what makes a professional rugby squad tick and how it operates.
And certainly it was a fascinating insight into their characters – Pat Lam, Dave Ellis, John Muldoon, Bundee Aki, Jake Heenan, Tiernan O'Halloran and his parents. I would have loved to interview a lot more.
And also I think that I found it kind of very rewarding and fulfilling haven been a little but part of the story myself and reporting on them and never really thinking a day like this would come.
The Connacht players will be signing copies of Front Up Rise up on the following dates:
Saturday 26th November, 11am, Eason, Galway
Thursday 1st December, 6pm, Eason, Athlone
Sunday 4th December, 2pm, Dubray, Galway
The42 is on Instagram! Tap the button below on your phone to follow us!