1. Towers of strength
A few weeks back, before Ballymun Kickhams set off into their Leinster odyssey, I spent some time in the area to see what affect success had on a community that's forever been derided. And unlike the Dublin clubs that have come, seen and conquered at provincial level in recent years, theirs is a story that is uniquely heart-warming.
U2 may have once written, "I see seven towers, but I only see one way out", but in recent times, the local GAA club has provided another. That is unusual in an urban jungle as the ghettos have so long belonged to soccer in this country but that's not the case here.
After success in the 1980s, a young Paddy Christie stepped into coaching in 1996, and found that while the surface was gleaming, underneath it the structures in the club were rotten. So one of the great full-backs decided to do something about it and took a handful of kids down to the local park. That group included Ted Furman, Eddie Christie, Philly McMahon and Davy Byrne, all of whom are Leinster champions 16 years later.
Of course the road wasn't straight and wide and, when winning at a young age, they got used to being told to 'go back to the flats yis shower of knackers' as Christie recalled on my journey to what initially started out as one the most desirable social housing projects in Europe.
It's still there, the knacker jibes, and it's so offensive, particularly because it comes from people who should know so much better," added club chairman Tom O'Donoghue. "Women are the worst, by far. I call them the Hyacinth Buckets. People think socially and culturally they are superior to us. With some kids it'll make no difference but I tend not to let it go uncommented on. But sadly there are some people that you can't talk to."
The win over Portlaoise yesterday won't solve the social problems and won't change what Ballymun means to many. The place still has huge issues brought about from years of neglect, even if it's a whole lot better than it used to be.
But in the courtyard of Christie's school that day, two kids were kicking ball and talking about getting a bus to their opening game away to Mullingar Shamrocks as if it was a trip across the globe. Just being in Leinster gave them that quintessential Gaelic games feeling of pride of place so I can't image what they felt after the victory yesterday.
Portlaoise players stand together for the national anthem. (©INPHO/Cathal Noonan)
We can easily analyse the faults of the side. Despite their focussed physicality and domination of possession in the Leinster final, their decision-making coming out of midfield and in the half-forward line was atrocious. They could have pointed their way to victory by half-time but instead threw high ball after high ball in on top of one of the best full-back lines in the club game.
Their intense fast-break approach meant they ran out of energy in the last 10 minutes and their major flaw of not being able to kill an opponent off after badly injuring them raised its head again. But all that can wait for the analysis ahead of the All Ireland semi-final.
Given the standard of this season's championship, Ballymun are the worst of the final four. But they are possibly the best story and yesterday, the words of Paddy Christie from a few weeks back came to mind again. "So many of these players would have been growing up in Ballymun as 10-years-olds when things weren't as calm as they are now. It's a huge achievement to get these fellas to where they are. I'd like to think it'll do the same for the next generation too and the success this year might help as it's made people proud of Ballymun and given them a spring in their step for a while anyway."
There are few places to which this win would have meant more.
2. You earn the right to win
Ever since Oulart-the-Ballagh beat Ballyhale in the Leinster semi-final, there's been a sense of destiny about the Wexford champions. But after losing two provincial finals, they should have known better than anyone that beating a Kilkenny side is all well and good, but what they needed to take from that day was their exit from the field. Rather than climbing steps into the stand, they walked the tunnel to the dressing room. From that point on they had to focus on past wrongs.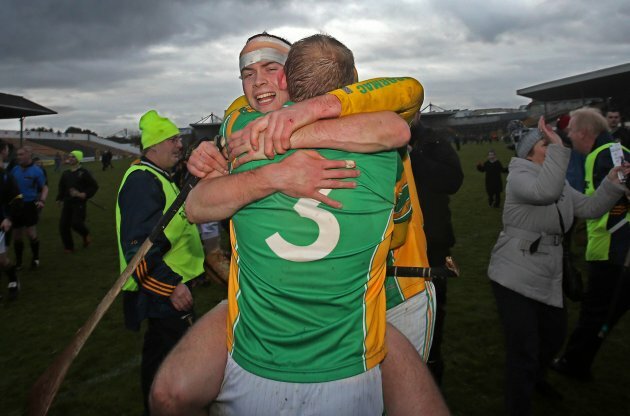 Dan Currams and Ger Healion of Kilormac celebrate at the end of the game. (©INPHO/Donall Farmer)
They'd come through the harder half of the draw this time around, had the experience, and had the momentum after two wins by the minimum. But Kilcormac-Killoughey played the present and not past victories and even when they lost Dan Currams to injury after an early goal they kept their much favoured opponents at bay throughout.
You can feel sorry for Oulart, after all it must be heart-breaking, but at some point you have to put emotions aside and after three Leinster final losses in as many years, the obvious conclusion is they've blown a wonderful chance after a lot of hard work and a lot of epic victories. At this point they have only themselves to blame.
3. Varsity Blues
For some time I've been a huge critic of both the Sigerson and Fitzgibbon Cups. Rather than be a means to integrate young students from all over the country into a new world and a tool to make friends in a difficult and different environment, they've forever been a way for third-level institutions to show off and another stage for the best players in the country to prosper.
The truth is, unlike in America, no one here has any affinity to any college, regardless of whether they went there or not, so the structures as are make no sense and benefit the very few.
But for once the Higher Education Board stood up and made a decisive and important call by introducing a new regulation which states that players who have studied more than two college courses or played college ball for six years are not eligible for further third-level competitions. More importantly they stood by this ruling when the usual whine came from inter-county managers defending their stars and the lesser good. Six years is enough. Two courses are enough. At some point it is time to make way for others and give them a chance to feel part of a university.
However this is only a start and there's so much more to do for the Sigerson and Fitzgibbon Cups to become little more than a waste of time.