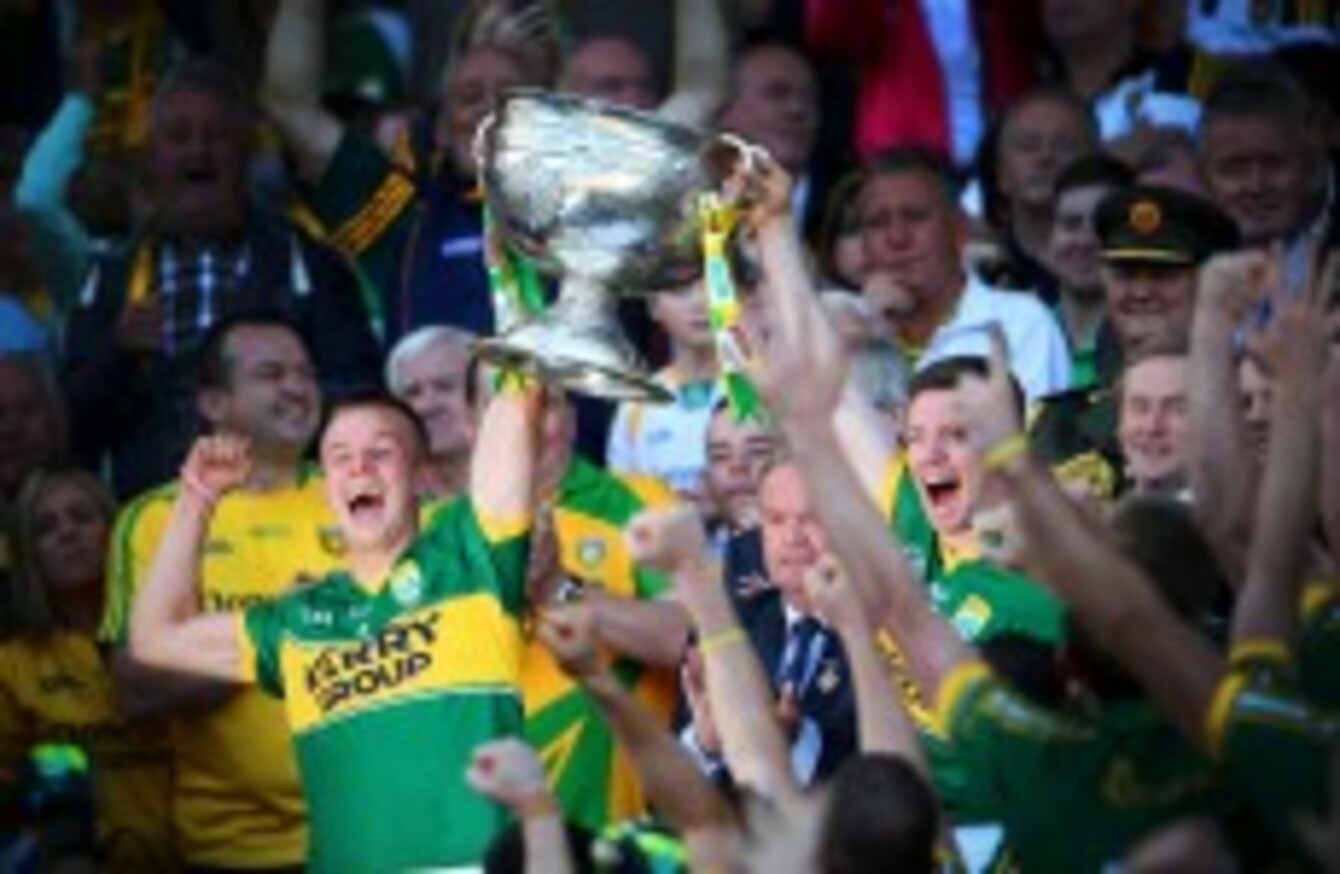 Fionn Fitzgerald and Kieran O'Leary lift the Sam Maguire.
Image: ©INPHO/Cathal Noonan
Fionn Fitzgerald and Kieran O'Leary lift the Sam Maguire.
Image: ©INPHO/Cathal Noonan
Can Kerry retain, will Dublin regain or are we going to see a different name on Sam Maguire?
Patrick Ward
With Kerry, much will depend on the form of James O'Donoghue, who hasn't played since last September's All-Ireland final. Colm Cooper will return also, but it remains to be seen whether or not Eamon Fitzmaurice can get the best out of Tommy Walsh, or even if he knows where to play him. As for Dublin, they appear well placed for another good crack at the All-Ireland. Brian Fenton looks destined to nail down a regular starting spot at either midfield or wing-forward, and Dean Rock's form has been exemplary. Jim Gavin has curtailed the Dubs' gung-ho approach and the set-up seems much more pragmatic than in previous years.
Will Slattery
Dublin will have learned valuable defensive lessons from last year's hiding against Donegal and their forward line is still the strongest in the country. They'll continue their recent pattern of sandwiching All-Ireland wins around a semi-final upset.
Sean Farrell
Go on so; a new name. I hope, for the sake of everyone's sanity, that it's Mayo, but they'll probably steamroll their way to the final and lose to someone with a plan.
Jackie Cahill
Kerry and Dublin are the two leading contenders for silverware and it's difficult to see any team outside of these two lifting Sam. With Paul Galvin, Tommy Walsh and the Gooch back in the fold, they'll make another serious push. With the draw the way it is, Kerry and Dublin won't meet until an All-Ireland final if they both make it that far. And after losing that epic 2011 decider, Kerry won't slip up against the Dubs again.
Eoin O'Callaghan
It's far from ideal when you jot down a couple of 'contenders' on a piece of paper and at least three seem far-fetched upon revision. But that's not Kerry or Dublin's fault. Perhaps their biggest obstacles could come from Ulster, especially with Armagh and Monaghan enjoying spirited showings last year and eye-catching league displays recently. Mayo again? Unlikely, I'd say.
Fintan O'Toole
It's difficult to look past last year's All-Ireland semi-finalists as contenders and of those, Kerry and Dublin look best placed. Kerry boast a stronger squad this year but if Dublin can peak for August and September, their league form suggests they have the wherewithal to make it three All-Ireland titles in five years.
Steve O'Rourke
This is so far from a hot take that you could probably crush it, add white rum, sugar, lime juice, sparkling water and mint to make a mojito, but I honestly can't see past a Kerry defence. They're stronger than last year and while they'll suffer, like Dublin, from the lack of provincial challengers, they've proven that their gameplan may be that bit more adaptable than Jim Gavin's and, for that reason, they will make it two-in-a-row.
Paul Hosford
Kerry have improved, but Dublin will be hungry. While you'd like to see a new force emerge, I think that whoever wins when these two face off will be lifting Sam.
Sinéad O'Carroll
Isn't it nice to be talking about Dublin and Kerry again? *rolls eyes*
I would love to see a new name on Sam this year but I can't see it happening. After a year without the title, I think Dublin will be hungry enough again to take it. I expect we'll be seeing a lot of epic Kerry-Dublin of old montages from RTÉ as we head into September.
Adrian Russell
Kerry most certainly can retain it but I don't think they will. Dublin will continue their recent shift pattern when it comes to their work: one on, one off. Jim Gavin and the Dubs' brains trust will surely have learned yet more from last season's relative failure. They know how to win this thing anyway, they play at Croke Park and they've got some serious players.
Niall Kelly
I feel that the wise choice is to pick Kerry every year, just to avoid looking foolish come September. But while I'm not writing the champions off — I've learned that lesson the hard way — I think the Dubs will kick on again from a very shrewd league campaign. Jim Gavin has strengthened his panel's depth and it's hard to see them making the same naive mistakes that cost them against Donegal last year. It will take something special to topple them.
Call it: who'll be the four provincial champions?
Patrick Ward
Connacht: Unlike previous years, this could prove to be the most hotly-contested province. Galway are building momentum, while Mayo are striving for their fifth Nestor Cup in succession. But Roscommon look well poised to break the green-and-red monopoly west of the Shannon.
Leinster: Dublin. No team will get to within seven points of them.
Munster: Kerry. Cork have regressed under Brian Cuthbert and Tipperary are still a bit raw to put it up to the big two.
Ulster: Monaghan are on the kind side of the draw so they are obviously the favourites. Should Donegal make an Ulster final they will but it up to the Farney men, but at this stage it's hard to look past them.
Will Slattery
Connacht: Mayo.
Leinster: Dublin.
Munster: Kerry.
Ulster: Tyrone.
Sean Farrell
Connacht: Mayo.
Leinster: Dublin.
Munster: Kerry.
Ulster: Armagh, beating Cavan in the final.
Jackie Cahill
Connacht: Roscommon to build on their league progress.
Leinster: Dublin all day long.
Munster: It has to be Kerry, based on Cork's capitulation against Dublin in the league final.
Ulster: Donegal will rule the roost again but they have to win four games to do it, and that's a difficult ask.
Eoin O'Callaghan
Connacht: Mayo.
Leinster: Dublin.
Munster: Kerry.
Ulster: Armagh.
Fintan O'Toole
Connacht: Roscommon and Galway should be stronger but Mayo to still prevail.
Leinster: It's impossible to look beyond Dublin.
Munster: Kerry's dominance to continue.
Ulster: A favourable draw could see Monaghan triumph.
Steve O'Rourke
Connacht: Roscommon.
Leinster: Dublin.
Munster: Kerry.
Ulster: Monaghan.
Paul Hosford
Connacht: Mayo.
Leinster: Dublin.
Munster: Kerry.
Ulster: Tyrone.
Sinéad O'Carroll
Nothing too off the wall here…
Connacht: Mayo.
Leinster: Dublin.
Munster: Kerry.
Ulster: Tyrone.
Adrian Russell
Connacht: Mayo.
Leinster: Dublin.
Munster: Kerry.
Ulster: Monaghan.
Niall Kelly
Connacht: Roscommon.
Leinster: Dublin.
Munster: Kerry.
Ulster: Monaghan.
This year's surprise package will be…
Patrick Ward
Roscommon are primed to finally make the breakthrough. Having gained promotion from Division 2 of the Allianz Football League, they should be full of confidence.
Will Slattery
Armagh. They were feisty last year with a poor manager and I expect them to have a good qualifier run with Kieran McGeeney in full control this season.
Sean Farrell
Armagh. They'll be primed for the opening game of the championship against either Donegal or Tyrone. This prediction all hinges there, really, but after winning promotion from Division 3, if they can win that game they'll be on a roll.
Jackie Cahill
Roscommon… if they can carry their impressive league form into the summer. It all depends on whether or not they are satisfied with what they have achieved to date. Tipperary can also build on their recent championship form, having finished in the top 12 in two of the previous three seasons.
Eoin O'Callaghan
Tipperary may do something in the qualifiers again this year. They're on the wrong side of the Munster draw (they pushed Cork very close last year but will face Kerry should they beat Waterford in the first round) but may be buoyed by how the Kingdom struggled against Clare in last season's semis. Tipp had a decent league campaign — the handful of Division 3 games they lost were all by incredibly slender margins but they need to stop conceding so many goals. They shipped 11 in their 7 league outings this year and looking at the qualifiers last term, they allowed four against Laois and four to Galway, when they were eventually eliminated. Solve that puzzle and they could make the last-eight.
Fintan O'Toole
Tipperary. They've reached the last-12 twice in the last three seasons and are capable of taking that next step to become quarter-finalists in Croke Park. Their U21 heroics are a good springboard for the senior side to build on.
Steve O'Rourke
Roscommon. They may have 21 provincial titles to their name but only four have come in the past 35 years. I don't think an All-Ireland semi-final is beyond them either.
Sinéad O'Carroll
Everyone is expecting something big from Roscommon this year so I'm not sure how much of a surprise that will be if they deliver. I'd like some kind of unpredictable result in the early rounds, to keep it interesting for longer. Hurling has overtaken the game in terms of match quality, as well as gaining that sense of 'you never know what might happen'. Time for football to catch back up.
Paul Hosford
If Kieran McGeeney can get them firing, Armagh.
Adrian Russell
MMA enthusiast Kieran McGeeney will have his native county fully-versed in armbars and choke-holds, and they'll go deep into the summer.
Niall Kelly
I'm not sure if Monaghan still fall into the dark horse category but the Ulster draw has been kind to them and, provincial title or not, anything less than a place in the last eight will be a disappointment. If Conor McManus can stay fit, they'll have one of the outstanding forwards in the country leading their charge.
Who'll be the Footballer of the Year?
Patrick Ward
Paul Flynn may finally get his Footballer of the Year award. Should he increase his standards from previous years, he'll make a strong challenge for the gong.
Will Slattery
Many thought he deserved the award last year in a losing season, and it's hard to see Diarmaid Connolly not having yet another influential summer.
What are they
really like?
Rare insights on sport's biggest names from the writers who know them best. Listen to Behind the Lines podcast.
Become a Member
Sean Farrell
Colm Cooper.
Jackie Cahill
Having battled his way back from a serious cruciate knee ligament injury, Colm 'Gooch' Cooper still believes that there's something in the tank. And if Kerry can get him firing again, the Dr Crokes wizard can be Footballer of the Year again.
Eoin O'Callaghan
Diarmuid Connolly.
Fintan O'Toole
He only won his first All-Star award last year but Diarmuid Connolly's brilliance can see him land the individual player honour in 2015.
Steve O'Rourke
Colm Cooper. A glorious return to form for the Gooch.
Paul Hosford
Diarmuid Connolly.
Sinéad O'Carroll
At the start of last year I called Diarmuid Connolly, even though I didn't think his side would take Sam. This year, if they lift Sam, he'll be at the top of the pack.
Adrian Russell
Rather than go for the popular choice of Diarmuid Connolly, let's say Paul Flynn
Niall Kelly
Paul Flynn. The most consistent footballer in the country for the last four years; it's a crime that he hasn't won it yet.
This summer I expect to see…
Patrick Ward
Blanket defences and Pat Spillane giving out. This year's championship in Ulster could be incredibly tedious to watch. The prospect of Donegal or Tyrone having to possibly play Derry and Armagh after their preliminary round en route to an Ulster final hardly leaves the footballing purists out there frothing at the mouth.
Will Slattery
A Dublin versus Kerry final, Mayo and Donegal both to regress under new managers, and Shane Walsh to bust out some more audacious pieces of skill.
Sean Farrell
A huge amount of time and space given to anyone who wants to give out about the level of entertainment on show. Hurling will be held up as the ultimate example to all sports.
Jackie Cahill
More emphasis on attack, hopefully. Dublin struggled with Tyrone and Derry's blanket defence in the Allianz League and it would be lovely to think that a return to attacking football is on the cards. Kerry and Dublin are the two teams most capable of picking their way through packed defences.
Eoin O'Callaghan
Joe Brolly flinging his pen across the RTÉ studio in protest at the football 'disease'.
Fintan O'Toole
Jim McGuinness star as an analyst in the manner that he did as a manager.
Steve O'Rourke
Everyone bemoaning the lack of provincial competition in Leinster and Munster, while their Ulster brethren complain that the province is too difficult to get out of.
Paul Hosford
Blanket defences and people giving out about blanket defences.
Sinéad O'Carroll
Some more tough days in the stands watching the Lilywhites. If the team gets over a first clash against Laois or Carlow, the Dubs will be waiting in Croke Park. There'll also be lots of chat about how Dublin could dominate for years, even though we've seen how difficult it is to put a two-in-a-row together — even for them.
Adrian Russell
Tommy Walsh reminding everyone why Aussie Rules scouts lured him south for a few years.
Niall Kelly
Lots of hand-wringing and agonising about Gaelic football's imminent demise; hopefully a few practical solutions that can be properly examined over the autumn; and hopefully a game or two to match Kerry versus Dublin in 2013 or Kerry versus Mayo last year.