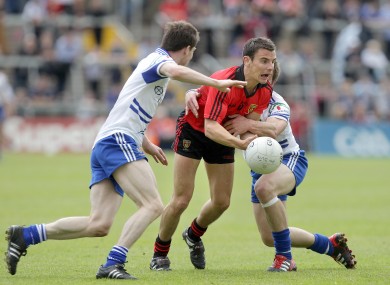 Down's Daniel Hughes with Karl O'Connell and James Turley of Monaghan.
Image: INPHO/Morgan Treacy
1. It's a man's game
Michael Duffy has never been our favourite referee but for close to an hour at the Athletic Grounds we actually liked the way he handled the Ulster semi-final. Down may not have been happy with some of his decisions but that's because they couldn't deal with the controlled aggression and physicality of the opposition.
The key word there is controlled as the majority of Monaghan's ferocious tackling was within the rules. A referee cannot be castigated for not giving a free in when an attacker is bottled up fairly at one end before giving a free at the other end for a lazy foul that never involved the same intensity.
The way Duffy refereed the game brought about the contrast of styles and the allowance of heavy hitting when within the rules made the game so good to watch. It was almost a hurling style performance by the Sligo whistler. Down will say they should have had a penalty when Karl O'Connell made contact with Daniel Hughes but we agree with the referee's call and Conor Garvey's stamp should certainly be looked at again but it wasn't an incident anyone picked up in real time. But then Duffy went and ruined it all by doing something stupid like…
2. A referee can undo all the good with one moment of madness
Martin Carney said Monaghan were perfectly entitled to take a quick free and said their goal was perfectly legitimate. Wrong. It may have been if the referee wasn't in the middle of booking a player but while Down were criticised for falling asleep against Fermanagh and giving up a goal, this one wasn't their fault. Look at it this way.
Michael Duffy actually helped create space behind the Down full-back line by calling over the impressive Brendan McArdle and reaching for a yellow card. But then he allowed Monaghan to take a quick free, allowed Tommy Freeman to hit home to the net and only then did he finish booking McArdle who was stood beside him as per his orders.
It was ludicrous as it was actually the referee's move which created the space and you can be sure Duffy was gladdened by the Down fight back because at that stage any other result and he'd have been personally responsible.
3. There's one obvious way to down Down
There's so much to praise James McCartan's side for after the weekend. Coming back after that abysmal first half was commendable, coming back a second time after the aforementioned goal was remarkable. But as good as certain aspects of their play was, time and again in recent seasons we've seen the blueprint to beat them. Cork showed it in a Croke Park qualifier last year, Cork again showed us in a Croke Park league semi-final this year and Monaghan showed us for 35 minutes and were only let down as they didn't have the stamina to maintain the intensity of that kind of game.
Down love space. With Benny Coulter returning and Conor Laverty thriving in room, winning ball and laying it off to an onrushing half-forward line when not finishing himself, they are dangerous. But clog up the channels with numbers, hit hard and break fast and they will eventually cave in. For that reason, you can be sure they are hoping it's Tyrone and not Donegal joining them in the Ulster final.
4. Systems malfunction
We've been here before. Each summer, so much talk tends to be about the championship structure and we've outlined before the importance of the provincial system because it gives hope to the little guy and gives lesser counties something tangible to aim for. But that doesn't mean the provincial system shouldn't be altered while kept. Yesterday we had the ludicrous situation that's an annual event whereby the last team in Connacht is not out until after the longest day of the year and the fact that Mayo had to do no more than beat Leitrim to reach a Connacht final and the last 12 is fair on nobody including the county's own fans.
Take a look at other provinces to see the disparity. To get to the same stage Longford would have had to beat Laois, Wexford and Dublin, Meath will have had to beat Wicklow, Carlow and Kildare, Donegal will have had to beat Cavan, Derry and Donegal. It's time for Donegal and Longford to head to Connacht, and perhaps Offaly and Wexford to head to Munster, resulting in four eight-team conferences for a balanced and fair football championship.
Gavin Cooney
Reports From Qatar
Get Gavin's exclusive writing and analysis from the 2022 Fifa World Cup
Become a Member
5. It's all about the unsung hero
After Leitrim's hammering at the hands of Mayo, a result so many will look at and shrug their shoulders with a mixture of disinterest and disdain, their manager Barney Breen had this to say. "The lads are gutted in there. I feel so much for them because they've put in such an effort. They come from Dublin, Cork Limerick and all over the country for training twice a week so I'm gutted for them more so than anything else."
It's so easy to forget the effort they put in, and all the while those players knew they hadn't a hope of reaching a Connacht final.
With smaller counties like Leitrim who neither have the numbers nor the sponsorship that is key to providing scientific backroom teams that make-or-break a side in the modern game, they are already at a huge disadvantage. But on top of that they are the ones hit hardest by emigration.
A photograph during the week of their 30-man panel from 2010 showed that between those that had left football and those that had left these shores, only 10 were left. Counties like Leitrim are vital to the football championship and prevent it from becoming little more than a 10-team event. So rather than pour scorn on their poor showings, help is needed to keep them somewhat competitive.