THERE CAN BE a tendency to only pay attention to umpires when they make a mistake, or take a controversial decision that negatively impacts your team.
But they've a very important role to play in the GAA and one that rarely gets the positive recognition it deserves.
Stevie O'Donnell was one of the best umpires of the late 90s and throughout the 00s, working alongside fellow Tipperary native Paddy Russell in more than 40 senior football championship matches, many of them live on TV.
But some of O'Donnell's most vivid GAA memories come 600 kilometres from Croke Park, as young man trying to stay in touch with his national sport in London.
"I lived in England for a long number of years in the 80s and I played with the Kerry Gaels intermediate football team.
"We were based in Gladstone Park in North London and there were no dressing rooms. We didn't even tog out in the cars as most of the fellas didn't have them and, even those who did, they couldn't get parking close enough to the pitch.
"What we used to do was tog out under the trees hail, rain or shine and you were just hoping the weather was good.
"London was a difficult place though to play the game or even to train. I was lucky, I was driving the black cabs so I could just pull the car up to wherever we were playing but for a lot of the lads I was training with or playing with who had to take the tube or the bus, they could be three hours travelling across London to be welcomed by no dressing rooms, no showers, nothing like that.
"But we loved the sport and the sense of community."
It was only following his return to Ieland, and after he'd hung up his boots, that O'Donnell took on the responsibility of being a senior inter-county umpire.
"I got married in London and came home to Tipperary but I didn't play very much when I got back and took up with the radio when I did.
"In 1998, there was a Munster minor football championship match between Limerick and Kerry in Thurles and there was a goal scored that should have stood but wasn't given. It hit the bar at the back of the goal and bounced back into play and they never saw it.
"Paddy Russell, who was the referee that day, was asked to have a look at his umpires at the time and to see if they were up to the job. He came to me and he came to Micheal O'Dwyer and said to the both of us 'would you be interested in coming along and helping out?'
"We would have been the younger crew and he could tell we would be well used to the games.
"It was a baptism of fire for me really as my first major match would have been the National League semi-final of 1998."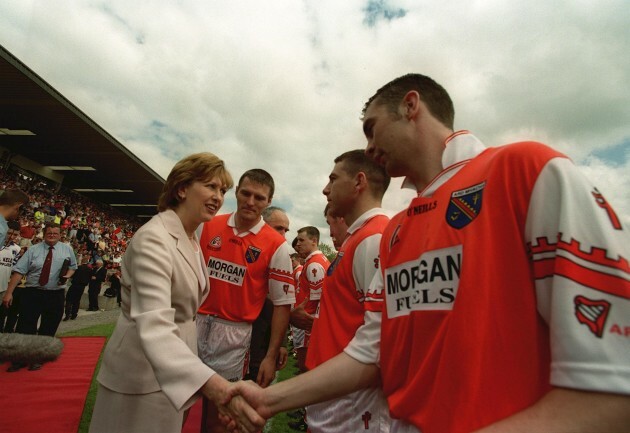 Andrew Paton / INPHO The1999 Ulster Final. Andrew Paton / INPHO / INPHO
It's something we take for granted today, but O'Donnell was also responsible for ensuring that umpires now get to take part in the Presidential parade ahead of high-profile games.
"My first big championship game was the 1999 Ulster final between Armagh and Down. Why I really remember that game is because of an unusual, well, I won't call it an incident.
"Do you know when the umpires and officials walk onto the field? Well this was in Clones and I can't begin to describe how many people were there, it was packed to the rafters. There were fellas on walls and on the roofs of houses above on the hill to get a view of the game.
"But we were standing in the centre of the field when a representative of the Ulster Council came up to Paddy Russell and said 'Paddy, the President of Ireland Mary McAleese is coming in to greet the players today and I want you to stand in the middle between the two captains and I want your linesmen at each side.'
"I said to this guy, 'where will the umpires go, will we go two each side of the linesmen?' And he turns and says to me: 'Ye head away off down to the goalposts, that's all ye're here for.'
"I wasn't happy, so I asked him where he'd be when the President is greeting the other officials and he said he'd be with her.
"So I just said to him, 'I will be in that parade' and I was and brought the other umpires in there and, ever since that day, the umpires have always been included in the Presidential parade but that was the first time it happened.
"I didn't want to kick up a fuss, but I just wanted to show that we were part of the officiating crew."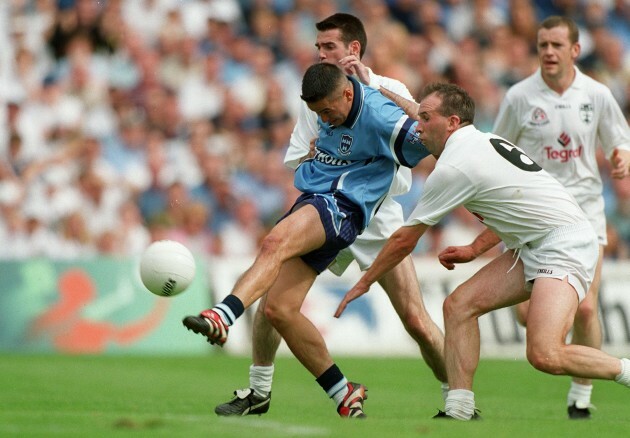 Patrick Bolger / INPHO Jason Sherlock in the 2000 Leinster final. Patrick Bolger / INPHO / INPHO
The first Leinster final of the new millennium also brought home to O'Donnell that, while GAA might be our national game, it's a local institution at its heart.
"In 2000, we did the Leinster senior football final between Dublin and Kildare. The club I'm from is Arravale Rovers in Tipperary town and, incidentally, one of my former clubmates, Brian Lacey, was playing corner back for Kildare in that game.
"I remember it well because Jason Sherlock was playing corner forward for Dublin and Brian was marking him but he kept pulling his jersey. So I said to Brian at one stage that he should probably stop because Paddy (Russell) was tough on that and if he kept going, he'd probably give away a very soft free.
"Next thing, Brian says: 'Thanks Stevie, I'll keep a check on it.'
"But then Jason Sherlock pipes up and says: 'Hey Lacey, how do you know that guy down there?' talking about me but it shows the comical side of how local GAA can be but I suppose he was only a former Arravale Rovers man at that stage but maybe it wouldn't be allowed to happen today."
Since hanging up his white jacket and flag, O'Donnell has been referee's coordinator in Tipperary and has his own sports show on Tipperary Mid-West Radio, it's something he's very passionate about, especially with regards stories that might not always be told.
Even in this environment, however, his time as an umpire still comes in useful.
"We're serving seven or eight different counties but what's happening locally in Tipperary is what's most important to me.
"The quality of work I deliver is what I focus on and whether it's an U12 match I'm reporting on or a senior county final, I will record the presentation to the captain or even just the sound effects from the game itself and bring that out on air when I get back to the studio that evening and that's what people love to hear.
"The other side of it is that you'll always get to hear the good player after the game, that fella who stood out because he pointed six or seven frees or who you might hear from because he's an inter-county player.
"But the player I love to give an opportunity to is the player who might never have his voice heard. If you have a wing back who has put in a storming performance but a team-mate who's scored 10 points from play, it's always the attacker you'll hear from.
"I'd be the opposite and I'd give the back the time on the radio and they love having that opportunity and I think it's because I was an umpire and you never ball watch out there when you're doing that so when I'm covering a game for radio I still never do."
Despite his obvious love for local radio, it's when O'Donnell is talking about standing beside the goalposts in front of 82,000 fans in Croke Park that you can hear he's never lost his passion for the GAA.
But did he ever get nervous? Afterall, GAA headquarters is a long way from an intermediate club ground in London with no dressing rooms to get changed in.
"Never once in all the games was I nervous, with God as my witness that's true. I always just enjoyed the occasion. The way I looked at it, how could I be nervous, I wasn't there to umpire for the crowd, I was there to officiate for the players and there's a big difference there.
"One mistake by an umpire could cost those players a championship after months and months of training so you have to be there for the players and to do right by them."
- Guinness are a proud partner of the GAA and want to put you at the heart of the action with local stories that are made of more. Visit drinkaware.ie.