REMEMBER ROUNDERS? A new GAA strategy hopes to grow the sport and get more than 2,000 people playing by 2016.
The bat-and-ball game, which is in the 1884 charter as one of the Association's four official sports, is currently played in 21 clubs and 100 schools around the country.
Speaking yesterday at the launch of the three-year plan, GAA President Liam O'Neill stressed the potential for Rounders to become one of Ireland's top recreational sports.
"Anywhere I've gone in the past year and mentioned it, particularly with ladies, most people have played it at primary school at some level so there is a familiarity with it.
But because it has never been actively promoted by the GAA as a body, it has never taken off.
"Another difficulty is that the reason it has remained at such a low participation level is that it is probably played too competitively. There's no fun in a game that's technically competitive so people don't engage as much.
"We're trying to say, 'look, if we lighten up a bit, relax the rules and be inclusive, we could certainly have great fun with it.'"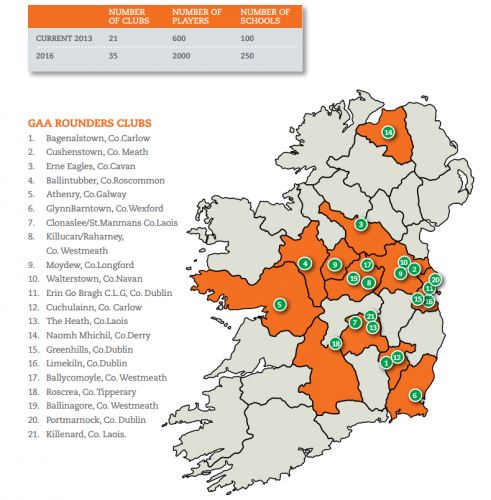 Credit: GAA Rounders Strategy Plan
To help boost participation numbers the GAA has pledged to buy a bat for the first 1,000 clubs who sign up to play in 2014.
"All you need is one person to organise a game of Rounders and everybody can be included," O'Neill said.
There are serious possibilities but we know that the resources aren't in the Rounders Association to get bats out there. That's why we're saying that we will help with that.
"It will be our hope that the first 1,000 will be taken up immediately and we'll ship out more after that. If we got to that stage we'd be delighted."