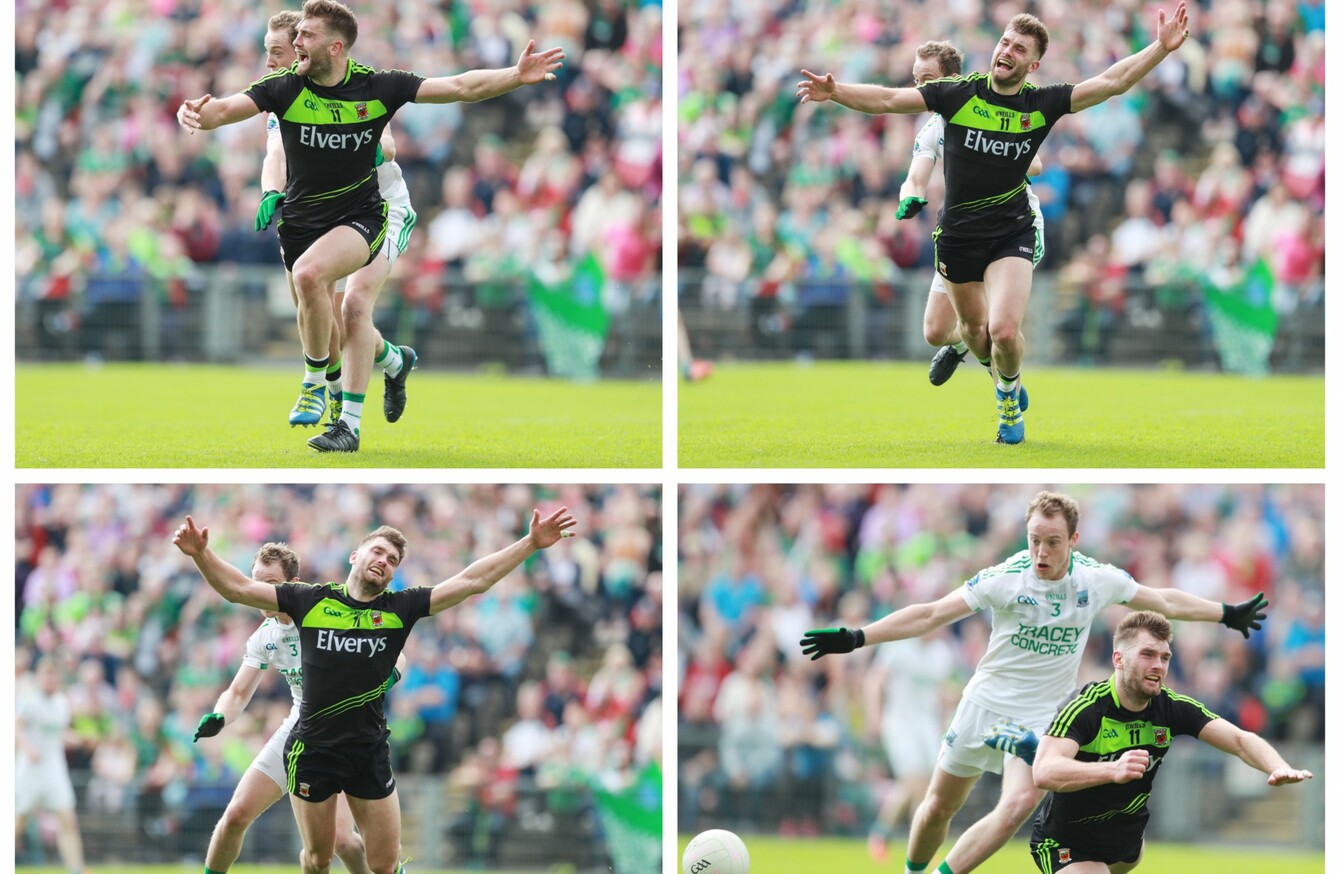 The penalty incident in last July's Mayo-Fermanagh game was raised by Páraic Duffy today.
Image: James Crombie/INPHO
The penalty incident in last July's Mayo-Fermanagh game was raised by Páraic Duffy today.
Image: James Crombie/INPHO
IS IT TIME for the GAA to bring in a video referee to help in making calls on penalty incidents and black card offences?
GAA Director-General Páraic Duffy is one person who isn't in favour of the idea, which he explored today in his annual report.
The controversial penalty incident involving Aidan O'Shea in last July's qualifier between Mayo and Fermanagh – which was referenced heavily by Duffy today – and the black card decisions made in last year's All-Ireland final and replay, had sparked calls for a television match official to be brought in.
But Duffy has stated his view that the flow of matches would be disrupted.
"The power of television in setting the agenda for the debate on our games was evident once again after the controversial award of a penalty in the Mayo v Fermanagh All-Ireland football qualifier game in July", writes Duffy in his report.
"Arising from this penalty award, it was argued that the referee should be able to avail of video evidence before confirming his decision in any of the following circumstances:
(i) where the referee is unsure about whether or not to award a penalty;(ii) where TV pictures indicate that the referee may be in error in awarding a penalty;(iii) where the referee is unsure whether to give a black, yellow or red card.
"The Mayo v Fermanagh penalty award led to an outbreak of commentary advocating the introduction of a system similar to the Television Match Official (TMO) in rugby, the logic of which is, one imagines, to ensure that every decision made by a referee must be correct beyond doubt.
"It is a principle that has already been adopted in a number of professional sports. There are a number of difficulties with this manner of reviewing referees' decisions. Primary among them is that it disrupts the flow of the game."
Duffy was keen to stress his support for Hawk-Eye in ruling on the detection of scores but pointed out the 'invasive impact of video replays'.
"In sports such as hurling, Gaelic football, Australian Rules and soccer, the games are more attractive when played quickly."
"That may be the reason why the latter two sports have relied on technology to ensure the integrity of the score, but have stayed away from the more invasive impact of video replays.
"If both teams were to be allowed to challenge even two decisions per game, four additional and fairly lengthy stoppages would occur in a match.
"And that doesn't take account of the occasions when a referee will decide to take the safe option and ask for a video review.
"This would be a natural reaction for a referee who knows that, if he makes a major decision without using an available 'second opinion', he will be criticised afterwards.
"Professional sports such as rugby, basketball, baseball and American football have all adopted the video-review model, yet it is hugely frustrating for the spectator or viewer to wait through the time taken to reach a decision.
"It should also be noted that the use of video review in professional sport has been expanded far beyond its original remit.
"And we can be sure that this would happen in our games, too, if we were to go down the road of reviewing difficult decisions in games."
The Director-General went on to refer to the views of rugby referee Nigel Owens on TMO's in the sport.
"It was interesting to read the recent comments of top rugby referee Nigel Owens, who wants to see fewer decisions referred to the TMO.
"He expressed the view that rugby should go back to where it was five or six years ago, where it was used only on the goal line.
"He believes that overuse of the TMO is eroding the authority of the referee and that the focus should be on improving the decision-making of match officials.
"We need to remind ourselves that when we play sport, it will be played and officiated by human beings whose inescapable condition it is to occasionally make mistakes.
"That is what we sign up for, and it shouldn't be beyond us to accept that, now and again, we will be the victims of human error.
"Ours are not professional sports. The challenge for us is to improve the standard of officiating of referees and umpires so that mistakes will be minimised and to encourage a spirit of sportsmanship that will allow us to accept that from time to time mistakes will be made."
The42 is on Instagram! Tap the button below on your phone to follow us!