1. It's all about 26 August…
That evening we should know the All Ireland champions, even before the other semi-final has been played. That's how superior Cork and Donegal are to the other two teams left in the draw. In terms of the Munster champions, no one can match their line-up when it comes to individuals who love to go man-to-man in an orthodox fashion. It's hard to see their midfield being bettered now Aidan Walsh has taken his game to another level and Alan O'Connor has evolved well beyond the awkward battering ram, and they have eight forwards to fit into six starting positions.
Throw in the best bench in the game, and they've a whole lot going for them. Indeed, seeing Conor Counihan make substitutions so quickly and utilise his assets so there were 15 in-form players on the field must have brought joy to all Cork fans. That may well be the final piece of the puzzle considering the sense of mission this group have been on all year and the fact they got over the fixture failures and awoke from their long summer slumber, fresh and vibrant.
It's a set of attributes even this Donegal may not be able to match up to, even if they've a system in place to combat most opposition out there. Neil McGee, Rory Kavanagh and Karl Lacey were brilliant in the quarter-final, Frank McGlynn, Mark McHugh, Ryan Bradley and Colm McFadden have been brilliant all year and they've reached this juncture with Michael Murphy working hard but struggling to show off the glitzier side of his game. It says a lot about their next opponents that we can't see even that group with their fitness and their tactics stopping them. Cork for the All Ireland. But Donegal are the second best team in the country.
2. … And not so much about 2 September
That's the evening we should know who will be glad to be in a final but aware they don't have the form to go any further at the moment. Do we think this Dublin will win more All Irelands? Probably. Do we think this Mayo will win an All Ireland? Possibly. But not this year for either because of the problems they are both facing. In terms of the defending champions, the fitness of Alan Brogan is vital. He's surrounded by some very good forwards but they lack attacking leadership and all look a little bit headless in his absence.
Without him, they may not win another game this year but even with him they won't match Cork because of the problems they are experiencing elsewhere. Michael Darragh MacAuley will solve some of their midfield issues, but after being so good against Meath and in the first few minutes of the Laois game, Denis Bastick struggled thereafter and Eamonn Fennell just doesn't convince us. Worse still, they look more like the Dublin of 2010 in defence where there have been two extremes all season. Either the work rate isn't there as we saw in the second half against Meath, or the tackling is poor as we saw throughout the Laois game.
As for Mayo, it's an injury and not form that bothers us. We aren't saying they are a one-man team as Ger Cafferkey and Lee Keegan have risen to Keith Higgins' level while the midfield and particularly Barry Moran has been immense. But without Andy Moran it's impossible to see them getting the scores needed at this time of the year. He's the chief creator of space, winner of ball and the play-maker and when others up front have done well, a lot of that has been down to him. Without him, it's too much to ask any more for 2012.
3. The best and then the rest
We've repeatedly talked about the gap between the top tier of eight teams and everything that follows. But even within that eight there is a huge gap. Kildare, Tyrone and Down may be better than anyone else outside of Division One by a distance but they are behind the others in Division One by some distance too. Tyrone already got shown this season that in a time of transition, they have so far to climb to be contenders again and at the weekend Kildare and Down found out a horrifying truth as well. They aren't good enough and chances are, not one player lining out for either county right now will ever win an All Ireland.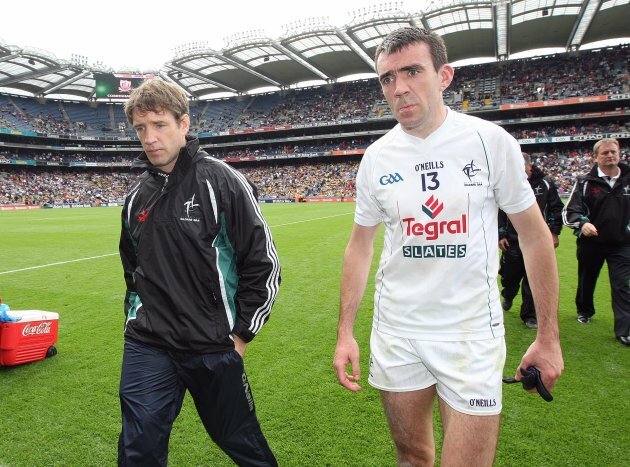 Kieran McGeeney and John Doyle of Kildare disappointed as they leave the pitch on Sunday. Pic: INPHO/Lorraine O'Sullivan
Some have said Kildare are overrated but that hasn't been the case this year and their problems have been well documented ever since the Meath match. Were they overrated in the past? We don't think so either as they were competing and getting within a score of the very best in 2010 and 2011. Winning is what matters most but you can't put down a team for being a point off the All Ireland champions and a crossbar from an All Ireland final. But this time around they have gone backwards to the extent they can no longer live with the best.
Exclusive Six
Nations Analysis
Get Murray Kinsella's exclusive analysis of Ireland's Six Nations campaign this spring
Become a Member
And it's the same with Down and their performance at the weekend was every bit as depressing as that on show from Kieran McGeeney's side. They played with 13 men back for the most part yet marked neither man nor space. At times four players would travel to the ball carrier, still allow him to lay it off and the onrushing opponent would carry the ball through on goal. What's worse is that can be coached, but what can't be is making these sides capable of beating elite teams.
4. Time is precious
When Darragh Ó Sé spent a game with Pat McEnaney for a recent edition of his column in 'The Irish Times', he discovered that referees like to be in control of time keeping. Well they can like it all they want, but they aren't any good at it and shouldn't have that responsibility. The latest bizarre call when it came to stoppage time was on Saturday night as it was announced there'd be one minute at the end of Dublin's game with Laois. First off, no amount of injury-time would have seen Laois score the goal they needed as they hadn't come close to creating an opening of that nature all game, but that's not the point here.
Things should be done right and when you consider a substitution takes on average 30 seconds, and there were nine after the break, already we are up to four-and-a-half minutes. Stephen Cluxton took another 90 seconds over his late free and that brings us up to six minutes. That's without going into all the other frees and bookings and stoppages in the half. In Gaelic football, the ball is in play for so few minutes anyway, we need to maximise the amount of time and make it fair and consistent for all sides. Referees don't have the ability to do that, thus it's time for a change.
5. Calm or calamity
Weekend's like this are the perfect time for knee-jerk reactions and overreactions. Some will say Kieran McGeeney has taken Kildare as far as they can go under him and a new voice and new direction is needed. Some will say the same about James McCartan. And Jack O'Connor is already considering his future. Changing the man in charge for the sake of it is very GAA, but doesn't make any sense unless there's some one as good or better to replace him. And in the case of the above, and after much raking over of names in the last 48 hours, we can't think of anyone who'd be a step up in any of those counties. A change has to be for the better, not for the sake of it and they all need to remember it in the depressing days following their quarter-final exits.