THERE IS A confidence that referees will not have issues officiating Gaelic football matches in early 2019 with a set of new rules set to be implemented and there has been a call for patience to see how the changes operate in practice.
The GAA's Central Council rubber-stamped the proposed rule changes last Saturday despite opposition from several quarters, including inter-county players.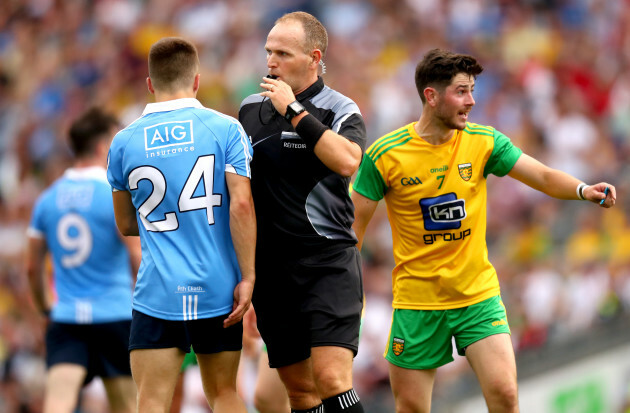 James Crombie / INPHO Conor Lane is one of the leading inter-county referees who must adjust to the new rules. James Crombie / INPHO / INPHO
David Hassan, the chairman of the playing rules committee, believes referees will be able to cope with the changes despite a suggestion that the handpass rule could prove particularly challenging.
And he has encouraged the rules to be given a chance in the pre-season and league action before a judgement is made.
"We spoke to referees. They have said on the whole that it isn't a big problem for them. There will be particular education training sessions for the referees ahead of the tournaments. We can only go on the basis of what they have told us and they responded positively and don't have a big issue with the intervention.
"I would encourage people to approach it optimistically and positively and give these experimental rules an opportunity. Let's see how they work in practice.
"At the end of that process, we will know how they have worked in terms of the impact they will have. We will put that data again in the public domain and people can make up their own minds."
Hassan said he understood the resistance to change but insisted the committee was not seeking to revert the game to an older style of play.
Laszlo Geczo / INPHO David Hassan speaking in Croke Park today. Laszlo Geczo / INPHO / INPHO
"It's not surprising. People generally are sceptical of change. That's true in any walk of life. I don't have a problem with people having opinions. That's really to be welcomed."
"I should say that the committee, and deliberately so, was not subjective. In certain quarters we, I suppose, have been interpreted as almost a philosophical group, seeking to 'bring the game back', I've heard that phrase used.
The reality is this is designed to bring the game forward. To respond to the data which was pointing very much in one direction. We are moving in the direction of 80%, maybe more, of passes in a game of inter-county football being a hand pass.
"So, when we got the feedback from county committees and others they said they wanted to see a reassertion of the fundamental skills, catching and kicking, so we sought to reflect their views as well as what the data was telling us."
An amended version of the kick-out proposal was passed that will see all kick-outs take place from the 20m line without having to pass the 45m line.
This was due to the original proposal not working out when trialled in October.
"In simple terms, the original proposal didn't work on a consistent basis," said Hassan.
"I think people conceptually understood what we were trying to move towards was a greater balance of players across the field of play and to encourage longer kicking of the ball.
"When we put it into trial, it simply did not work on a regular basis. When that information came back, we had to take it on the chin and say as, 'as much as we can see merit in this, it's obvious it just doesn't work consistently'."
Subscribe to our new podcast, Heineken Rugby Weekly on The42, here: