OVER TEN THOUSAND miles separated the Ennis band of brothers from their homes back across the Atlantic, but the Irish affinity they left behind was soon rediscovered on the very first car journey they took veering around the dusty streets of Rosario.
Costello is not a name anybody would think synonymous with South American football. But driving primary school teacher Eoin Vaughan and three of his fellow Clare natives around the port city in Sante Fe was a man who had reached the pinnacle of achievement in the sport, and a man who had Irish roots dating back generations.
Long retired from football, Fabián Costello had won a Copa Libertadores title playing with Uruguayan club Peñarol three decades ago in 1987 — the team were managed by current Uruguay boss Óscar Tabárez.
Showing the 'Go Gaelic' coaches around Rosario upon their arrival as a kind of unofficial tour guide, the ex-midfielder was the first indication they saw of an immersive and widespread Irish heritage which had laid its roots throughout the continent shortly after the Famine. His family had come from Leitrim generations ago.
It's a widespread heritage which, the coaches say, is still alive today and one which is determined to keep the traditions of Irish sport thriving in Argentina by force or by will — the greatest evidence of which can be seen in Buenos Aires' Hurling Club, founded by Irish emigrants in 1922, which is still active today almost a century later.
Go Gaelic is a small Irish company which provides introductory courses to gaelic games, teaching children the basic skills of football and hurling, while also teaching the history and the values associated with the GAA, such as commitment, volunteerism and dedication.
Vaughan, Darryl Eade, Barry Corbett and Eoin Brennan helped found the company six years ago aiming to help young kids discover gaelic and hurling through workshops and training sessions.
Its goal is to help those unaccustomed to Irish sport understand the significance of gaelic games while teaching children the basics of the sports themselves in a fun, inclusive learning environment featuring drills, shooting practice and matches.
The lads took those sessions all the way to Brazil last year, where they taught kids from Sao Paulo and Brasilia, all the way to Rio de Janeiro. "An incredible experience," they said.
We were training one day in private schools in Sao Paulo with the elite, going in with bullet proof cars and security checks. Then the following day we were playing hurling in an underprivileged area with kids from the Favelas."
But 2018 saw their sights set on its close South American neighbour with the help of the Irish Embassy.
The Easter break just gone witnessed the Clare coaches spend a little under two weeks in Argentina where they introduced over 1,000 kids to hurling and gaelic, while themselves also learning a great deal about the GAA's history within the country.
The Irish community in Argentina boasts a rich and intriguing story which dates back over 150 years when the Famine forced hundreds of thousands of Irish men and women to emigrate abroad, many of whom were given land to settle in Buenos Aires.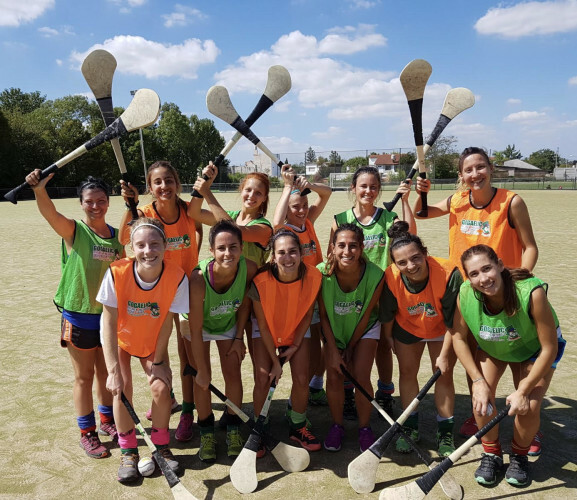 "There's 600,000 people in Argentina who claim Irish descent," says Vaughan. "They're beyond passionate about Ireland, but I think they're kind of forgotten about."
Alongside his fellow coaches, Vaughan spent 12 days introducing Argentinian children to gaelic, holding training sessions and presentations in the capital, as well as in Rosario — famously the hometown of Barcelona superstar Lionel Messi.
I know we think we're the centre of the universe over here, but in Brazil there was very little awareness about Ireland," Vaughan laughs. "On the other hand, in Argentina we were blown away by the people there with Irish ancestry.
"I think 90% of them are from Longford and Westmeath. We learned so much about emigration to Argentina through their stories. I mean, the first person who collected us in Rosario was Fabián Costello, who associates with Leitrim.
"This guy won a Copa Libertadores championship: small things like that made it such a fascinating trip. Even today they're introducing gaelic football into the school curriculum and the Hurling Club in Buenos Aires is bringing it back in a big way."
Argentina's history with Ireland made the sessions a lot easier. Children in Argentina already enjoy a strong diet of sport every week, playing rugby, basketball, hockey and, naturally, football. Messi's impact during their stay was clear, they say.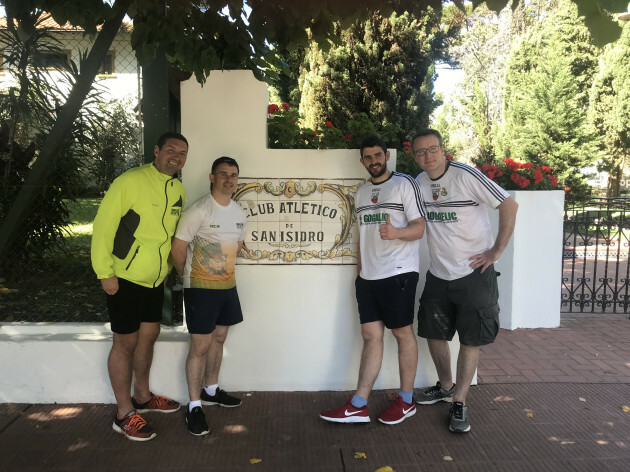 Go Gaelic: Eoin Brennan, Darryl Eade, Barry Corbett and Eoin Vaughan.
"Soccer is just massive. While we were there they were all talking non-stop about the squad selection for the World Cup. I think in Rosario he's a God, but depending on who you're talking to I don't know if he has that same status elsewhere in other parts of the country.
"There's a slight undercurrent and a feeling that Messi hasn't really done it for his country just yet. They wouldn't be necessarily negative towards him, but Maradona is still very much the main man and the icon.
He's walked the walk, for them. But having said that everyone recognises all that Messi has achieved since he left Argentina as a kid."
Despite the popularity of football, the children took to the sessions seamlessly. The Go Gaelic coaches taught gaelic to boys, who normally played rugby, and hurling to girls, who play hockey — some of whom even carved their own hybrid hurls.
"Just to highlight the difficulty of getting gear over, one of the schools went to the trouble of actually making about 100 of their own handmade hurleys," says Vaughan. "It was kind of a hybrid between a hockey stick and a hurl! It was the weirdest hurley I've ever seen but it was just one example of their passion.
"Our main objective was to allow the kids to have fun and enjoy themselves. I think it's safe to say they loved the experience. You're out in the sun playing fun games and they're getting a break from their classroom lessons, so I'd like to think they all really enjoyed it.
La Roda Estudio / YouTube
"These kids really took to it because of their background playing rugby, basketball, volleyball and football. It was interesting in the Hurling Club too, because the girls who play hockey have the hand-eye coordination already, so they really enjoyed the hurling aspect from the get-go."
Figures like Dickie McAllister, an integral driving force at Hurling Club in Buenos Aires, who received a GAA President's Award from Aogán Ó Fearghail, have kept the sport going strong.
McAllister is a beloved character who's family hail from Turvey Hill in Donabate, meaning he still possesses a pronounced Dublin accent despite spending his entire life in Argentina where he was previously President of the club and integral in organising two visits by the All-Stars hurlers.
He, as well as Francisco Lynch, involved with the newly formed San Isidro Gaelico club in Greater Buenos Aires, are crucial figures in the sport's maintenance and growth throughout the last number of years.
Both men are immensely proud of their Irish roots and are a glowing example of why Argentina is seeking to grow GAA further, both in recognition of the country's historic past, but also to fulfil its future potential as new generations of Irish-Argentines seek to express their identity through the medium of sport.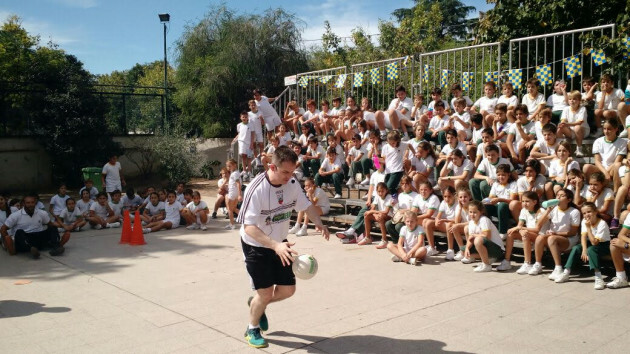 Darryl Eade runs through a demonstration on how to solo the ball.
"Their own Irish heritage is going back generations and some of them haven't even visited the country, but the passion is still immense," says Eoin Brennan, another Go Gaelic coach and a journalist with The Clare People.
"They feel uniquely Irish and are so proud of it. They still hold all those links to the present day. They have a great Irish community over there and maybe it's a case of us not appreciating it back home.
"In Argentina you kind of felt that bit more of a legacy because of their own personal connection with Ireland.
We weren't just teaching kids once-off in isolation, we were also going into schools and teaching the coaches themselves, because they want to incorporate gaelic into their curriculum.
"We could really see they wanted to grow the sport with kids from a young age and create a legacy of children playing as they grow up.
"With our trip to Brazil last year the objective was to try and bring the Irish community together. We knew there were a lot of Irish people over there and we just wanted to try and forge a bit more solidarity.
"The GAA community in Argentina, on the other hand, already have a base and a history to work from. They have championships and leagues going back decades before the Second World War."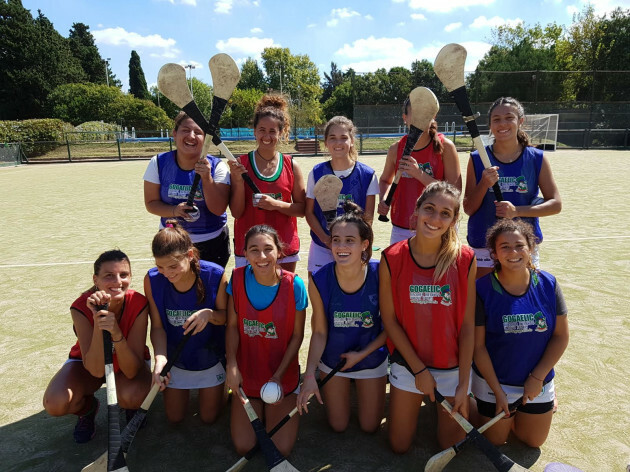 In total the Go Gaelic coaches estimate they taught over 1,000 kids during their two week stay, holding sessions in Irish schools like St Brendan's, St Brigid's and St Patrick's, as well as taking part in social projects with underprivileged children.
Exclusive Six
Nations Analysis
Get Murray Kinsella's exclusive analysis of Ireland's Six Nations campaign this spring
Become a Member
They attest that the overall response to the physical activities was pronounced, but reflect that much of the focus the teachers and youth leaders wanted the sessions to hone in on was the wider values associated with the GAA.
With a rapid rise in the professionalism of popular sports like rugby and football, where young athletes are moulded for a career path which will take them into developmental squads, those values like volunteerism, dedication and amateur commitment were being lost, they say.
"The main thing coming back from the trip that we reflected on was in terms of the ongoing debate about professionalism in the GAA, whether it's a good thing and whether it's inevitable," says Vaughan.
"Over in Argentina they're almost going in reverse. They have witnessed the results of rugby going professional and how it became so focussed around money, whereas they want to try and hark back to those amateur values of the GAA.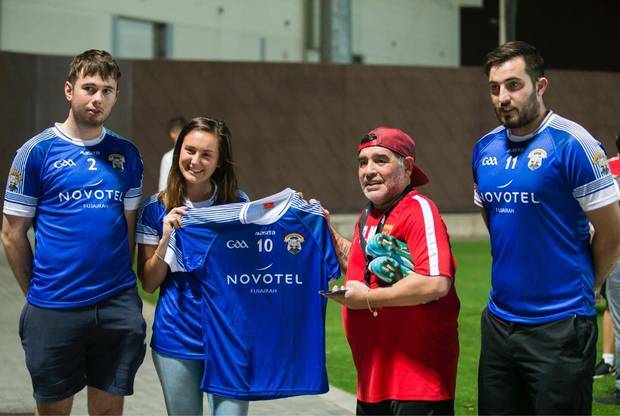 Diego Maradona poses for a photo with UAE based club Éire Óg Fujairah.
"In Rosario they are introducing GAA in order to create better teenagers in terms of their own behaviours growing up. They really value things like respect, inclusivity, combating racism and promoting volunteerism.
"So they are almost going in the opposite direction of this divide between amateurism and professionalism. We could see they really cherish those values and feel it would benefit their children.
"When we were doing presentations they kept asking us to really focus on explaining the values of the GAA to the children."
"The amateur status really is a big thing for the Argentinians over there," adds Brennan.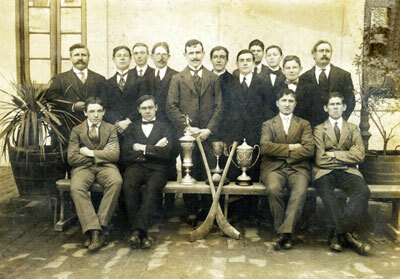 Buenos Aires' 'Hurling Club' was founded by Irish emigrants in 1922.
"Rugby clubs used to have a much more social aspect to them, bringing communities together. But today they have become far more professional focussing so much solely on building players for those development squads.
"The San Isidro GAA club was only recently set up purely as a community-led social project to try and drive those values of inclusivity and volunteerism on through sport."
Now back in Ireland, Vaughan and Brennan reflect happily on their successful trips, firstly to Brazil last year and now to Argentina. They are blown away by the response to their work and constantly namecheck it simply as "the experience of a lifetime."
Funding the trips on their own has not been easy, but had regardless been completely worthwhile.
With no overriding competitive end-goal to the sessions, they say it really is simply about allowing children in foreign countries to experience the excitement of Irish sports. Simply a case of letting the kids play, and little else.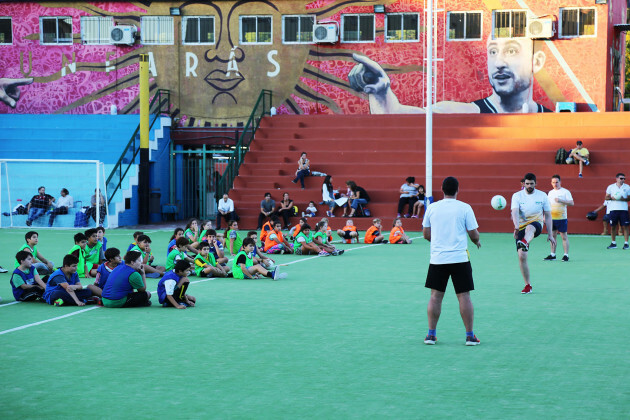 Over 600,000 people living in Argentina claim Irish heritage.
The pair say they were taken aback by just how open and willing those with Irish heritage were to share their own stories, with their trip as bonafide "Irishmen" seeming to act as a kind of medium through which they could express and articulate their own proud roots.
"It's all just for that intercultural experience trying to bring gaelic games to new parts of the world and allow people the chance to embrace their Irishness and all the traditions that come with it," says Brennan.
"Dickie McAllister, who has been so instrumental in keeping gaelic and hurling going in Argentina with the Hurling Club in Buenos Aires, told us before we went that he would never forget the trip.
"He got quite emotional thanking us and said that gaelic games in Argentina would be broken into two different phases: before Go Gaelic came and afterwards, which blew us away.
"For that to come from a guy who has been the heartbeat of Argentinian GAA — we were just so grateful and we can only hope the sport continues to grow and blossom, because the momentum is behind them and they really do have the drive and the right people to do it.
You can only hope that Argentina can return to the former glories of its past in the early part of the 20th century. And we look forward to returning again in the near future to see the fruits of all their hard work."
With the World Cup now less than two weeks away, Argentina will undoubtedly be gearing up for what it can only hope to be its first title since those halcyon days of El Diego in 1986.
The Go Gaelic men's trip began with that first car journey around Leo Messi's hometown of Rosario where a footballer by the name of Costello offered them a window into an Irish heritage they could not have anticipated.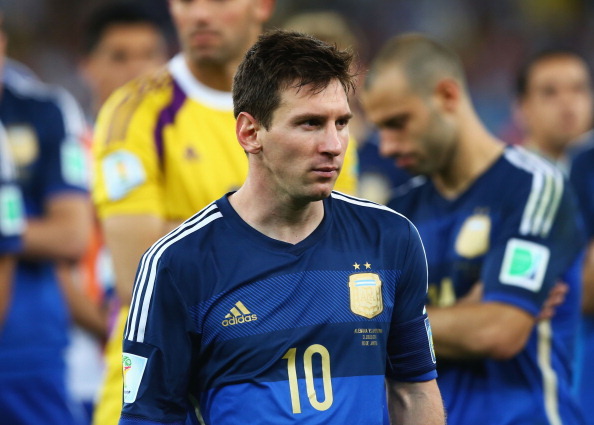 Getty Images Messi grew up in Rosario but some say he does not possess the iconic status of Maradona. Getty Images
Everywhere they went gaelic was greeted and played with a passion and affection which speaks of a country with profound connections to its homeland.
As for Messi, well, there is still some cautious distance between his nation and arguably the world's greatest ever footballer, the lads say.
The absence of a World Cup delivered to his home country in contrast with an abundance of silverware earned in Spain, combined with the achievements of Diego Maradona in 1986 means Messi isn't the total, indelible god he has proven to be in Barcelona 6,000 miles away. Not yet.
Maradona has shown an interest — if only temporary and fleeting – in gaelic games, posing for a novel photo with Middle East club Éire Óg Fujairah in the UAE back in April, where he coaches a local football club.
Messi, on the other hand, is an elusive figure, with even the most exhaustive profiles showing the Barcelona star to be a shy, modest man who exclusively enjoys football and the temporary escapism offered by his PlayStation.
Perhaps one day in the future when retirement beckons and he has grown tired of Fifa Ultimate Team, Messi will obsessively root through an old box of retro video games, slip the timeless PS2 classic 'Gaelic Games: Football' into his console and be mesmerised by the joys of another tribal past time which his country has a historic, affectionate and resurgent attachment to.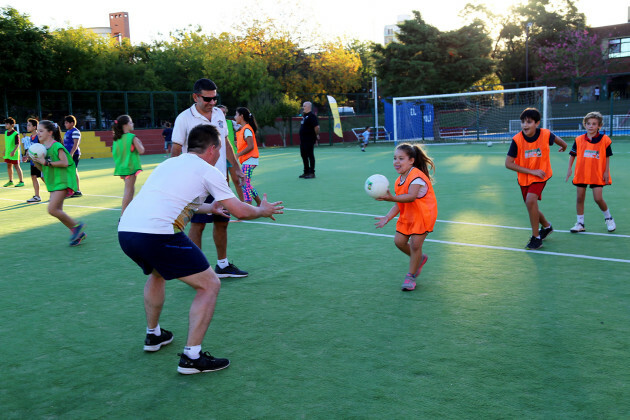 Go Gaelic trained over 1,000 children in Argentina during 12 days.
"And they're going in for their cup of tea and banana at half time, scores are level!," you can imagine the revenant voice of Mícheál Ó Muircheartaigh booming as Messi scratches his head in pleasant bemusement. A puzzled expression spread across his face at this strange and wonderful sport his country has a deep and celebrated connection to.
Receiving his own surname from the suburbs of Italy, Messi will be fully aware of the deep ties that emigrants have made in creating the populace of modern Argentina today. In that make-up lies a strong Irish contingent of Fahy's, Costello's and Lynch's which flocked to its sun-kissed shores hungry and lost in search of pastures new.
More than 150 years later the fruits of their struggle lives on today in accents, song, surnames and the sporting traditions which have been loved, shared and passed on from one generation to the next, throughout the island of Ireland and across the Atlantic for decades.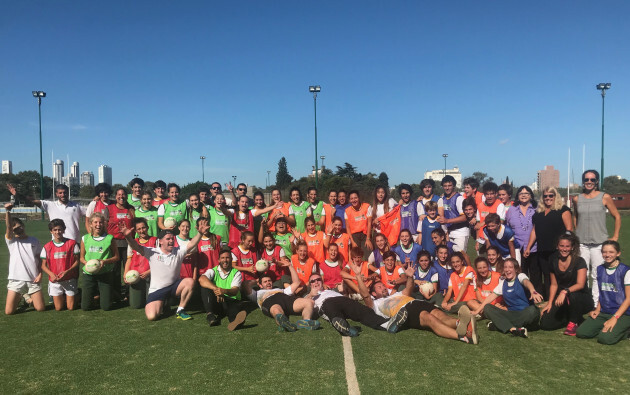 Traditions and sports that are still being proudly shared and enjoyed today. From the towns of Ennis and the favelas of Rio de Janeiro, all the way to the children of Buenos Aires and Rosario who possess the same innate passion for gaelic games as any of their fellow countrymen and women.
A difficulty importing hurls stunted the growth of Hurling Club in Buenos Aires following World War II more than seven decades ago.
But seeing the city's children going to the great lengths of carving their own hurls in 2018, aided by expeditions like those of Go Gaelic giving them an outlet to express themselves, offers a reassurance that GAA will continue to find new leases of life in proud Irish communities across Argentina for many years to come.
The42 is on Instagram! Tap the button below on your phone to follow us!