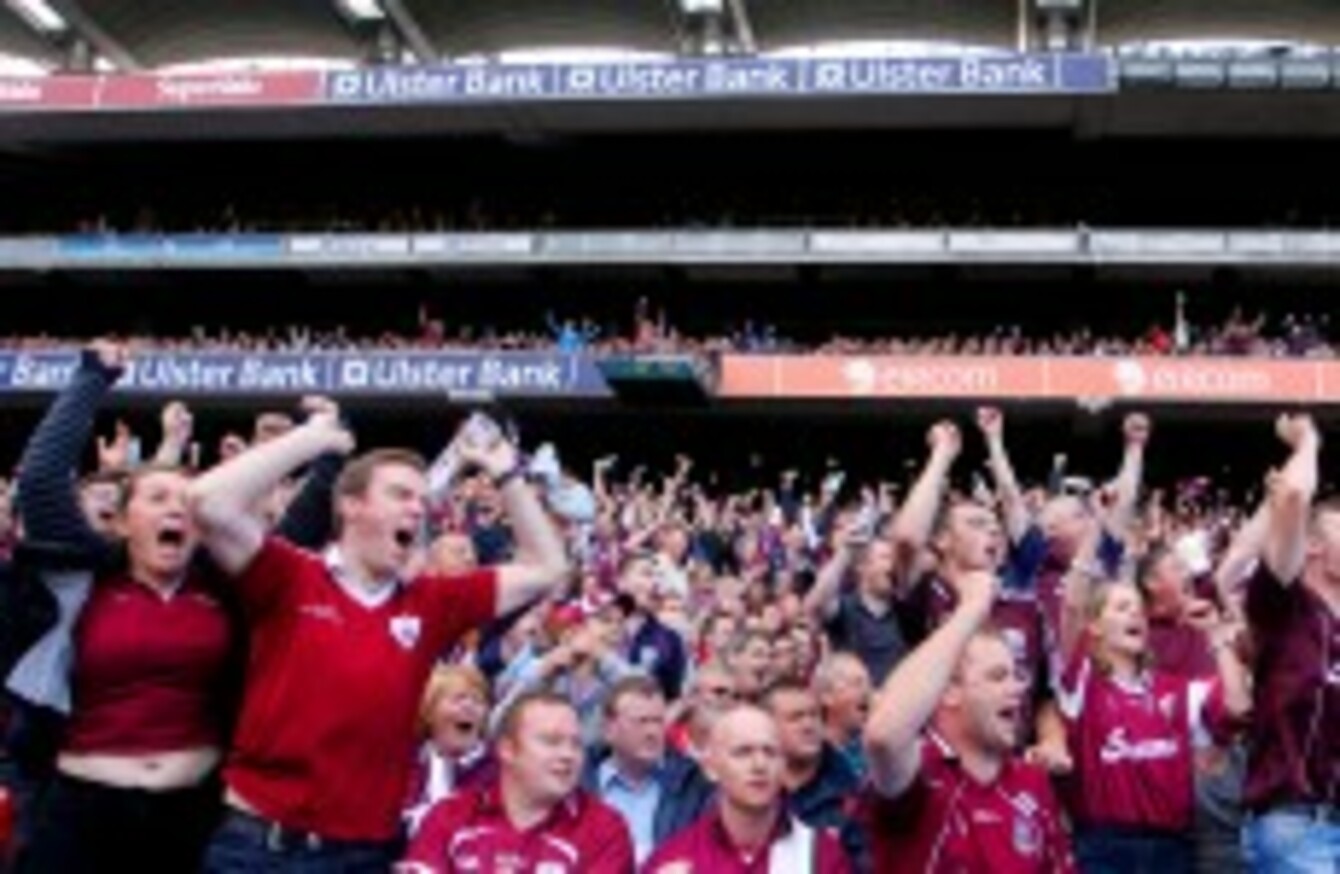 Galway fans celebrating towards the end of their All-Ireland semi-final victory over Cork.
Image: INPHO/James Crombie
Galway fans celebrating towards the end of their All-Ireland semi-final victory over Cork.
Image: INPHO/James Crombie
THE RAILWAY LINE to Dublin goes straight across East Galway, through Oranmore, Athenry, Woodford and Ballinasloe, and acts as a pretty accurate dividing line between the respective strongholds of hurling and football in the county.
North of that line is football's heartland – Enda Colleran's Mountbellew, Killererin (Padraig Joyce country), Corofin and Kilconly, and my own home club of Milltown. South of that line lies Athenry, Portumna, Gort, Loughrea and 90% of the senior hurling clubs in the county.
It's almost as if Iarnrod Eireann had a part to play in it.  Certainly the division couldn't be any clearer – you were either north or south of it; one, or the other. In fact, until recently, there simply wasn't any such thing as a dual club in Galway.
Monivea-Abbeyknockmoy won county titles in the late 80s and early 90s in both hurling and football, and while there's no doubt what an extraordinary achievement that was, there was also little doubt that in both years, in both codes, it was a major shock.  The hurlers were so surprised they won that championship in 1988 that they promptly lost the Connacht final (traditionally a turkey-shoot and held, as befits a turkey-shoot, around Christmas time) to Four Roads of Roscommon.
In fact the only up-close, in the flesh experience we ever got of the great Galway hurling team of the late 80s in Milltown came courtesy of the Monivea-Abbey Junior B football team, because they sometimes had in their midst Michael Coleman, the chain-smoking, non-timber-sparing midfielder that typified the sort of gruff appeal which made that Galway team one of the more memorable of recent times.
In later years, I got to play against them, and it was always pretty easy to spot the dual players – their hair was cut a little more closely, their tackles were a little more robust, their teeth were a little more… absent. The thought occurred to us that they were dangerous enough on the football field, without then providing them with a lethal weapon for the hurling.
And those no-nonsense characters I encountered in the Monivea full-back line were pretty much playing up to the stereotype we had in our heads of the hurlers. Galway football folk saw ourselves as 'guardians of the flame' – when we were good, we were very good, and the neutrals loved us. We had ideas about how the game should be played; we were artists; we had class.
The hurlers had no such pretensions.  They had taken enough beatings over the years to ensure they weren't fussy how the wins were coming, once they were coming.  And when 1980 came around, it was tough, uncomplicated men like Bernie Forde, PJ Molloy and Noel Lane who helped make the breakthrough.  And after that came Brendan Lynskey, Sylvie Linnane and Peter Finnerty. A conveyor belt of hard men had been created and Galway reaped the benefits.
Three All-Irelands in eight years set the template for Galway hurling. We produced plenty of artists in those days too of course – the Connolly's, the peerless Joe Cooney, Eanna Ryan and the current manager Anthony Cunningham.  But to be successful, Galway had to have steel.
Galway hurling manager Anthony Cunningham. Pic: INPHO/Donall Farmer
Given the type of hurler he was, it's interesting to see the premium Anthony Cunningham has put on physicality.  In the Leinster final, Galway shocked us all with their intensity. I remember even the following morning playing and replaying the moment in the first quarter when Johnny Coen ran through and over Richie Power. I was poring over it like it was the Zapruder film, because we haven't seen a Galway team do that in years.
What are they
really like?
Rare insights on sport's biggest names from the writers who know them best. Listen to Behind the Lines podcast.
Become a Member
The dividing lines between football and hurling are becoming more and more blurred now. The hurlers still train in Athenry but the only representative that club had in county colours this year was Tomas Flynn, half-forward for the footballers. And Cunningham's managerial style maybe speaks in some way to sporting ecumenism, given his prior experience as a football manager outside the county with St Brigid's and Garrycastle.
There was something unmistakably (distastefully even, to some of the more delicate flowers in the hurling aristocracy) football-esque about some of Galway's play in the All-Ireland semi-final against Cork – withdrawn wing-forwards, packed defences, isolated full-forward lines.
On the ground, Flynn aside, the divide is still there.  We've grown used to sending our second teams down to play the traditional hurling clubs as they dip their toe in the football, but those hurling clubs are starting to take it more and more seriously. Hurling remains a vast, unopened book for us big-ball merchants based around Tuam.
A story from my own club illustrates a point when my late neighbour Johnny Connolly once tried to start a hurling club in Milltown, in the 1960′s. He counted among his most devoted disciples a young Jim Carney (the first ever host of the Sunday Game), but, so far from other hurling clubs, the game flowered, flourished briefly, then died.   My father was born in Waterford, and so we had hurleys in our house growing up, but we might have been the only ones, even in the heyday of Galway's success in the late 80′s.
You could say the railway line has done us a favour – its neat division of East Galway has allowed us to be competitive at one code or the other in every decade since the 1920s.  And perhaps it's too dramatic to call it a dividing line. Maybe it's more like the household fence you chat to your neighbour over.
After all, come Sunday, fans from north and south will head along that line for Croke Park, and an All-Ireland final appearance we can all celebrate.