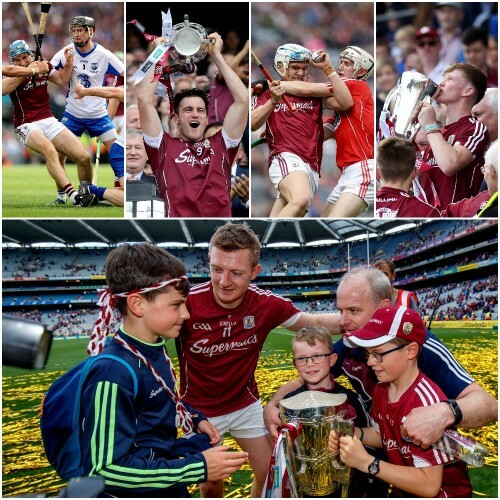 INPHO Celebration time for Galway hurling in Croke Park. INPHO
"MOTHER OF GOD, did anyone say it would be easy? Galway lead by three points.
"We have played the four minutes, 74:03. Mícheál Donoghue is up on the big screen. He'll be up on a lot more big screens with the help of God.
"Joe Canning comes back to take the line ball. It's on the verge, it's on the verge for Galway. Joe Canning with the line ball, back outside his own 45 metre line, it's all over!  
"Galway have won the All-Ireland championship. Mick Kenny back in 1923, Joe Connolly in 1980, Conor Hayes – the man to my left – in '87 and '88 were the captains. But David Burke is going to captain Galway to the fifth All-Ireland crown.
"29 years of agony, 29 years of frustration, from Clifden to Ballinasloe, from Sylane to Kilbeacanty, you're going to see the Liam MacCarthy."
*********************************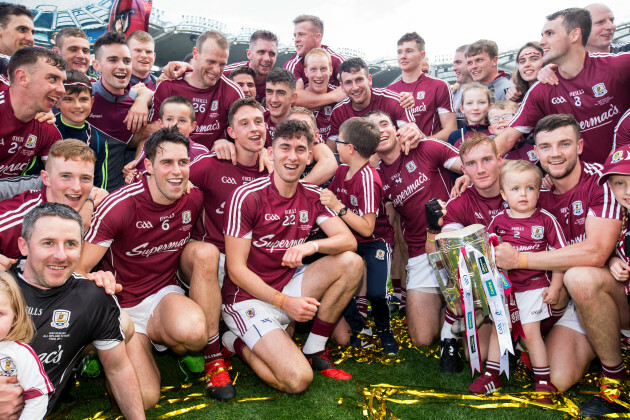 Cathal Noonan / INPHO Galway had three points to spare against Waterford. Cathal Noonan / INPHO / INPHO
When it ended Sean Walsh was high in the Hogan Stand trying to capture the moment as emotion swirled all around him.
Galway had finally done it. That barren spell since 1988 had been brought to a halt, Galway pointing their way to glory with 26 precise shots between the posts.
Walsh started out commentating in 1989 for Radio West before it was rebranded Galway Bay FM. Since the mid 90s he has been the man behind the local radio mic out west, the voice of Galway hurling afternoons.
That has meant recounting September tales of senior sorrow in 2001, 2005, 2012 and 2015 before this year's moment of deliverance. Having Conor Hayes, that defensive pillar of Galway hurling, beside him on co-commentary meant there was a neat symmetry between this triumph and the last.
Billy Stickland / INPHO Conor Hayes lifts the Liam MacCarthy Cup in 1987. Billy Stickland / INPHO / INPHO
"To have Conor there was a privilege," recalls Walsh.
"The linkage was incredible as he was the last man to lift the Liam MacCarthy Cup for Galway. As a former manager as well he'd gone through the whole thing.
"There was tears in the eyes, it was highly emotional stuff. When it was over I looked at him and you could see the relief. He said that he could now die a happy man, he'd passed on the mantle."
Walsh's joy was not just restricted to that senior outcome. As a Turloughmore native and a passionate Galway hurling man, the county's minor success in the curtain-raiser would always have left him enthused.
But being the father of Conor, the Galway centre-forward on the team that Jeffrey Lynskey had cleverly shaped and formed, meant that the first Sunday on September would always be a highly-charged occasion.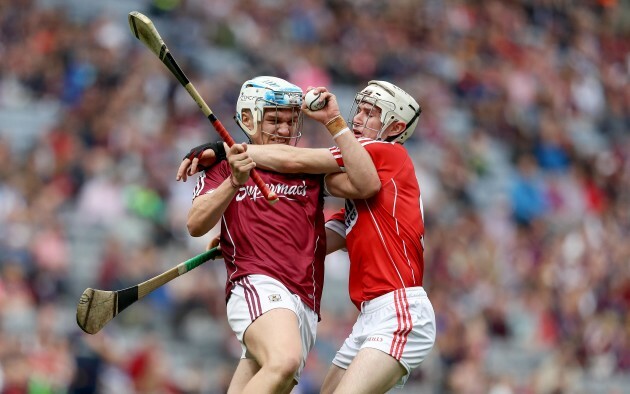 Tommy Dickson / INPHO Conor Walsh in action for Galway in the All-Ireland hurling final. Tommy Dickson / INPHO / INPHO
"You try to steer clear of the hype but obviously the fact that our own lad was involved was a nice touch. I'm saying this hand on heart as any Galway fan leading into the final, there was only one gig in town.
"In the 29 year period from '88, Galway have won six U21 All-Irelands, 11 minor titles – if you include the one just before the senior this year – 6 National leagues including this year, 3 All-Ireland intermediate titles and 12 All-Ireland club titles.
"For the minors it was great to be there and they were an unheralded team, but it was the senior success that was the one that was craved.
"We'd a conversation at home the Thursday before the game and I said to him while I'd love to see him win an All-Ireland medal, if it was a thing that Galway won the senior and he didn't win an All-Ireland, I would take that too.
"But look it obviously for us a family it was a highlight and it made what was a great day even better."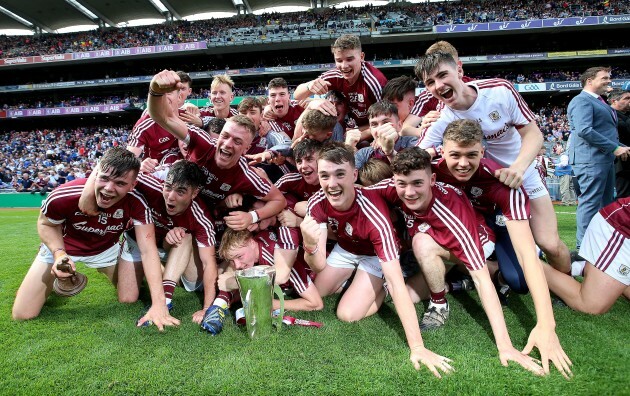 Tommy Dickson / INPHO Galway minor players celebrating their All-Ireland win. Tommy Dickson / INPHO / INPHO
It was a marvellous minor final. Cork made the early running with their terrific attacking prospects Evan Sheehan and Brian Turnbull both netting. Galway countered in the second half as Jack Canning supplied two rasping finishes to the net and they completed the first half of the All-Ireland double with two points to spare.
"The minor game was done for Galway Bay by Niall Canavan. I watched it from the press box. My wife and my other son Darragh were downstairs with Colette's mother, the whole lot of them.
"I think they all went more cracked than I did. It's not as easy to go cracked in the press box.
"It was the last minor (U18) final so there was a bit of history in that. For Conor and some of the lads that are 17, they're not going to be able to play minor next year, so it was lovely for them to get over the line.
"I know chatting to Michael Walsh, the former Kilkenny hurler before, that he gets very nervous when Ollie is playing. I'm not too bad watching it. But it was super. It's lovely to have a family involvement."
Tommy Grealy / INPHO Conor Walsh (centre) celebrates the semi-final victory over Kilkenny. Tommy Grealy / INPHO / INPHO
There wasn't much time to dwell on the giddy aftermath of that minor success. The senior showpiece came down the tracks. Galway settled into a groove quickly, rattling over nine points from their first nine shots inside the opening 14 minutes.
Walsh found it an oddly calm game to commentate on, certainly in stark contrast to the tension that engulfed Croke Park for the semi-final. It was the third year on the bounce that Galway and Tipperary slugged it out at that stage and again only a single point separated them at the finish.
Galway fell the right side of the result after Joe Canning's magical point.
Daragh Creaven / YouTube
"I think Galway showed a bit of composure under pressure and I think you have to go through that All-Ireland final experience to have that composure to finish chances when they do come.
"The vast majority of the Galway team had been there in 2015, a lot of them had been there in 2012 and that experience probably did stand to them.
"The final was reflective of the mood since then. It was a sense of relief more than wild celebration. It's almost as if this has been so long in coming that people are saying finally Galway have got there.
"It's more a stamp of credibility in a way on the Galway hurling story. For so long we've been perceived of having teams that were capable. At times I think that hype and belief weren't justified, at times we weren't good enough to win."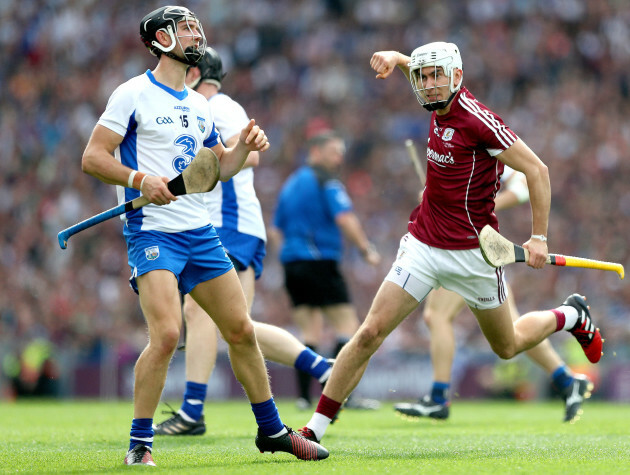 James Crombie / INPHO Jason Flynn hit 0-2 when brought on against Waterford. James Crombie / INPHO / INPHO
Amidst the celebrations that ensued Walsh was struck by the manner in which the team carried themselves.
"Our own Fergal Moore (Turloughmore) was captain in 2012 and wasn't part of the panel this year. You also had Iarla Tannian, Andy Smith, Damien Hayes, David Collins and all these lads who didn't get to taste it.
"I think in fairness to the senior lads have been portraying the message since then that the win is for everyone who played over the last 29 years. There's been some great hurlers and things haven't worked out."
"Also the biggest thing for the minors and I think it's only striking them now, that they got to share afterwards out on the pitch in the senior victory. I think the senior management deserve great credit.
"They got out on the field and were accepted by the senior lads out there. I think that will be a life memory for the minors having to be out on the field as David Burke lifted the Liam MacCarthy Cup."
Exclusive Six
Nations Analysis
Get Murray Kinsella's exclusive analysis of Ireland's Six Nations campaign this spring
Become a Member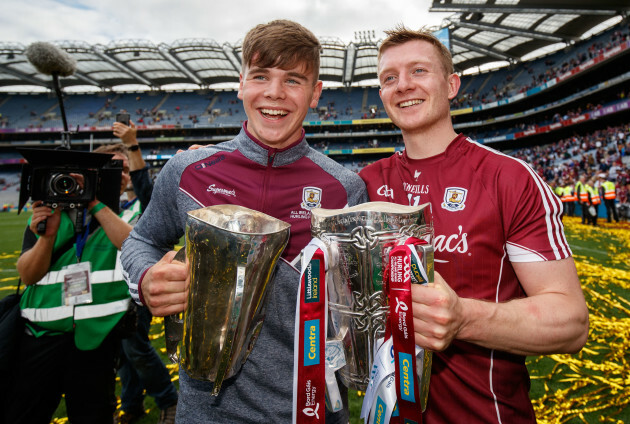 James Crombie / INPHO Joe Canning and his nephew Jack after Galway's All-Ireland final victories. James Crombie / INPHO / INPHO
The outpouring of emotion after Galway's victory did not just stem from 29 seasons of falling short. The memory of Niall Donohue did not stray far from anyone's mind with David Burke fittingly and poignantly referencing the Kilbeacanty man from the Hogan Stand.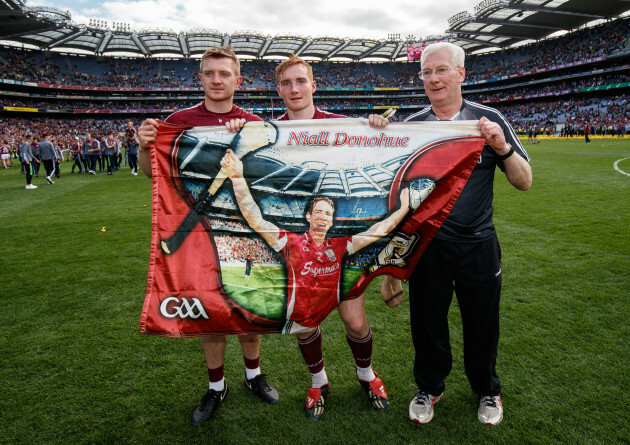 James Crombie / INPHO Joe Canning, Conor Whelan and kitman Tex Callaghan after the game. James Crombie / INPHO / INPHO
Jason Flynn, the super sub who sparkled in the second half, spoke afterwards about his late brother Paul, a former Galway All-Ireland U21 winner, and his drive to win for his family and to honour Paul's memory.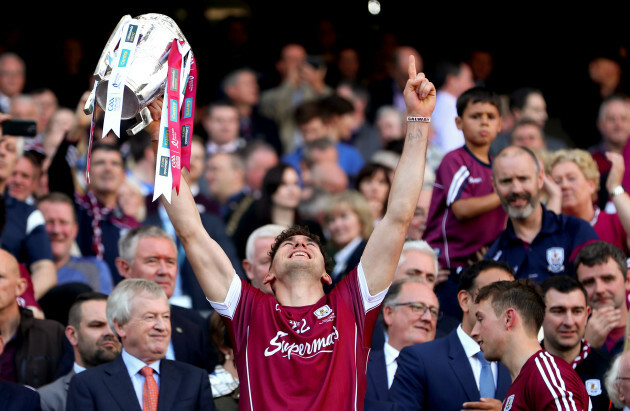 James Crombie / INPHO Jason Flynn gets to celebrate in Croke Park. James Crombie / INPHO / INPHO
And then there was the grief that visited Galway hurling circles in the weeks before the final with the death of Tony Keady, the celebrated defender and hugely popular figure.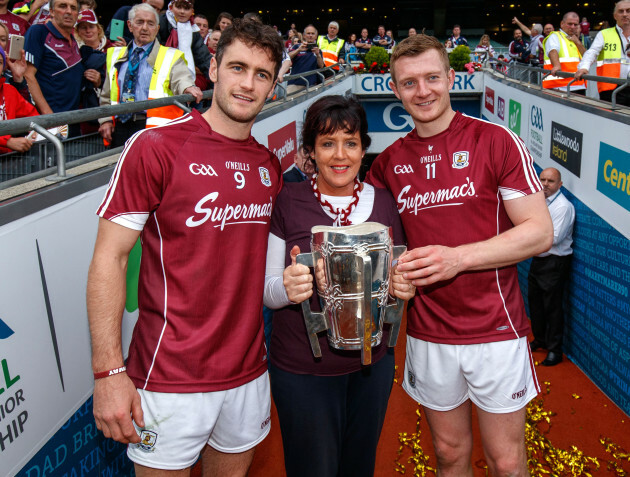 James Crombie / INPHO James Crombie / INPHO / INPHO
"I think there's no doubt that it galvanized Galway but it also put a lot of things into perspective," outlines Walsh.
"He was a hurling icon but he was also a huge character. His loss after the semi-final put a bit of a dampener on the build-up."
The county have savoured their hurling victories throughout the winter. In Turloughmore they gathered on a December Sunday recently to salute their local heroes and welcome the four pieces of silverware collected in 2017.
Defensive anchor Daithí Burke, his older brother Ronan, youngster Sean Loftus and coach Francis Forde flew the Turloughmore flag in the Galway senior camp.
From the minor side Conor Walsh was joined by his clubmate Daniel Loftus, brother of Sean. It was a special night for the local community north of Galway city.
James Crombie / INPHO Daniel Loftus celebrates Galway's minor triumph. James Crombie / INPHO / INPHO
The happy vibes will carry over to 2018. Their links to Leinster hurling will only grow stronger as their minor and U21 sides move into the province.
The really significant steps will be taken with the staging of games in Galway city next summer, Kilkenny heading to Salthill on 27 May and Dublin arriving on 9 June.
"The greatest marketing tool that you can have is you can see your heroes on your doorstep," says Walsh.
"Getting games to Pearse Stadium will be huge after what has been done this season.
"The management and the players deserve great credit, they've been fantastic ambassadors.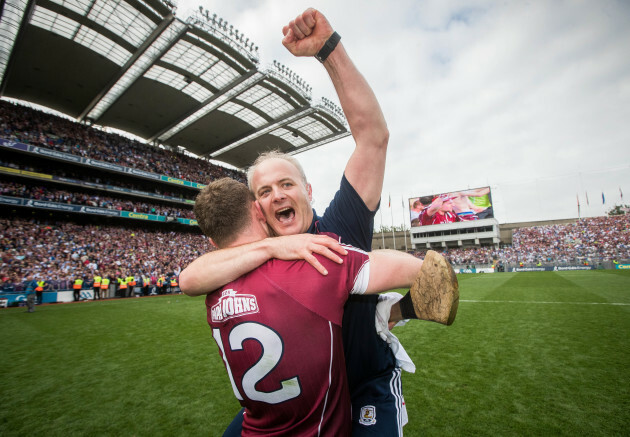 Ryan Byrne / INPHO Mícheál Donoghue celebrates with Johnny Glynn after the All-Ireland final. Ryan Byrne / INPHO / INPHO
"The one thing Mícheál Donoghue prides himself on is his fantastic humility. He insists the players that he works with are grounded and aware of what this means.
"The impact their success has had on people all over the county has been brilliant. It's just been great to see the celebrations."
After waiting nearly three decades, they will bask in the glow of success this Christmas.
The42 has just published its first book, Behind The Lines, a collection of some of the year's best sports stories. Pick up your copy in Eason's, or order it here today (€10):