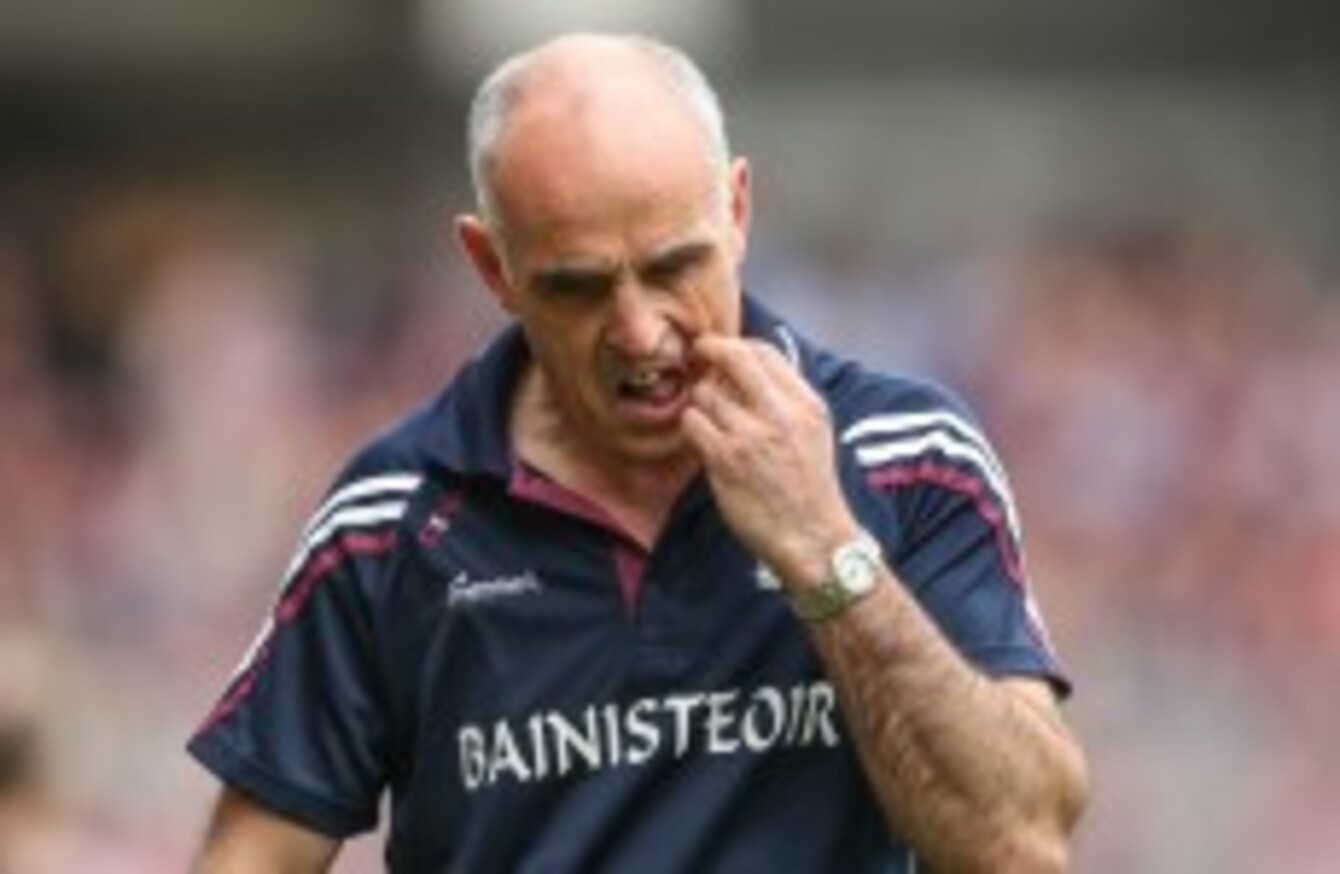 Image: James Crombie/INPHO
Image: James Crombie/INPHO
TOP GALWAY COACH Johnny Kelly has advised Anthony Cunningham to 'admit defeat' and step down as Tribesmen boss following a motion of no confidence from his players.
All-Ireland final boss Cunningham has so far refused to concede any ground despite a delegation of players informing him that they've lost faith in him.
Kelly, who managed Galway's U-21s this year and worked with Cunningham in the All-Ireland winning intermediate set-up, said the situation is 'unprecedented' with officials resorting to mediation.
The former manager of All-Ireland club kingpins Portumna, who bossed Coolderry to the Offaly title just last weekend, said Cunningham's voice deserves to be heard.
But he suggested that there is ultimately little hope of a middle ground being reached whereby the 2012 and 2015 MacCarthy Cup final manager can continue on with the same players.
"I don't know can it ever be back to normal," said Kelly. "Being honest about it, if you lose a dressing-room, you are probably better off to admit defeat."But having said that, Anthony did get that team to an All-Ireland final. I think everyone should realise that fact and he has put in huge work not alone over the last three or four years but the years previously with the U-21s in Galway. He's been good for Galway and I think with respect to the man, he deserves to be heard as well."
Kelly said he was surprised to learn of the players' strong feelings towards Cunningham who guided them to the All-Ireland final just last month
."For a management that got a team to an All-Ireland final, you would have said his job was safe so it is strange," continued Kelly. "Obviously there were concerns by some of the players, they voiced those concerns, so I suppose the overriding factor is there needed to be a small bit of a debate about that and a sit down meeting to clear the air. That would have been the prudent way to proceed but obviously that didn't happen and we are where we are now."
Galway officials proceeded with Cunningham's reappointment despite the players' grievances being raised a number of days earlier.
"Well, if there were concerns there and individuals were made aware of that, then certainly the prudent course of action would have been to hold fire and get those views aired, and see if all the views could be listened to, and decisions at that stage could have been made," said Kelly.
If Cunningham does step down, or if he departs following mediation, Kelly would be one of the leading contenders to succeed him.
"It's a difficult one for everyone that's involved, there's no winners for anyone in Galway at the minute," said Kelly at the launch of the 2015 Leinster club championships.