SHANE WALSH MISSED the start of Kildare's epic showdown with Mayo last month.
But by the final whistle he had absorbed enough of the action to gauge the pitfalls Newbridge can pose as a venue.
Naturally seeing a team like Mayo, who Galway have duelled with in recent times and become accustomed to, fall in St Conleth's Park will place them on their guard as they head there next Sunday.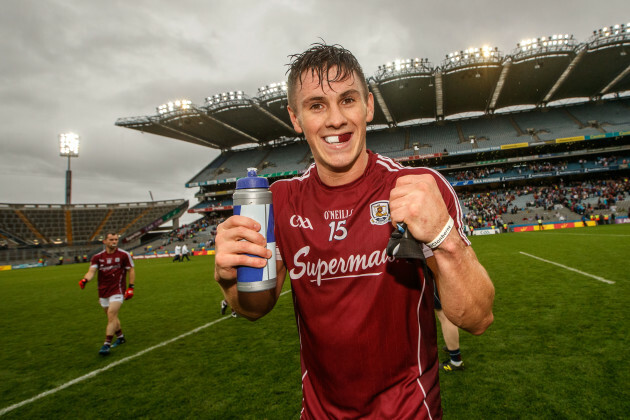 James Crombie / INPHO Shane Walsh celebrates Galway's success over Kerry last Sunday. James Crombie / INPHO / INPHO
"I was actually in the bog, I missed the first 15 minutes, I gave Dad a hand down the bog and my hammers weren't thanking me for it afterwards but it had to be done," laughs Walsh, the winner this week of the PWC GAA/GPA Player of the Month football award.
"Kildare brought so much energy, so much fight to that game. It just epitomised the way they fought for their home venue as well. It just shows the challenge we're facing at the weekend.
"If we come into it half thinking we're going to progress through the Super 8s, we know that we're going to be turned upside by Kildare because they're bringing a lot of fire to the table at the moment.
"That was probably something they felt was missing from their game but it's definitely reinvigorated them now. The new lads that are in are going to experience this hostile environment going into Newbridge but it's something we're looking forward to.
"We've seen what's happened our neighbours going across to Newbridge and getting turned over there. So we won't be going in there with our eyes closed, we'll be going in with two eyes focused on what Kildare are going to bring."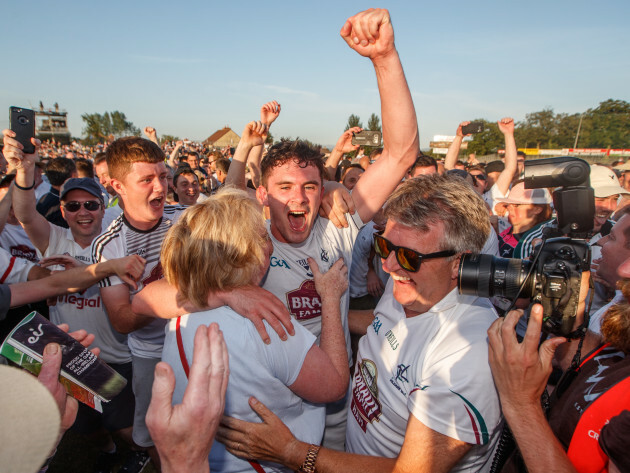 David Hyland celebrates with Kildare fans after the victory over Mayo.
It's easy to understand Walsh's level of caution. It cannot just be traced to the defeat Mayo suffered, there is also the aspect of Galway's form in recent seasons.
Those ties against Tipperary in 2016 and Roscommon in 2017 saw Galway enter as heavy favourites before faltering on the day.
"We've learned from that Roscommon last year, the Tipperary game the year before, that we can never take a team from granted, no matter what kind of hype has been built around us.
"If we don't perform to that, we know that we can be turned over by any team. You've seen it throughout the championship, you saw it with Carlow turning over Kildare, everyone going into that game was probably saying it's going to be a Kildare Dublin Leinster final.
"We've been in that scenario last year, the Division 2 final, going into Mayo, beating Mayo then in Pearse Stadium and then everyone saying when Galway get into a quarter-final, they're going to give themselves a great chance to go further again but then Roscommon turned us over in Pearse Stadium, so we have learned the hard way."
Still Galway are enthused after that landmark championship win over Kerry last Sunday. It ends a historic barren spell for the county in ties with the Kingdom but of more significance to the current group, there was the milestone of a notable victory in Croke Park.
"It's new ground for us. It's funny that someone mentioned to me earlier, normally it'd be quarter-final and three weeks (to) semi-final but we've never got to a semi-final so we're usually finished after that game Sunday.
"It's great that we're the new guys into it. I know the U21′s probably were another inspiration in that they were able to turn over Kerry (last year). It's another piece of history that we've probably taken away from everyone that's been saying outside the camp that we haven't been able to do.
"We were probably completely oblivious to all that. But at the same time, it's just now looking back on it that we were able to turn over Kerry in Croke Park."
The42 is on Instagram! Tap the button below on your phone to follow us!