***************
MAYO WILL LINE out in the qualifiers for the first time since 2010, where they were unceremoniously knocked out by Longford in a one-point game. They can have little complaint about the match result on Saturday evening.
Their defending shape looked confused at times and their shot selection left a lot to be desired. Galway can be very happy with not just the result but a very solid defensive display.
Galway went in at half-time in last year's game level and ended up on the end of a four-point loss, so despite a very average first 35 minutes from Mayo, the bookies can't have been too worried at half-time or even at the 50-minute mark when Mayo led by four.
What odds would you have received on Mayo's next score coming in the first minute of injury time?
Defensive Shape
Mayo's shape was obvious from the throw-in. Kevin McLoughlin lined out at half-forward but was almost on his own 13 before Galway had secured possession from the throw-in.
A few weeks ago Dublin scored a goal against Laois straight from the throw-in. There was no time to get sweepers in position. Galway really could have been a goal up inside the first minute despite Mayo having their defensive shape intact.
Galway first attacked down the right, then switched the play left before returning to the right hand touchline. There was nothing particularly dangerous or quick about this switch in play but it showed an early sign of weakness in the heart of the Mayo defence.
There are two important aspects to this phase that cause the goal chance to occur. Firstly, one of the main reasons this chance comes about is because of the run made by Galway's debutant full back. He forces Colm Boyle out of the centre of the pitch.
Dragging him towards the right corner makes space straight down the middle of the Mayo defence. This run won't show up on any stats man's sheet but it as important, if not more so, than almost anything else in this move.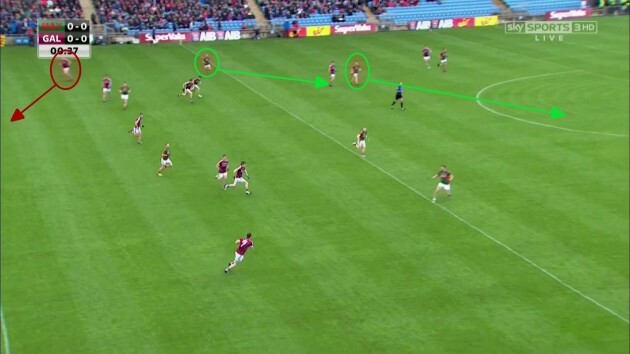 Secondly, I would like to see the Mayo team drift back across towards the centre, too many are left standing on Mayo's right wing. There are five in fact outside Boyle, they all need to spot the danger much quicker and push across.
Tom Parsons is the furthest Mayo player away from the play, his man is running back towards the Galway goal, and he should push on to the nearest Galway player which would free up the Mayo marker to push across in front of McLoughlin.
Because of Wynne's run and the two switches in play there is a rather large hole around the Mayo D. McLoughlin is protecting the full-forward line and although he pushes out eventually it does create a 3 v 3 situation very early in the game. After a poor shot the ball could have easily ended up in the net.
By contrast, rather than allowing themselves be dragged across the pitch Galway were willing to allow room on the outside, trusting that as a team they would move across when necessary.
This style of defending is something you are much more likely to see at Euro 2016 than on GAA pitches but it works. Galway are not overly concerned with the far touchline, they trust the system and their work-rate to get across and close the men down. Galway did this brilliantly on Saturday evening.
The Galway goalkeeper gave away a sloppy turnover very close to his own goal. Galway react well and as Mayo look to recycle the ball you can see Galway have the numbers. They have plenty pressing the ball and they have a spare man inside.
Mayo eventually move the ball out and Boyle is proving the option on the far touchline, but Galway have their shape, in this case two banks of three. It leaves no room through the middle.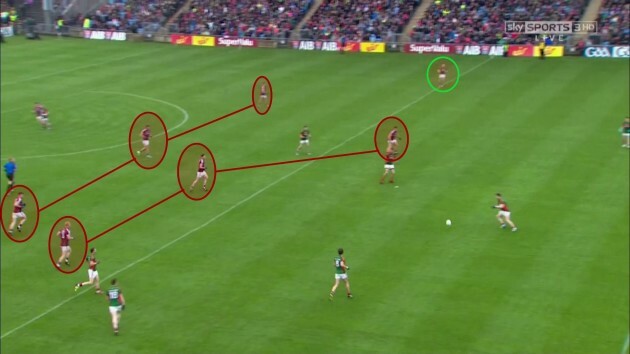 Aidan O'Shea is the Mayo player between the lines. He wants the ball but the pass simply isn't on. Galway are nice and compact, happy to concede a bit of space on the wings as long as Mayo can't go through the middle. A long ball is attempted here and Mayo are turned over.
Mayo attack & Galway pressure
Galway defended brilliantly throughout the game, the only negative they might have, is that six of Mayo's 12 scores came from frees.
There were early signs that Mayo were looking to move the ball with their feet early from attack to defence. In the 8th minute Evan Regan wins a free after the ball travels into the Galway 45 from a short kickout and two long, accurate kick passes.
The difficulty was that the Mayo forward line didn't make the ball stick often enough and when they did the cavalry were slow in arriving.
Early in the second half Mayo turn Galway over. They have 11 men inside their own 45, so four players are ahead of the ball at this point.
As Parsons turns and plays the ball forward, Jason Doherty seems like the only Mayo player with any desire or instructions to get forward.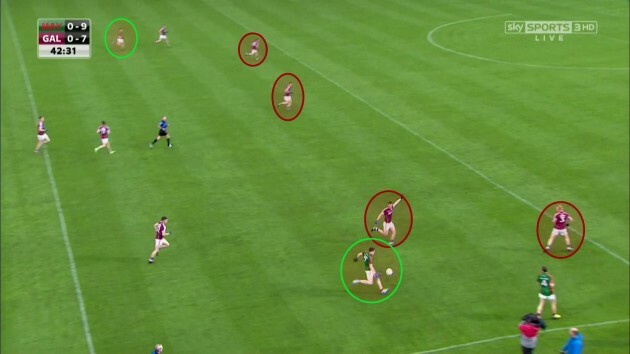 By the time the ball gets to midfield Doherty is the player in possession. But there is only one other Mayo player (from the original 11) who has made a similar forward run.
Galway have four across the 45 but have left it 2 v 2 inside.
There is a large gap here between the half-back line and full-back line of Galway, but as we will see in a minute, they do brilliantly to close it down.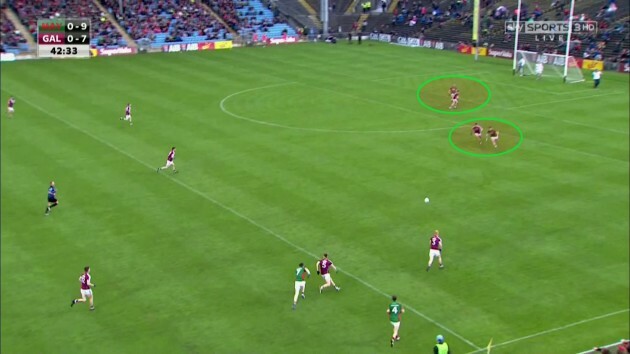 As a result of this counter it's 2 v 2 inside. We have Aidan O'Shea and Regan inside against a very inexperienced full-back line. Can you imagine a Dublin or Kerry full-forward line with this opportunity?
Having said that, Galway were impressive in closing this space between lines all day. Time after time you could see players working as hard as possible to go and help the next line.
The ball gets turned over and when Regan hits the deck there are three Galway men standing around him, two from that half-back line that Doherty bypassed with the kick pass.
From a Mayo perspective I would be worried with the following image. Other than Jason Doherty where is everyone?
Cillian O'Connor is slightly out of shot in the top left corner but with just a two-point lead they were hardly looking to protect that lead. You never know what a manager's instructions are but it feels like in years gone by we would have seen a Lee Keegan, Boyle or McLoughlin joining this attack.
Instead, Galway do a solid job of defending and are unpressurised bringing the ball out of defence.
Mayo will look at the chances they missed and feel this is a game they should have won. However, the poor shot selection was often a result of some excellent Galway defending.
Too often teams mistake defending in numbers with good defending. The truth is there is a lot more to it than that. If Galway can replicate this game plan they are going to be a difficult to team to break down.
The42 is on Snapchat! Tap the button below on your phone to add!