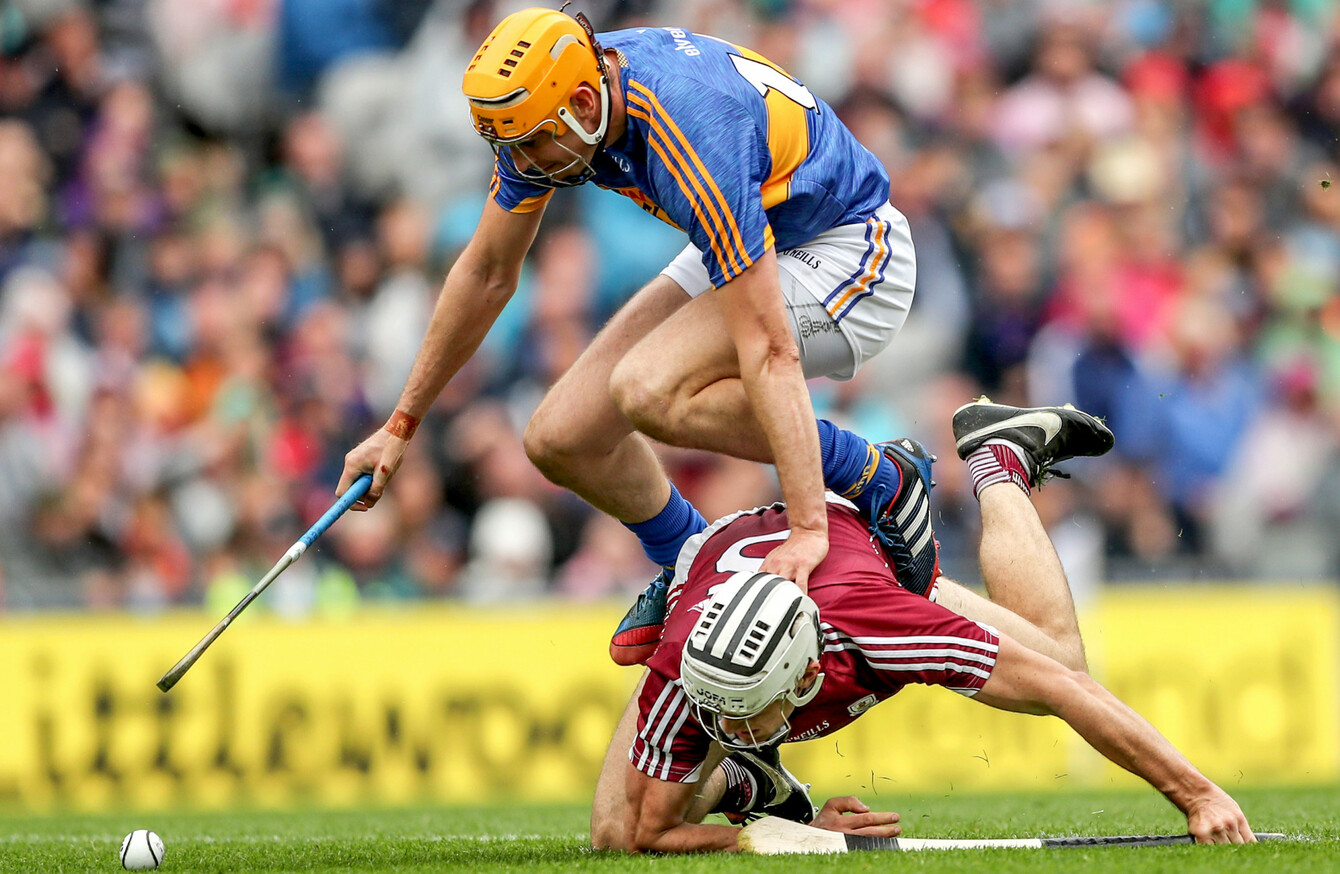 Seamus Callanan and Daithi Burke battle for possession.
Image: James Crombie/INPHO
Seamus Callanan and Daithi Burke battle for possession.
Image: James Crombie/INPHO
IN THE BIG moments, you want your biggest leader and your top man to be on the ball.
At the end of yesterday's All-Ireland semi-final, Galway wouldn't have wanted anyone else having a pop at the match-winning point.
And Joe Canning didn't disappoint.
It was a super score. I thought he was a bit optimistic coming back to take that free as it was a long way out. It raised few eyebrows I'd say that he went back to hit it but by doing that, it put him in the position to be outfield when the clearance came out to the Cusack Stand side.
You have to give a lot of credit to the vision shown by Johnny Coen. It was textbook stuff from him and then Canning stepped up. How much work did he have to put in? Tipperary fellas were coming at him at pace to challenge, he'd no space or time to work with but he still split the posts.
Joe is a class act and I think he probably deserved that. He's been on the wrong end of few scenarios like that. Fair play to him for hitting a score like that considering how the game had gone for him.
He missed a couple frees and a sideline cut. He hit the post on another occasion, struck another bad wide midway through his first half off his left. But Joe still tipped away and although I thought Tipperary did a fine job on him at the back, he still ended up with 0-11 and was the difference in the closing stages.
For the third year in a row, we got a fantastic game from a neutral point of view. It was riddled with mistakes but in terms of drama, it was just great to watch such a tight battle.
They were level 13 times and there was just simply nothing in it. You could say Tipperary deserved a draw and another chance but if there was going to be a winner, I thought Galway deserved that.
Tipperary paid the price for not taking their chances. They had the more clearcut goal opportunities but didn't manage to take them. The Galway defence were able to physically keep going and brought massive intensity throughout.
Looking at the game overall, it was a strong example of how semi finals are very tight and the type of occasion where teams are gripping by the fear of losing. Nerves increase for both teams in that instance and it evident in the amount of mistakes on both sides.
Coming into the final stretch, you need your freetaker to step up and Canning did that for Galway with a '65 and one massive long range free. Tipperary missed a couple of chances in contrast from 65′s when Seamus Callanan hit them. Galway only won the second half by 0-10 to 0-8 and having their freetaker on his game in the last quarter proved crucial.
Other Galway players did their bit at various stages. Conor Cooney and Conor Whelan did real damage in the first half, with Whelan maintaining that level of performance for longer. Gearoid McInerney produced a massive second-half display and he was very good in the league final also.
Galway's usage of the ball could have been better though. They looked to me like a team that were going to relying on the fact that they are so big and physical in attack, and that meant they would launch long deliveries into their forward lines. They might have been better off trying to play it through their midfielders or suppling a player like Whelan who was doing wreck, with low quality ball.
Tipperary's defence looked dodgy early on but both Michael Cahill and James Barry had fine games after that, they settled really well. Tipperary also got to grips with the puckouts as the game went on, not letting Galway fellas win it cleanly and battling in the rucks.
Uncharacteristically for Tipperary, they just didn't take their scores. We all know how good their attack is but while John O'Dwyer, Seamus Callanan, Noel and John McGrath all got good points, they also hit wides. Last year against Galway and Kilkenny, they took their chances but just didn't manage to do that yesterday.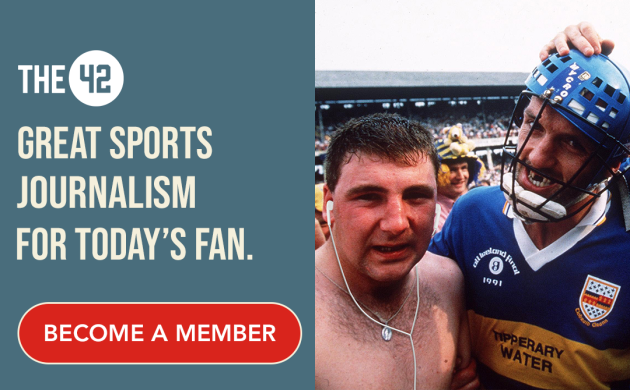 There was a bit of talk afterwards about Barry Kelly's display. There will always be arguments about referees in their decision-making in tight games when it comes to the awarding of frees. I think the one at the finish that Joe Canning took was probably soft but ultimately I didn't feel Barry Kelly role was a decisive factor.
It's hard to know how to rate Tipperary's season. They were beaten by Cork, got over the other games in the qualifiers, looked really good at times against Clare but then lost out today. They still could have won it but on the balance of it, Galway deserve to be in the All-Ireland final.
This was a huge test for Galway after their Leinster campaign and they passed it. They've been the most consistent team this summer and it's an impressive achievement by their squad.
The big question now for the final is after putting up this huge performance and proving they can cope with being tested, will Galway get the job done in September?
It's been a really good summer for hurling and we're going to have a novel final pairing now for neutrals regardless of how next Sunday's semi-final plays out. It puts a massive emphasis on the Cork-Waterford game now. The All-Ireland champions are out, Kilkenny are out and Galway, Cork and Waterford will know there's a huge opportunity now for all of them.
The42 is on Instagram! Tap the button below on your phone to follow us!