IT SOUNDS LIKE the ultimate sure thing — or the ultimate sucker's bet: wagering money on horse races that have already happened.
It's called historical racing. The date and place of the pre-recorded races and the names of horses and jockeys remain secret until after the money is plunked down and the videotape starts.
New Jersey, whose horse racing industry is struggling, is considering legalizing such betting. The wagers would offer horse tracks, which don't have slot machines or other casino games, a new product and a potential lifeline.
The gambling industry has had an uneven experience with historical racing in several states, but its representatives testified on Thursday that $1.1 billion was wagered last year in the US on old horse races. In New Jersey, that could mean a tripling of state and local tax revenue, to $300 million a year, they said.
"Racing has fallen on hard times," said Dennis Drazin, an adviser to the New Jersey Thoroughbred Horsemen's Association. "We need help. Because of the casino gaming on our borders and the lack of any slot machines, the New Jersey purses are significantly lower than the states around us. The horses follow the money."
The product is currently offered in Kentucky, Arkansas, Wyoming and Oregon. A New Jersey state Assembly committee held a hearing Thursday on the idea.
"The state needs revenue, the horse racing industry needs revenue," said Assemblyman Ralph Caputo, a northern New Jersey Democrat. "We're very interested in any concept that will help."
But Vince Mazzeo, an Atlantic City-area Democrat and defender of that city's beleaguered casinos, voiced concern "that you're extending gaming into the tracks," something New Jersey currently prohibits.
Assemblyman Chris Brown, a Democrat from the same area, voiced similar concerns.
"Is this somebody trying to do something through the back door that you can't do through the front door?" he asked.
Industry representatives say historical racing should not run afoul of New Jersey's casino regulations, because it is a game of skill, not chance. Players may not know which horses are in the race, but they are given some data before placing bets, such as the horses' odds and some stats on past performances.
Ken Jordan of Howell, New Jersey, a self-described "avid horse racing fan," supports the idea as a way to help the tracks survive in an atmosphere in which they get little help from the state. In 2011, Republican Gov Chris Christie ended a $30m annual subsidy that Atlantic City casinos paid the horse tracks to compensate for a prohibition on slot machines there.
"Anything that brings additional revenue to the tracks and helps them compete, I'm all for," Jordan said.
Exclusive Six
Nations Analysis
Get Murray Kinsella's exclusive analysis of Ireland's Six Nations campaign this spring
Become a Member
Drazin said there is a database of 25,000 past races from around the country that can be shown at tracks. He said the machines, which appear similar to slot machines, can allow track patrons to bet on a race every five to six minutes. Some play videotapes, which others use digital representations of the race.
"We generally have 25 minutes or so between races," Drazin said. "Fans are looking for something to do."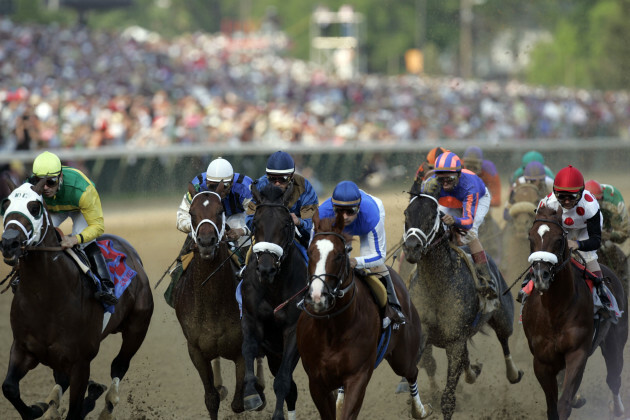 Zuma Press / PA Images Zuma Press / PA Images / PA Images
Historical racing helped save the Oaklawn racetrack in Arkansas. Louis Cella, whose family has owned the track for decades, said the product originated at Oaklawn in 1999.
"Oaklawn was going in the wrong direction," he said. "We had to do something or we were going to die."
Within years, the track had 500 instant racing terminals that helped bring in $400 million in 2005-2006. The extra revenue helped boost the track's earnings and the prizes they were able to offer to racers.