AS THE NEW season commences, Munster are focused on drawing bigger crowds to Thomond Park, despite what CEO Garrett Fitzgerald admits is a slowly-recovering local economy.
Attendance figures have dipped at the Limerick venue in recent years, although season ticket sales for the upcoming 2014/15 campaign are "on par" with those for last season.
Munster have announced a series of improvements to facilities at Thomond Park as the stadium prepares to host the province's opening six games of the season, an unusual occurrence caused by the ongoing redevelopment of Musgrave Park.
Work on the Cork ground is expected to be complete in January of 2015, but Munster are hopeful of luring big crowds to Limerick in the coming months.
Among the changes at Thomond Park are an impressively refurbished Dug Out Bar in the East Stand, an upgraded and relocated museum next door, a range of new catering options, self-managed bars throughout the stadium, as well as a 'Fan Zone Plaza' outside the East Stand and a 'Family Fun Zone' near the North Terrace.
"I think that the supporter of today demands a different product than they demanded six to eight years ago," explains Fitzgerald. "The first challenge we have is that over 80 per cent of our supporters will be travelling quite a distance to all games.
Dan Sheridan / INPHO Fitzgerald hopes that improved facilities will mean more people through the turnstiles. Dan Sheridan / INPHO / INPHO
"It's a challenge for us, where maybe if you compare it to the RDS where 80 per cent of the people can walk up – it's a big difference for us. The timing of the fixtures is out of our control, so when people come we want to make the experience better for them, make it more enjoyable, more family friendly."
The bottom line is that Munster need more people in the 26,200-capacity Thomond Park on match days, and not just for the biggest clashes in the Champions Cup. More people through the turnstiles means more precious income for the province.
Yes, we want to try and get more people here," says Fitzgerald. "Gate income is a large portion of our income so it's a big variable to have on your books if you don't know what's going to happen from week to week.
"We're lucky that we have a good season ticket supporter base, but, at the end of the day, we want people to go away from the event having enjoyed themselves. The best way is to have good facilities and hopefully we have a good result on match day."
Fitzgerald says season ticket sales for '14/15 have been equal to those of last season, in the 9,000 to 10,000 bracket and including a range of ticketing categories.
"Our season tickets are based around slightly different packages and the fact that we have two venues," outlines Fitzgerald when quizzed on the issue. "I think the economic recovery in this part of the country, outside Dublin, isn't anything like what's going on in Dublin and the change is a lot slower; the growth in the economy is slower.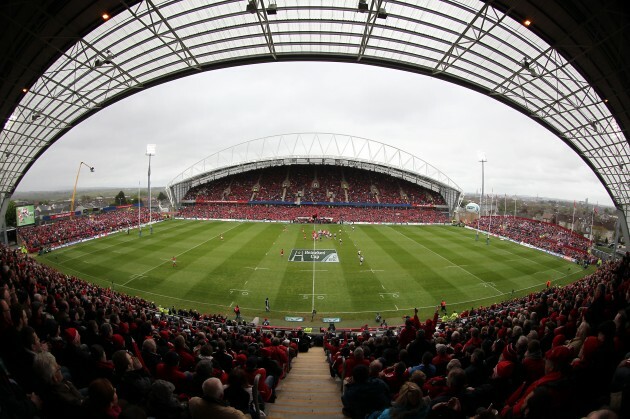 Billy Stickland / INPHO Thomond Park hosts Munster v Edinburgh on Friday night in the Pro12. Billy Stickland / INPHO / INPHO
"To answer your question, they [season ticket sales] are on par with last year and hopefully they'll rise. Last year, the ticket office did make up a lot of ground in individual match day sales."
The latest developments at Thomond Park will not create any new full-time jobs for Limerick residents, but Stadium Director John Cantwell confirms there will be an increase in part-time positions.
Elsewhere, Munster's new training facility in the University of Limerick – which will finally end the oft-criticised situation of having two training bases – is ready to move into the next stage.
"Enabling work" begins this month, while the building phase will start in January of 2015, with a 13-month time frame expected to see the project completed.
"The training base in UL in the last two weeks has been granted full planning permission," says Fitzgerald.
"We delayed it due to future-proofing it, and changing the size of it, putting in a bigger footprint. It's now been granted full planning permission with a view to being ready for occupation in January 2016."