MELBOURNE, 1984

BEFORE JIM STYNES ever set foot in Australia, Garry Lyon had made his way to Ireland.
In 1984, Lyon was part of the Australia U17 team that travelled to play an International Rules series against Ireland. He would go on to score 426 goals in 226 AFL games for Melbourne Football Club, become the longest serving-captain in the club's history and win more All-Australian (All-Star) honours than any other Melbourne player.
But 33 years ago, Lyon was just another skinny 16-year-old with a dream. For the majority of that U17 Australian squad, it would be their only visit to this country. He didn't know it at the time, but it was only the beginning of a long relationship between Garry Lyon and the Irish.
"We spent five weeks there as 16 year old boys just travelling around and playing six or seven games," he tells The42 from Melbourne. "It was magnificent."
That September, an 18-year-old Jim Stynes from Rathfarnham helped the Dublin minors to an All-Ireland minor football title.
INPHO INPHO
Shortly after the victory, he attended a trial in Dublin for the chance to win a scholarship with Aussie Rules outfit the Melbourne Demons. By the end of the week-long camp, Stynes was offered a contract by the Demons. Two weeks later, he was sitting on a plane on his way to the other side of the world.
Within seven years, Stynes was voted the best and most dominant player in Australian Rules. But when first he landed Down Under, he couldn't have been further away from winning a Brownlow medal.
"This weird looking, pasty skinned, fairly ugly-looking man, to be honest, arrived at training," laughed Lyon in the 2012 documentary Every Heart Beats True.
"We watched him play footy and we thought, 'This is the greatest joke of all-time.' We didn't appreciate the sort of person Jim was at that time."
Naturally, there was a difficult bedding in period for Stynes as he settled into an almost alien culture. He wrote in his autobiography: "My accent was the subject of great mirth. I often had to repeat myself.
"I would get baffled looks when I referred to people as 'yer man' or 'yer woon' and some friends took great delight in tallying the different ways I used the term 'bollocks' in conversation. There was 'a load of bollocks' (nonsense), 'what a bollocks' (an idiot), 'he's made a bollocks of that' (a mess) and 'I'm bollocksed' (tired), to list just a few.'"
©INPHO ©INPHO
Lyon agrees with Stynes' assessment. He reckons the Melbourne U19s "thought he was a strange man when he first arrived" and they "couldn't understand a word he said." When he introduced himself to Stynes, Lyon told him he was from the town of Kyabram (a small town located 200km north of Melbourne).
Stynes misunderstood Lyon's tan and thick black hair, presuming Kyabram was somewhere far away in the Australian outback. He arrived home to his boarding family that evening, and over dinner declared, 'I met my first Australian Aborigine today.' "I got a few laughs out of that story over the years," Stynes wrote in his book.
"He was a little older than me," Lyon says. "Once we advanced to senior footy, he was struggling and he couldn't really cement his spot in the team. I wouldn't say we were overly close (at the start).
"He had to go back and play at a lower level for Prahran (Melbourne's VFL team) and that's when his footy started to really blossom. He came back and by 1987 he was a part of our senior team. That's when our friendship really kicked in.
"I said many times, we didn't always see eye-to-eye, Jimmy and I. He was pretty obstinate and pig-headed and I was probably the same so we used to clash a bit. But the older and more mature I got, the greater my understanding of him and what he stood for and his values. I just loved the man."
Lyon made his Melbourne debut in 1986 and a year later Stynes arrived on the scene. They soldiered side-by-side with the Demons up until Stynes retired in 1998 and became very close friends.
"I met a lot of Jim's good Irish mates, his closest mates. I got to spend time with them and we used to go out a bit and go drinking. Even, we were on holidays up in the islands up in Queensland and Jim was up there with one of his mates. We dropped in and surprised him one morning and it led to another big night. We had a lot of fun together."
Keith Heneghan / INPHO Keith Heneghan / INPHO / INPHO
In the past week, Tom Brady and LeBron James have made public their age-defying practises and unique training methods. But back in the 1990s, Jim Stynes was the market leader for using alternative therapy to stay fit or recover from injury.
"He was always seeking alternative medicines and going to different health practitioners that we all thought at the time were witch doctors," says Lyon.
On one occasion Lyon walked into the physio room to check in on Stynes, who had suffered an ankle injury in training. A horrible smell filled his nose as he entered. Stynes was sitting on the edge of the physio table rubbing a smoking "cigar-type thing" over his ankle. The physios were fuming that Stynes was making a mockery of their jobs, but he didn't care.
"He played 244 games in-a-row, which will never, ever be beaten. When you look back on it you have to say that Jim was right and the rest of the footy world was wrong.
"AFL football was going through this big transition where we'd gone from part-time to full-time. Our era was sort of caught right in the middle.
"Football had always been played in a manner – everyone trained the same way and recovered the same way. And Jim would never accept that. He would say, 'Okay that's the way it was done, but there might be a better way to do it.'"
**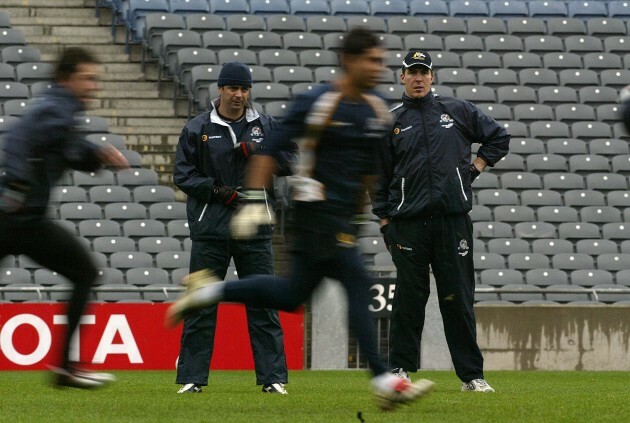 INPHO Garry Lyon and Jim Stynes watch International Rules training INPHO
CROKE PARK, 2002
Lyon was two years retired when he was appointed Australia International Rules coach in 2001. It was a surprise to no-one that Stynes was Lyon's right-hand man and assistant coach for the four years he led Australia.
"When they asked I jumped at it and I loved every minute," he says.
"I had an added incentive with my history, with the whole Ireland-Australia thing with Jim and the Melbourne footy club who have been pioneers to a large degree in trying to bring players over.
"Jimmy was my best mate so to have him sitting alongside me in the coaches box was great. Travelling back to Ireland with him and getting a sense of Ireland through his eyes was really special. I look back on those times now he's not with us anymore, they were some of my favourites times of my life .
"All of those things combined made the whole experience really memorable for me. I just love the way the Irish go about things as well. They've got a great perspective and outlook.
"I enjoyed the company of the Irish people I met, I loved seeing the players going about it, I loved talking to the press when I was over there. I just think it was one of the best things I've done."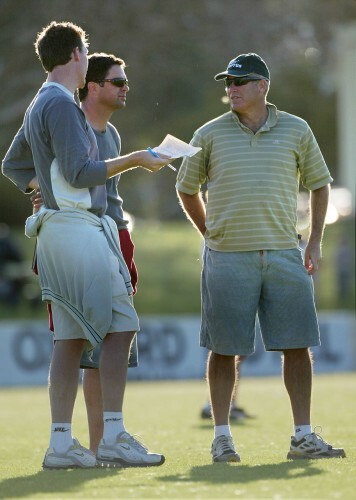 INPHO The 2003 Australian International rules management team Stynes, Lyon and Gerard Healy INPHO
Lead by Lyon and Stynes, Australia won two series and lost two between 2001 and 2004. As a recently retired player, the manager was conscious that the series took place during the AFL off-season, so he wasn't a total disciplinarian.
"While I wanted to make sure we respected the occasion and were professional about it, it was always at the end of our football season," Lyon says. "So I was trusting of the group and said, 'Listen, you've the opportunity to go out, have a beer and that sort of stuff but two or three nights before lets pull-up, lets do what we need to do and make the night of the game even bigger.'
"To a large respect, our boys really respected that. I'm sure there were probably one or two that probably took a step too far but that's what happens when young men go on overseas trips. We had a great time and Ireland's a great country.
"In between games, the Sunday after the first game we'd leave and go to Galway, get on a bus and stay at Dromone Castle (in Clare). It was unbelievable. We always had a big bonding sessions there. We were able to fit plenty in, we were very much social but when it came time to play we played.
"It was great craic," he laughs. "That was a word that we came to know. We had the great Robert DiPierdomenico, the Dipper, and he was our social organiser. He did a great job."
INPHO Stynes plays soccer with The Big Dipper INPHO
They had the craic during games too. He fondly describes an incident that took place prior to the second test of their tour to Ireland in 2002, when the Australian coaching team accidentally tuned their walkie talkies into the Irish side's radio channel.
Lyon explains: "I think we'd won the first one and we needed to not lose by more than three or four points in the second game. We sat down and were making sure our walkie talkies were working properly, when one of the boys flicked his on and we started to hear the Irish coach talk.
"We all looked at each other and said, 'What do we do?' I said, 'Well, listen carefully for a start!'
"It was mainly the substitutions we heard. I don't think it extended into the game too much but it was funny. I was new, I wasn't a full-time coach or anything, so I was still learning and Jimmy was always emotional.
"We'd be arguing and yelling at each other and trying to find match-ups with blokes that I didn't know. He was trying to tell me who was who, so it was all part of the theatre and it was very funny."
INPHO Lyon before the first test in 2002 INPHO
There were funny times, but they had some very serious moments too. Not least prior to the first test of that tour in 2002. The night before, the Australian camp received news of the horrific terrorist attacks on the Indonesian island of Bali that became known as the Bali Bombings.
AFL players often holiday in Bali during the off-season, and many members of the Australian squad in Dublin had team-mates on the island.
Three bombs were detonated, killing 88 Australians and 204 people in total. Osama bin Laden later claimed responsibility for the bombings, saying it was a retaliation for Australia's support of the United States' war on terror.
"We had a team meeting the night before the first test and a couple of players were running late. I started to get a bit angry about it," says Lyon. "Then we realised this bomb had gone off in Bali and the team-mates of a lot of the players on the team were on holidays in Bali.
"These players were in their rooms, trying to find information about whether or not their team-mates were still alive. We all went to bed that night, we understood how big a thing it was, but we didn't know if some of the team-mates of the players were dead or alive.
"We made the point that the next day when we played, that we would be the first Australian team, the first sporting team to represent the country since this tragic event and how important it was that we put our best foot forward."
Mark Bickley was part of the Aussie squad that year and he appeared on SEN Breakfast yesterday, an entertaining Melbourne sports radio show co-presented by Lyon.
"One of the only photos I've got up in my house is us standing arm-in-arm under the Aussie flag at half-mast, observing a minute's silence," Bickley told his former manager.
"You can see the emotion on everyone's face and it's pretty spectacular. At that stage there was still some people missing and we all presumed the worst.
"Being away from home, with the minute's silence and the national anthem, it was one of the most emotional times I've ever been on a sporting field.
"Without blowing up your tyres too much Garry, your pre-match speech about us having the first chance for an Aussie team to represent our country and show them what we were made of – I thought that was very special."
Lyon says he didn't prepare the famous speech, but instead "gauged the mood of the group" and rolled with it.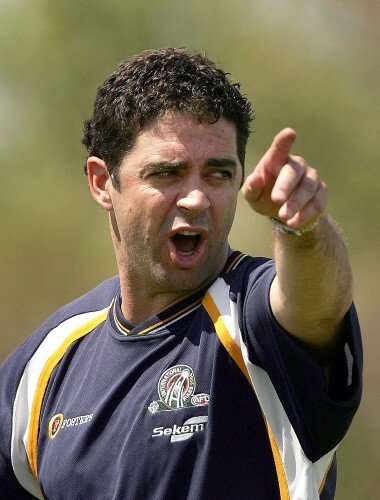 INPHO INPHO
"If any player came up and said I can't play because of the circumstances then absolutely you'd understood but no-one did. We were all in it together. As always when you travel to Ireland there was the us against them mentality. 70-odd thousand at Croke Park is a pretty intimidating venue and I think the players all found some strength in support from each other.
"From a coaching point of view, you didn't use it as motivation but you couldn't ignore it because it was such a huge world issue. We just did the best we could and I think we ended up having a close win at the end of the day which was even better.
"I never really pre-planned anything when I spoke. Those were unprecedented circumstances. We tried to get that sense of your country and representing everyone anyway, but on that particular occasion it was even more profound.
Exclusive Six
Nations Analysis
Get Murray Kinsella's exclusive analysis of Ireland's Six Nations campaign this spring
Become a Member
"Mark said was a memory he'll never forget and I won't either," he adds.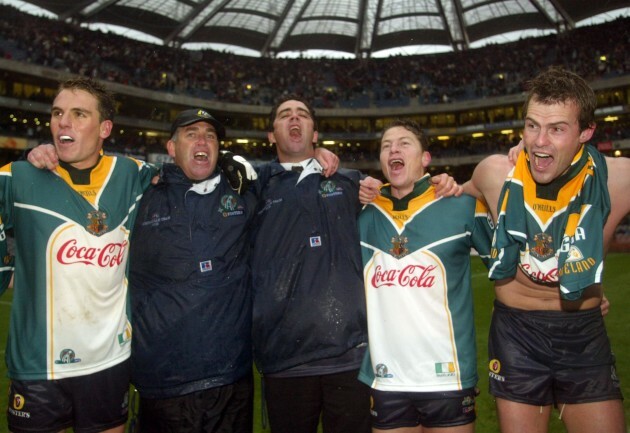 INPHO Lyon celebrates with his team at the final whistle after the second test in 2002 INPHO
Lyon remains a big fan of the series and takes an interesting view of the Irish players.
"The thing I marvelled at was the ability of those players," he says. "I know the GAA and supporters hate it when their young players are recruited, but in terms of a recruiting ground, Ireland remains untapped.
"I mean, some of the greats come from Ireland…(Tadhg) Kennelly, Stynes, (Sean) Wight, Pearce Hanley. The strike-rate in terms of players coming and elevating themselves to elite level is pretty extraordinary I reckon.
"Marty Clarke was a star as well. I've seen enough of these guys to know that with full time professionalism, resources, training, nutrition and all that sort of stuff, they are all capable of making it."
**
MELBOURNE, 2012
Near the end of Stynes' battle with cancer, Lyon was constantly by his side.
"In the last months of Jim's life, I spent a lot of time just sitting with him in hospital or at home," he says. "We just had that time to talk where men don't normally have.
"We had hours and hours of philosophical discussion about different things and it became really obvious how different the two of us were. And how I think most people when they measured themselves against Jim would feel inadequate.
Channel 9 TV Channel 9 TV
"He wasn't meaning to do it to me but he had a much broader understanding of life at that early stage of his life. I learned a lot. His sense of country I spoke about, his love of Ireland and his sense of their history, which I didn't have the same of my country. Then his relationships with his family and his vulnerabilities, all the things which we should be but we aren't always. He was a pillar, he stood out in that area."
Stynes wrote in his book: "We talked for hours. We spoke about trivial stuff, like the merit of wine gums versus jubes. We reminisced, and reassured each other that we really were pretty decent footballers in our day.
"Like a few of my closer mates, Garry and I had found it easier to open up in recent months. We could talk about our emotions, our fears, our insecurities and our passions."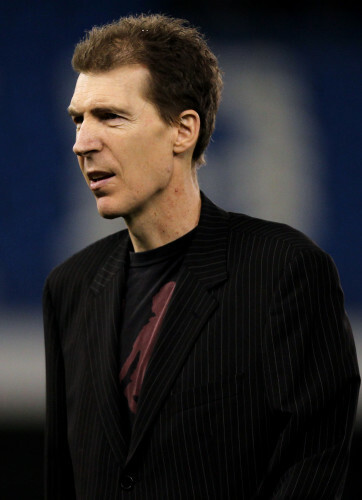 James Crombie / INPHO Styes at the International Rules in 2011 James Crombie / INPHO / INPHO
Lyon tells a great story of the time Stynes' wife Sam left the former team-mates alone in the hospital while she went home to check on the kids. She gave Lyon strict instructions that her husband was to take it easy.
In the meantime, Stynes wanted to stretch his legs, so the pair went for a stroll around the ward at 2am. Along the way, they happened to stumble across a mini pool table.
Some time later, Sam returned to an empty hospital bed. She heard some shouting coming from down the corridor and walked down to find the pair having a heated argument beside the pool table.
They were arguing over whether you could shoot backwards after receiving two free shots, and neither man was giving an inch.
Stynes had come out of brain surgery just 24 hours earlier, was connected to an IV machine and had failing eyesight, but he had lost none of his competitiveness.
During those lengthy discussions in the final months, Lyon says they got to know each other on a whole new level. That's remarkable, considering the pair were friends for 27 years by that point.
"It was the most special time," he says. "You don't realise until you go through it and have those conversations, it's a bit of a journey and you learn about yourself in the process.
"I refer back to him, you end up measuring yourself by him and who he was in terms of the way you live your life. I find myself often thinking, 'What would Jim think about that?' That is a pretty special thing."
And who won that game of pool in the hospital?
"He beat me!"
Subscribe to The42 podcasts here: