BRIAN O'DRISCOLL FIRST saw Garry Ringrose in action in 2014, when the Ireland U20s came to Carton House to train against Joe Schmidt's senior side.
Still an important part of the Ireland set-up at that stage, O'Driscoll was running opposite the young man who is now set to wear the 13 shirt this weekend against Scotland.
The comparisons hadn't quite taken off at that point, but the legendary Ireland centre was struck by Ringrose's qualities.
Brian O'Driscoll scores against Australia in 20013, while Garry Ringrose does the same in 2016.
"I think you could tell immediately that he had something different from the rest of his peers," says O'Driscoll.
"He just had a rugby intellect as to what lines to run, he had nice hands. I remember him standing out. I think when you're focussed on playing one of the Six Nations teams, you can only pay so much attention to the U20 opposition, but I do remember vividly thinking that this guy has got something special."
O'Driscoll kept an eye out for Ringrose and recalls being surprised to see the youngster dropped by the Ireland U20s during that Six Nations campaign, the first of two at that age grade for Ringrose.
"He was quite wiry then," says O'Driscoll. "He's put on a bit of size but he was pretty wiry, so he definitely needed to bulk up a bit, but I think when the talent is there that's the easier part to put on, rather than the other way around.
"There's plenty of guys with lots of size that don't have the skill set."
Indeed, Ringrose has progressed as an athlete in the intervening years, with both Leo Cullen at Leinster and Schmidt with Ireland showing patience and caution in how they have exposed the midfielder to top-level rugby.
Now, there appears to be no holding Ringrose back.
The comparisons to O'Driscoll are premature in terms of achievements, of course, but the similarities are obvious.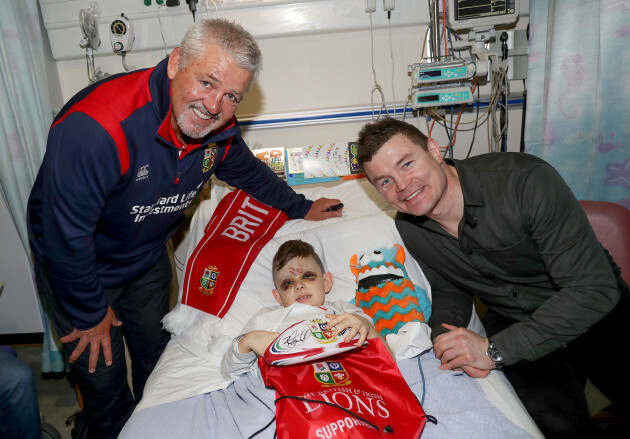 Dan Sheridan / INPHO Warren Gatland and O'Driscoll with Billy Norris, age 8, at Temple Street Children's Hospital. Dan Sheridan / INPHO / INPHO
Both Blackrock boys, both UCD men, both wearing 13, both with the ability to create something special and both running in the same low-centre-of-gravity manner.
"I would not do the guy a disservice by making any comparison," says O'Driscoll, however. "I think he's his own guy. I think he's got a low-slung style of running. I think he's difficult to tackle, his evasion skills are excellent.
"He can step off both feet. He seems to have a little bit more time than other players to get himself out of a hole when he finds himself down a dark alley. So I think he has all the right attributes to be a big success at 13."
While Ringrose stands 6'1″ tall, he is not exactly the biggest specimen in the midfield in Test rugby. He has added lean muscle mass to his frame, but is never going to be a hulking giant, nor does he want to be.
Having shown over the course of his first three Tests in November – two of them against New Zealand and the Wallabies – that he can compete physically, O'Driscoll sees no problem for Ringrose in this department.
"I think defensively he's able to survive at this level because he reads it a bit quicker than everyone else and he has the impetus on impact, before people get a head of steam, before people have a chance to see the space or where their target is – he's already hit them.
"I think it's still very early in his infancy as an international so we need to see more game time, but there's no reason why he can't forge a brilliant partnership with Robbie Henshaw.
"I think they really complement each other and I can see him being in that set-up for a very long time because he has x-factor.
Photosport / Andrew Cornaga/INPHO Ringrose in action for Ireland U20s in 2014. Photosport / Andrew Cornaga/INPHO / Andrew Cornaga/INPHO
"He even made a few mistakes against Castres [for Leinster last month] but he also had an awful lot of impressive moments too – linebreaks, ball carrying.
"So he's coming together very nicely and not shouting from the rooftops, but he's going about his business really well."
O'Driscoll was an influence on Ringrose as the young centre came through the ranks, working with him at Carton House on occasions and carrying out something of an unofficial mentoring role in recent years.
While O'Driscoll says his role as an analyst for BT Sport might have slightly blurred the lines, he is always available to help young Irish players.
"My support is offered and whether someone picks me up on it or not – not that they haven't – but I did a little bit of stuff with Garry before," says O'Driscoll. "Then he's got good coaches in Leo and Stuart Lancaster coming in, obviously with Joe, team-mates like Johnny [Sexton] and Robbie around him.
"He's learning an awful lot and I don't know how much more I can talk about the technical game that he's not already hearing. I am capable of providing an understanding of avoiding the pitfalls and the bigger picture.
"I'm always willing to talk to anyone if the need is there, but I'm not there to push myself on people either. They shouldn't feel obliged to listen to the has-been."
The British and Irish Lions have partnered with Temple Street Children's Hospital for the 2017 tour to New Zealand. For the first time, the Lions will officially support the charity, which makes a difference to seriously ill children across Ireland.
This includes a fundraising dinner at the Mansion House, Dublin on 3 March. Brian O'Driscoll and Warren Gatland will be guests of honour for this worthwhile cause.
Subscribe to The42 Rugby Show podcast here: