THE GAA STANDS to net over €5m from this summer's concert bonanza at Croke Park after it was confirmed yesterday that Garth Brooks has added a fourth July date at the stadium, while pop band One Direction are to play three dates in May.
Brooks has sold out at the stadium from Friday July 25th-Sunday 27th with tickets going on sale this Thursday for a fourth date on Monday July 28th. One Direction are playing at Croke Park on Friday May 23rd-Sunday May 25th.
The GAA will benefit to the tune of approximately €750,000 for each of the seven concerts and that would see them receive a total windfall of over €5m from the rental of the stadium.
Stadium and commercial director Peter McKenna revealed that he has been 'stunned' by the public demand for tickets to see Brooks.
"If you'd said one or two nights, I thought it'd be great. But it going to four is huge. I'm absolutely stunned. We didn''t know this would be in the pipeline. This was a Christmas present really.
"I think when you add all the concerts together you can see that four (Brooks) have a €3 million variance and we are not going to be far off that, if you take that as an average.
"Now it changes. For example, there will be no alcohol sales here for One Direction. It will be a far younger audience so there will be a slightly different turn. Garth Brooks will be different again, it will be an adult audience."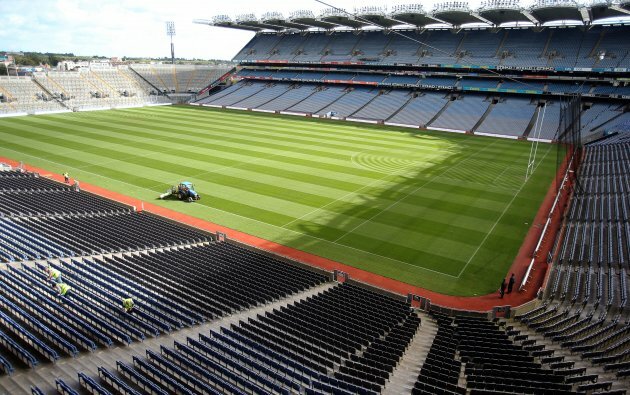 Pic: INPHO/Donall Farmer
Local Residents
McKenna revealed they are conscious to liaise with residents near Croke Park and ensure there is a 'meaningful legacy statement' made from the four Garth Brooks shows.
"We shouldn't underplay the impact it's going to have on the local community. We're very conscious that four concerts back to back like that is going to be very disruptive to the local area. We're meeting with the local community next week and we want a meaningful legacy statement made from these concerts.
"That's something that needs to come from the community. We'll see what level of suggestions they would come out with. It needs to be significant. It just can't be tokenism, it needs to be something substantial. The artist has been very supportive."
McKenna is also confident that there will be no problems in getting the Croke Park venue ready for the All-Ireland senior football quarter-finals that will be held five days after the last Brooks concert.
"We have been there before and we have done it. But I don''t want to underplay it, …it''s not without risk but it''s a risk that we''re well able to manage."