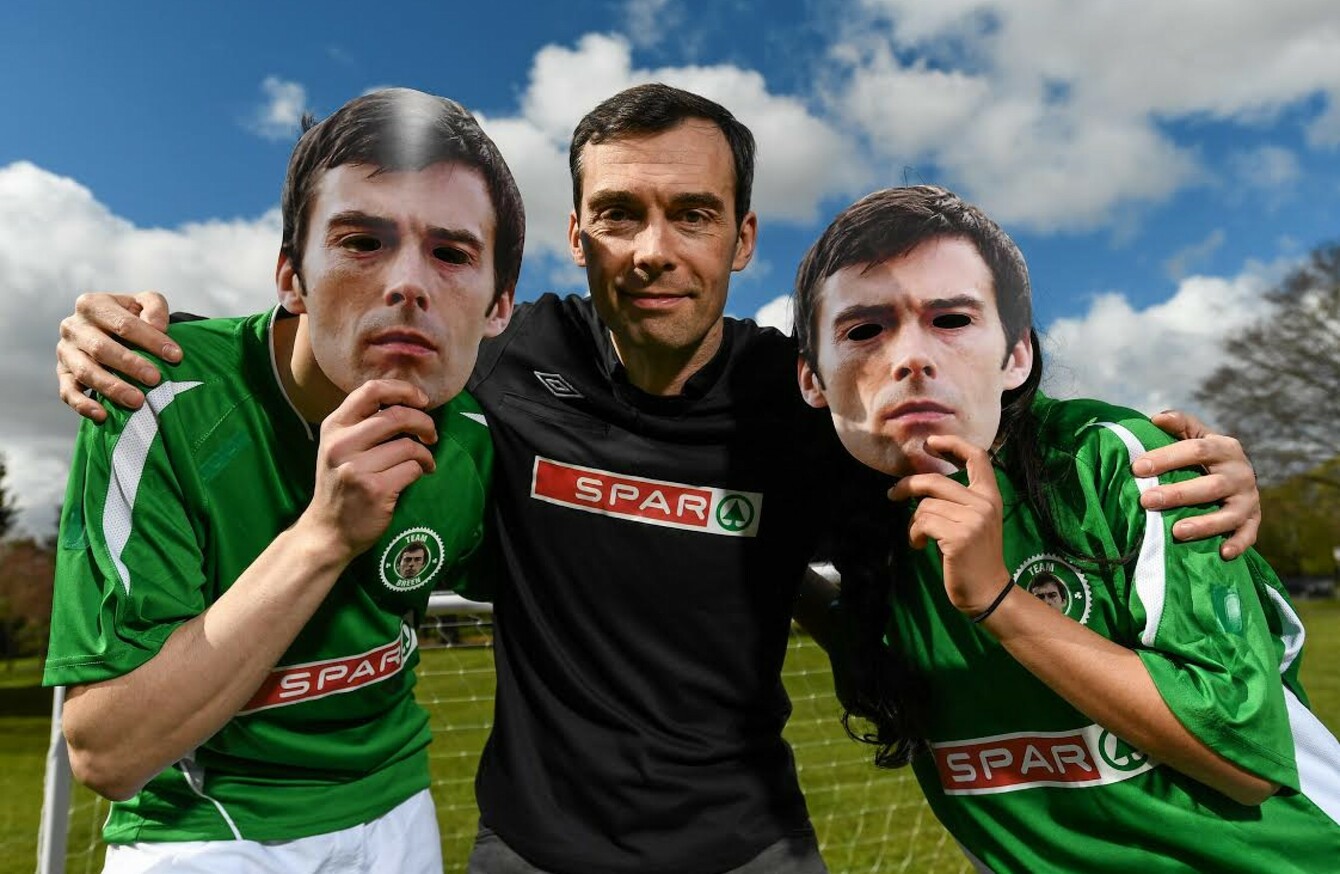 Breen launching Spar's #TeamBreen competition.
Image: Stephen McCarthy/SPORTSFILE
Breen launching Spar's #TeamBreen competition.
Image: Stephen McCarthy/SPORTSFILE
FOURTEEN YEARS ON from his greatest moment in a green shirt, Gary Breen's cult hero status among Ireland fans remains as strong as ever.
"I flew in this morning and a guy came up to me straight away and starts singing the song and asking 'can I get a photo?'" Breen, now a pundit, explains. "I'm like 'yeah, no problem'."
The former centre-half may not have been the greatest defender to ever line out for the Boys in Green, but he is certainly one of the most fondly-remembered — due in no small part to the chant dedicated to him.
Sang to the tune of The Beatles classic Yellow Submarine, We All Dream of a Team of Gary Breens first came to prominence in 2002. Still popular among supporters, it was heard on the streets of Poznan and Gdansk four years ago and there will undoubtedly be more than a couple of renditions at Euro 2016 this summer.
"Initially it was leading into the (2002) World Cup," Breen recalls. "The song is synonymous since then, every time I've been to Ireland or see Ireland fans I just see them singing it all over the place.
"The reality is you wouldn't win many games if you had a team of Gary Breens!" he laughs. "The song is synonymous with the supporters and the tales that they tell of being at major tournaments.
I remember as a kid singing 'Give it a lash, Jack'and later on 'Ooh, ah, Paul McGrath'.
"It's just a song that whenever Ireland play it's probably in the top three or four that suddenly comes out."
A free agent going into the tournament in South Korea and Japan as his contract had just expired at Coventry City, Breen would get the nod ahead of Kenny Cunningham and Richard Dunne to partner Steve Staunton at the heart of Ireland's defence in all four of their matches.
"I think leading into the World Cup, every time I was fit I played," he says. "I did expect to play and wasn't particularly happy when I got my squad number, let's put it that. It was 14.
"I just think it (the song) is probably based on the fact that it maybe came across how much it meant to me to play for Ireland. And it did.
He adds: "It has just grown since then really. It's lovely in terms of that but I'm pretty sure it's about the experience and adventures that people have had supporting the team as such and it just comes out. It's good fun."
https://www.facebook.com/The42.ie/posts/1104827649579723
During his ten-year involvement with the Irish set-up, Breen earned 63 senior caps and scored seven goals. One in particular stands out, however.
A 3-0 win over Saudi Arabia in Yokohama secured Mick McCarthy's side's passage to the knockout stages and, after Robbie Keane had opened the scoring, Breen latched onto Staunton's free-kick to flick the ball into the bottom corner with the deftest of touches.
"Sometimes when you are fortunate to live your dream, the reality is not quite what you thought it would be. If you meet famous people they never quite live up to the billing but for me, playing for Ireland did."
Source: SPAR Ireland/YouTube
Republic of Ireland legend Gary Breen was on hand yesterday with SPAR to launch a campaign that will see a SPAR Team of Gary Breens travel to France this June. There are six places on the team up for grabs and in order to win a spot all fans need to do is get a Gary Breen mask from any SPAR store, take a selfie and upload it to Facebook, Instagram or Twitter using #TeamBreen …… then wait for the call up! See spar.ie for further details