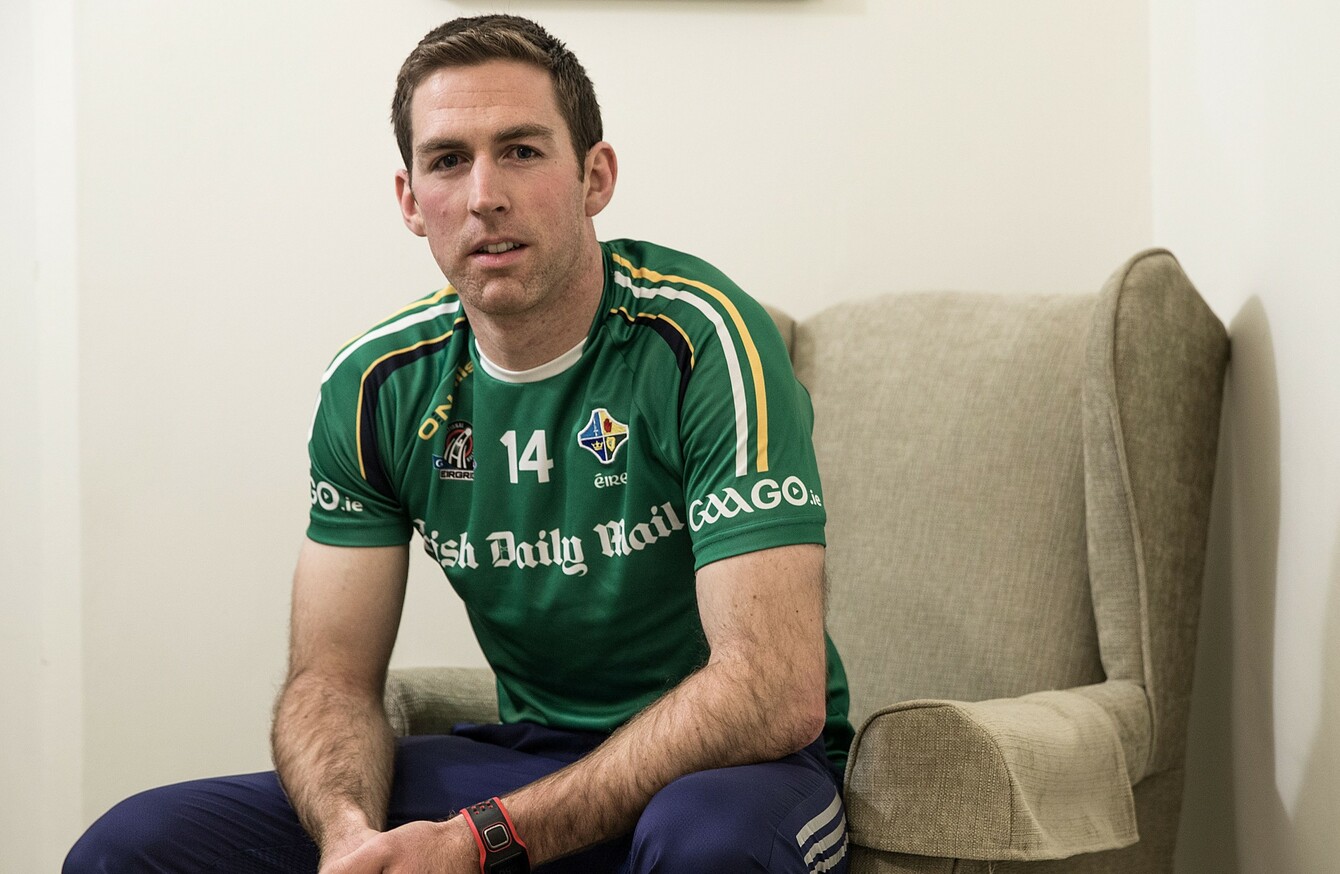 Clare captain Gary Brennan is a key member of Joe Kernan's International Rules squad.
Image: Dan Sheridan/INPHO
Clare captain Gary Brennan is a key member of Joe Kernan's International Rules squad.
Image: Dan Sheridan/INPHO
CLARE CAPTAIN GARY Brennan insists that a Munster football title success is achievable and that an International Rules test win doesn't have to be the climax of his career.
The big midfielder is poised for his Ireland debut this Saturday having only made the extended panel back in 2010.
The latest clash with Australia will take place at Croke Park, a venue that Brennan has never won in.
He was part of the Clare side that played Tipperary there last year in the Division 4 league final though they lost by a point.
So he can potentially break lots of new ground this weekend but insists that his long-term plan is still to be a Munster medallist.
"Absolutely, we'd certainly love to win a Munster title and to try and go up the ranks in the leagues as much as we can too," said Brennan.
"But, definitely, we'd like to try and win in Munster. Obviously that's a huge task given what we're up against in Munster. But that has to be the aim, we'll keep working at it."
Asked if he thinks it's genuinely achievable considering Clare have won just one provincial title since 1917, and were hammered in the 2013 decider, Brennan nodded.
"I do, yeah," he said. "Listen, if I didn't think it was achievable, wouldn't I be mad to be playing and training with Clare for the last nine years?
"You think it's achievable every year and you always try to go for it every year.
"Obviously, the scale of the task is different when you're up against Kerry and Cork but I'll always believe in my own county and I'll always believe in what we have and it'll take an awful lot for that to change."
Brennan isn't entirely new to playing for Ireland having competed in the 2006 U-17 series alongside future All-Ireland medallists Michael Murphy and Colm O'Neill.
Despite being one of just four players hailing from a Division 3 county, he said he doesn't necessarily want to win for the weaker counties.
"I don't feel like I'm on any sort of a crusade or anything like that," said Brennan. "I suppose all of us that are there, no matter what county you're from, it's special for us all. We all want to try and show what we are capable of.
"There is huge interest in football in Clare and I suppose it probably does mean a lot to them. I know from the reaction around home, my own family, club mates and work mates, that the reaction has been unbelievable. So it obviously does mean something.
"But I'm not thinking about any of those things too much. It's something I'll maybe reflect on in later years and time to come."
Kick-outs in the hybrid game must travel beyond the 45-metre line to be declared legitimate.
A variation of the rule could be brought into Gaelic football with a proposal set to come before Annual Congress that a player can 'mark' any kick-out that carries between the two 45-metre lines.
"It was trialled a few years ago," said Brennan. "Teams became almost overly negative in terms of trying to prevent opposition players from getting a mark. So it became harder almost to win clean possession in the middle of the field.
"Maybe it's something worth considering, certainly the way kick-outs have gone in Gaelic football it's rare now to see the ball breaking the 45-metre line. A lot of them don't. It would be something worth considering."
Back in Clare, Brennan says he's delighted that Podge Collins will be a dual player again. The 2013 All-Ireland hurling medallist and AllStar wasn't allowed play both last season but will be accommodated in 2016.
Collins is currently recovering from a cruciate knee ligament injury but should be back in March.
"I've never seen someone with as much energy and enthusiasm for games as Podge so I think if anyone is capable of doing it, it's him," claimed Brennan.
"I think the first thing you need in any player is that they're happy. So if Podge is happy playing the two, then we'll get the best out of him in both."