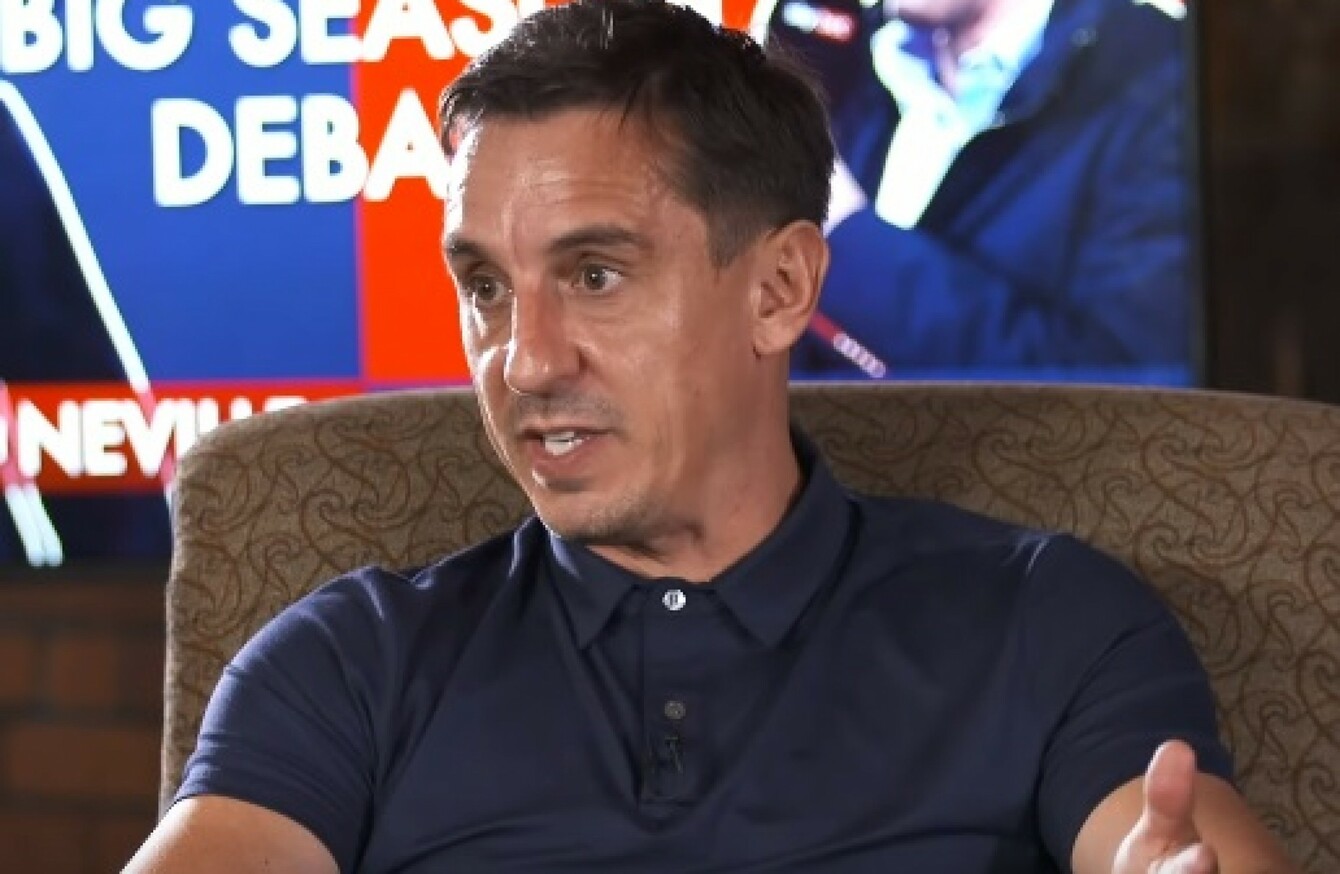 Gary Neville speaking at a SkyBet event.
Gary Neville speaking at a SkyBet event.
Updated Aug 14th 2019, 5:40 PM
GARY NEVILLE BELIEVES Manchester United will rediscover some of their success of old in the not-too-distant future and claims his former club will "probably win the league before Liverpool", whose talisman Mohamed Salah he 'guarantees' will leave Anfield in the next 12 months.
Neville also stated his belief that United's owners, the Glazer family, will not be forced from their position by way of protest, and suggested fans' dissatisfaction with the Americans only rears its head when the club isn't winning trophies.
Speaking at a fans event for SkyBet alongside his fellow pundit Jamie Carragher, Neville backed United's transfer business over the summer, and indicated that the loss of players such as Ander Herrera and Romelu Lukaku wouldn't be detrimental in the long run.
"I don't disagree with what they've done this summer," he said. "Manchester United were never going to get the best player in the world, or [any of] the top 10 best players in the world this summer. They weren't going to come.
"I think if [Pablo] Dybala had given them really good signs — 'I want to come play for United' — I think they would have signed him.
"You've heard my opinion on Ed Woodward the last 12 months. I do think United need a real football expertise in the boardroom who can control recruitment; I do think now, to be fair, it looks like they've made better decisions this summer.
"Losing [Ander] Herrera, losing [Marouane] Fellaini, getting [Romelu] Lukaku out of the club — Lukaku was 105 kilograms. He admitted himself he was overweight.
"I think there are three or four players that the club would like to get rid of, I think there are three or four players that Ole [Gunnar Solksjaer] would like to get rid of. I think getting rid of them all at once, though, would weaken the club and weaken the team for this season, so I think he's getting rid of them one at a time. He's bleeding them out of the club.
You're not crying over Fellaini leaving. Herrera, to be fair, huffed and puffed, but there's loads of him around — there's loads of Ander Herreras around. He's nothing special.
"If you said to me put [Scott] McTominay in the midfield for 30 games this season, would he do much worse than Herrera? I don't think he would.
"Liverpool, City, Tottenham — all of these clubs have had poor recruitment policies over the last 35 years at times. So, United are going through one at the moment.
Eventually, they'll stumble upon the right recruitment system, they'll get a great manager — hopefully that's Ole — and they'll start to win again. That's going to happen. I can guarantee you as clear as day, Manchester United will win again.
"They'll win again, no problem," Neville continued. "They'll win a league. They'll probably win a league before Liverpool, in my opinion, and that's not being disrespectful — they'll probably win the league before Liverpool.
They're closer than you think, and it's not as bad as you think. That's always the way it is. And Liverpool… [Mohamed] Salah's going to leave in the next 12 months — I can see it already. Salah will leave — he will, I absolutely guarantee you. I can see it, you can feel it, you can smell it.
Neville has faced criticism from a large portion of United supporters for not expressing opposition to the Glazers, who were the subject of widespread protest on social media when United failed to land a number of high-profile signings towards the end of the summer window.
The former right-back represented the club for six more trophy-laden years following the Americans' takeover in 2005, and while he understands fans' dissatisfaction with their handling of club business, he also remembers a significant period of time for which on-field success overshadowed those same fans' contempt for their club owners.
"You're never going to change the owners through social media," Neville said.
What the owners withstood between 2004 and 2006 during that green and gold campaign — the setting-up of FC United, the disenchantment… They could withstand anything. They're not going to blink about something trending. They're not going to blink.
"We're not going to change the owners by social media, we're not going to change the owners by saying 'leave' — it's not going to happen. I think Liverpool are in a similar situation with the owners, I genuinely do. The fact of the matter is at the moment, it's quiet because Liverpool are winning — they've got a great side and they've got a great manager.
It can change very quickly. It went quiet for the Glazers under Sir Alex Ferguson from 2006 when we started winning the league and the European Cups.
In a separate interview, meanwhile, Neville dismissed the prospect of a return to coaching after admitting he has no desire to be on the training pitch.
The ex-Manchester United right-back had an ill-fated spell at Valencia in 2015-16, where he was sacked after just four months, and spent four years as part of Roy Hodgson's England backroom coaching staff between 2012 and 2016.
However, the 44-year-old says he is much happier focusing on his TV punditry work and business interests, which include his co-ownership of League Two side Salford City with fellow members of United's 'Class of 92′ including brother Phil, David Beckham, Nicky Butt, Ryan Giggs and Paul Scholes.
"There is not one single part of me that wakes up and thinks 'I want to be on the training field'," Neville told BBC Radio 4′s Today programme.
I had my foray into management in Valencia and it was probably one of the best learning curves I have ever had. It was a clip around the ear, sometimes you need one in life.
"I'm more interested in the board room or in the business side of things. The football side I love.
I love watching matches but I just don't want to be on the training pitch, I feel like I've done that part of my life and want to move on."
Neville's brother Phil is manager of the England women's team, while his sister Tracey recently left her role as head coach of the England women's netball team.
The42 is on Instagram! Tap the button below on your phone to follow us!