WHEN YOU SCAN the photo of the Blackburn Rovers squad, the familiar faces jump out at you: Alan Shearer, Chris Sutton, David Batty, Graeme le Saux. Others are unmistakable for different reasons, like the blonde-haired duo of Colin Hendry and Stuart Ripley.
But Gary Tallon is there too – sandwiched between Jeff Kenna and Lee Makel in the second-row.
In the summer of 1995, the Meath native had a couple of reasons to be cheerful. He was on the fringes of the best team in England and was issued with a squad number for the season ahead.
But within five years, it was all over and Tallon was forced to try and pick up the pieces of a shattered career.
Brought through the ranks at Drogheda Boys, Tallon caught the eye of a number of scouts from the UK after turning out for Drogheda United in the early 1990s. There were short trials at Derby and Liverpool in 1991. And after returning home from Merseyside on the Friday, he was a Blackburn player five days later.
"I got a phone-call and was told I had 24 hours to make a decision", Tallon says.
If I said yes, then Kenny Dalglish would come to Dublin Airport and sign me. And that's exactly what happened. It was surreal. Mum and Dad were at the airport with me and you'd only ever see Dalglish on the television and all of a sudden I'm sat around a table with him. I was trying to understand him and he was trying to understand me and we both just nodded at each other, basically. There was a perception of him being very serious based on his interviews but behind the scenes he was absolutely hilarious. He was brilliant.
It happened so quickly. I signed on the Tuesday and was gone to England the following Monday. It was nuts. As a kid growing up, that's all I ever wanted to do with my life. It was my dream. And all of a sudden, almost overnight, it had happened for real".
Tallon, then 18, quickly began to realise he had signed for England's most ambitious club. Blackburn hadn't been in the top-flight since the mid-1960s and had languished in the lower tiers for decades. But when local millionaire Jack Walker took over the club in January 1991, the plan was clear: speculate to accumulate. He redeveloped Ewood Park and invested in the playing staff. In October 1991, he made his biggest signing, somehow  luring Dalglish back into management.
By the end of the season, Blackburn had got promotion to the brand-new Premier League and signed Alan Shearer for a British record in the summer of 1992. Despite his cruciate ligament injury in December, the side still finished a remarkable fourth. The following season, they were runners-up. Walker, hungry for more, spent more. The transfer-record was smashed again as Chris Sutton arrived from Norwich.
"At the time, Jack Walker was the equivalent of Roman Abramovich at Chelsea", says Tallon.
Tallon's shirt from the 1995/96 campaign still hangs proudly in his family home in Meath.
"He lived and breathed Blackburn Rovers and he pumped the money in. It was incredible to be around those players: Shearer, Sutton, Batty, Sherwood. The dressing-room was fantastic and those older players were very good to the younger ones which was a big thing for us.
You'd train with these guys every day. On a Friday, Shearer would take off on his own. We had seven goalkeepers between the youth teams and the senior squad. Two would stay for the 5-a-sides and the other five would go off with Shearer and take turns trying to stop his shots. Out of all the players I played with and against, he had one of the hardest shots I've ever seen. He was some man to hit a ball. He was strong, big, powerful and absolutely loved. He'd walk out on match-day and it was like the Messiah had arrived. He was God there. Training was very competitive. You'd train as you play and lads would be getting stuck into each other because they wanted it so badly. And these guys got their just rewards".
Blackburn and Manchester United were involved in a thrilling battle for the title but Rovers had the edge heading into the last lap. However, the wheels started to rattle as the finish line approached. In mid-April, they drew with Leeds and then were beaten by Manchester City. In their third-last game of the season, they lost to West Ham. United, suddenly, had a chance.
On the final day of the season, two points separated Blackburn from their rivals. They faced Liverpool at Anfield while United went to West Ham. Famously, Rovers lost but United were held by the Hammers and the championship was Blackburn's.
Jovin Miranda / YouTube
"I remember one game when we beat Newcastle and it was a massive result in that title-winning season", says Tallon.
"Tim Flowers questioned all of those who said Blackburn didn't have the mentality to go and win it. 'I'll tell you now that we have the bottle for it', he said. And they did. They wanted it bad.
I was there for the Liverpool game. And that was nuts. To see the reaction to losing after taking the lead and then realising they'd still won the league. There was dress code that night for the party – strictly no jeans. Of course, I turned up in jeans. I completely forgot about it. I met Dalglish and said 'Gaffer, I completely forgot the jeans – I'm really sorry'. He said to me, 'Gary, I'll tell you something. We've just won the Premier League. I couldn't give a fuck what you're wearing'".
Dalglish, the man who signed Tallon, immediately took on a Director of Football role within the club and was replaced by his assistant, Ray Harford.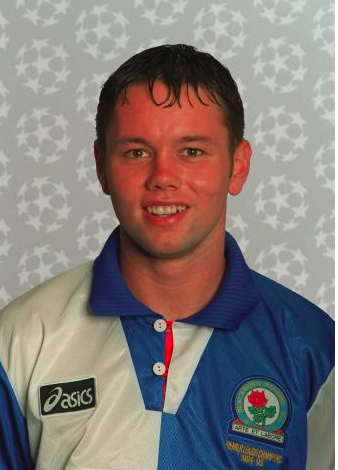 Tallon in his official UEFA Champions League headshot ahead of the 1995/1996 competition.
Tallon was captain of the reserves by that stage and on the periphery. First-team football was close but not close enough. The 1995/96 campaign was an irritating and frustrating one for the club as they struggled domestically and in Europe. Harford had been a terrific coach but the step-up to manager proved difficult. From their first eight league games, they lost five and drew two.
The atmosphere was fraught and came to a head during a Champions League game in Russia against Spartak Moscow in November, when Batty and le Saux infamously clashed on the pitch and the left-back threw a punch at his team-mate before the pair were separated by Sherwood. That was after just four minutes. Later in the half, Sherwood himself squared up to Hendry and Blackburn ended up being thumped 3-0.
carlleaburn / YouTube
Tallon saw it all from up close.
"I was brought to the Champions League game against Spartak and to see the name on the back of the shirt…I still have it at home. It's in a glass frame and it's a nice feeling to look at it now and then.
The boys went for the same ball – I remember seeing it. In the main, the dressing-room was fantastic but things can boil over. You can't expect everyone to get on 24/7. People are going to clash.
David Batty was always an under-estimated footballer in my eyes. He was a physical player but that man had a great touch, a great pass and was up and down the pitch. I loved his attitude and the way he'd get stuck in. That was my style too. Passion".
Though Blackburn could have done with some of that, Tallon failed to break through and left in the summer of 1996 after four-and-a-half years. With a number of clubs interested, he chose to go to Scotland and signed for Alex Totten's Kilmarnock.
But Totten was sacked soon after. His replacement, Bobby Williamson, made it clear that Tallon didn't feature in his plans but there was a problem.
"I'd signed a three-year deal and I wasn't prepared to go and just walk away", Tallon says.
So, he (Williamson) made my life hell for five weeks, really. I was banished and wasn't allowed to train with the first-team or the reserves. I wanted to stay and fight for my place and he knew that wasn't going to happen. It was hard to see a way out, a light at the end of the tunnel. I had to stick it out but it made me a stronger person".
After a loan spell at Chester, Tallon finally left Rugby Park in December 1997 and joined Division 3 side Mansfield Town.
Finally, at 23 years of age, he was a regular first-teamer.
A tenacious midfielder, the environment of the lower leagues suited him perfectly. In his first season, he made 28 appearances and scored his first goal against Peterborough. He was hungry to make up for lost time. And for two years, life was good.
Exclusive Six
Nations Analysis
Get Murray Kinsella's exclusive analysis of Ireland's Six Nations campaign this spring
Become a Member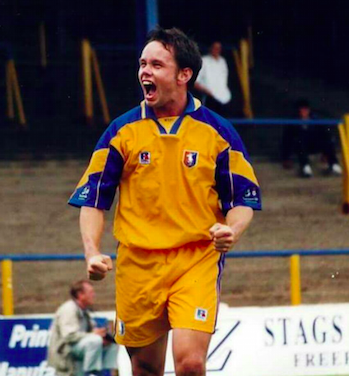 Fallon celebrates while in action for Mansfield
Then in January 2000, a knee injury ended his season. But things were about to get worse.
"I had three operations over the nine years I was in England and I had the third at Mansfield", he says.
"I was a tackler, I'd get stuck in and that had taken its toll. I had the operation and came home to Ireland for the summer and was doing my own pre-season training and the knee kept swelling up every time I went running. I knew myself I wasn't right.
When I went back to Mansfield for the new season, I chatted to the physio and he brought me to the surgeon. He said, 'My worst fears are confirmed – if you still want to be walking at 35, you'll quit playing now'. He told me, 'You have Grade 4 damage and it only goes up to Grade 5. Paul McGrath has worse knees than you but not everyone is Paul McGrath'".
At 26, Tallon's career was over. The dream was gone. But he wasn't a high-profile Premier League player. There were no tributes, no media coverage lamenting the wider loss to football, no jobs lined up for him.
"My whole world was turned around in a split-second", he says.
It's all I ever knew and all I ever wanted to do. And all of a sudden it's 'Good luck'. I probably dealt with it in the wrong way. My state of mind? I didn't know what to do. Initially, for the first while, I probably went on the beer for a month. Looking back, I was very down. I was in a dark place for a while but it's how you get through it. And you have to get through it. Mentally, you have to back yourself that you will get there. You just have to be strong.
I stayed in England for two years afterwards and was working there for a while. A friend got me a job in a quarry and I went from training three or four hours a day to working 12-hour shifts driving a crane and labouring. And that's the real world. But it was tough to adjust".
Immersing himself in a new job and new surroundings, Tallon distanced himself from football. It was too hard to constantly be reminded of something he didn't have anymore.
"I didn't fall out of love with football but I couldn't watch it for a year afterwards. It took me a whole year to come around and start watching it again.
Maybe it was a case of me saying 'I need to move on and this is how I'll deal with it'. Every season my favourite fixture used to be Manchester United versus Liverpool. Just because of the intensity and the atmosphere. I remember it was on one day and I couldn't even look at it. And that said a lot".
Tallon returned to Ireland in 2002 and initially worked with his father, a painter and decorator. There was a stint in a music store in Drogheda for a couple of years before he landed a construction job with Limerick-based company Murphy International over 10 years ago.
Over that time he's become a father and a husband and throughout our conversation, his positivity shines through.
There's no anger or frustration or dark places anymore – just contentment.
"I'm grateful for every second I had in the game", he says.
"For the nine years in football, everywhere I've worked and everyone I've met, I'm just grateful for my life and everything that's in it. Live life with no regrets and you'll always have the memories"