Jonny Mac Cann / YouTube
WHEN YOU THINK of sport in Ireland, surfing isn't one that immediately springs to mind.
Well, for most people across the country.
Certain parts of the west coast are very different however. Lahinch, Mullaghmore and Bundoran are just a handful of places where surfing is seen in a rather contrasting light. The majority of their dwellers eat, sleep and breathe the sport.
From local kids progressing from body boards to surfboards to international surfers gracing our shores to try out some of 'the best big waves in the world', our little island and the Wild Atlantic Way really is a Mecca for the sport.
For its full-time surfers, it's more than just a sport however. It's their religion, it's their life.
That's how it is for Ollie O'Flaherty and Gearoid McDaid anyway.
Ollie O'Flaherty
"Surfing becomes a lifestyle as much as it is a sport," the 29-year-old from Lahinch tells The42.
"There's definitely a big community feeling within surfing. It's more than just a sport, it's a community. And I knew I wanted to be part of that community for the rest of my life."
O'Flaherty started surfing when he was just four years old. He remembers it as well as day.
The O'Flahertys were on a family holiday in France, and his uncle — a keen surfer — got the ball rolling. It all started with a body board, and from there he caught the bug.
What began as a pastime and a hobby quickly snowballed into a way of life.
As he got older, he started to don the green of Ireland and compete at international events. And as he tasted success, saw more of the world and the level abroad, O'Flaherty realised that he could turn his dream into a reality.
He was around 21 when he decided that he would fulfil his ambitions, and surf for a living.
"I just saw something special, that some of the best big waves were on my doorstep. So I decided, why not? Why can't the Irish guy take them on the same as international guys could?"
O'Flaherty is the first to point out how much his beloved sport has come on in Ireland over the years.
Not only has it received further recognition of late at home, it's also been catapulted to the fore on an international level.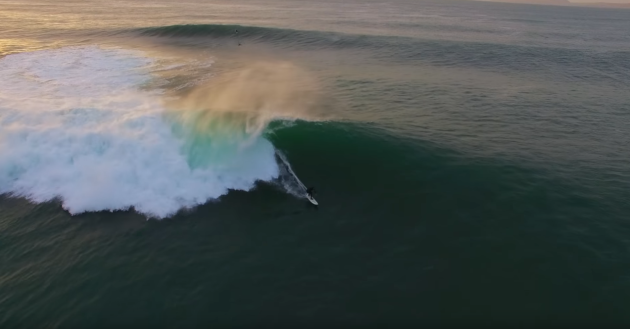 Winter Tides - Jonny MacCann Winter Tides - Jonny MacCann
Just before the Olympics kicked off in Rio de Janeiro last August, the International Olympic Committee announced that surfing would be added to the docket at Tokyo 2020.
It's something that the Clare native is keeping an eye on, but due to the undecided qualification format he mightn't have the chance to pursue it until further down the line.
"If the opportunity comes, I'll try and compete. It'd be great to compete for Ireland in an Olympics. It's definitely on the bucket list.
"In Ireland, the standard has gotten much higher, especially on the Big Wave scene. We've got some some great surfers that are taking on the waves just as good as any of the professionals that come over here.
"People are starting to realise that Irish guys can put it up to anyone in the world."
Like any sportsperson, O'Flaherty has gone through many highs and lows while practicing his craft through the years.
After slight hesitation as several options run through his mind, he settles that his International Billabong XXL nomination in 2012 is a career highlight.
Alternatively known as the Big Wave Awards, or the 'Oscars of the surfing world', O'Flaherty was the first Irish person ever to be nominated to the last five. He surfed a mammoth 60ft wave that year, and was recognised accordingly for his endeavors:
"It stands out the most. Riding one of the biggest waves in the world in 2012 was a pretty big achievement. Being in the top five biggest waves in a year, I was pretty happy with that."
It's not always fun and games riding waves though, and things can easily go wrong.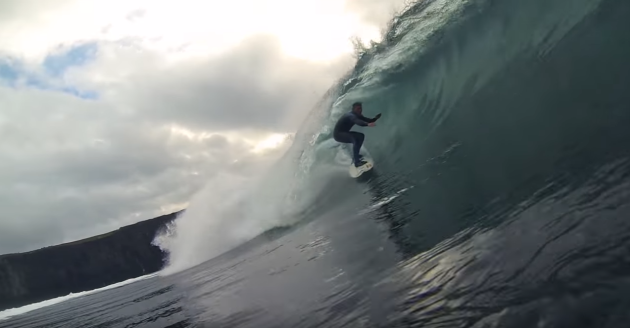 Winter Tides - Jonny MacCann Winter Tides - Jonny MacCann
As they say, you have to fail in order to succeed. And of course, one of the most-used (or overused) clichés in sport — practice makes perfect.
"I've definitely had some nervy moments. At a wave called Riley's a few years ago, I got trapped in a bit of a rip current. The wave was breaking itself up, four or five foot of water. I was lucky enough to actually get washed up the rocks instead of smashed under. I was close to being in a very bad situation, or passing out that day.
"But I think, when you have those situations and you survive them, you realise 'ok what can I do to prepare for that to not be as scary the next time?' And that's how you move forward.
"Those things have to happen for you to realise whether you want to do it or not. Some people get scared and don't want to do it, some people prepare better the next time and keep doing it."
Before opting for the full-time surfing lifestyle, O'Flaherty graduated from NUI Galway with a science degree. He's currently undertaking a part-time postgraduate degree online, but his '9-5′ outside of his own surfing is a world away from what he studied.
He runs his own surf school — Ollie's Surf Academy in Lahinch — and is kept on his toes with that. His personal commitments also see him train every day, whether that be out on the water, running on the beach, hitting the gym or a mixture of all three.
It's pretty simple: "If there's waves every day, I'll surf every day.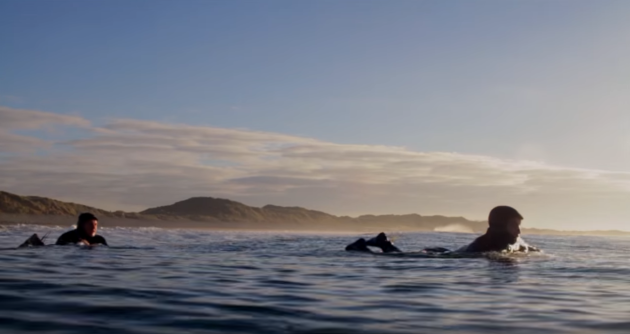 Winter Tides - Jonny MacCann Winter Tides - Jonny MacCann
"In summer time, it's pretty full on all the time. It's great though, it's good fun. I coach people that are from high beginner and intermediate, all the way to advanced. People that have just learned how to paddle their own board and get out past the waves and catch a clean wave, all the way to some of the best juniors in the country.
"I just love giving back. I love passing on whatever knowledge I have and watching people progress. It's great, I get great satisfaction from that."
Gearoid McDaid
One such surfer with whom O'Flaherty exchanges knowledge with is Gearoid McDaid.
Although nine years his junior, McDaid has already well and truly broken the Irish surf scene. He unquestionably announced his arrival when he won the Irish Open Men's National Championship aged just 16.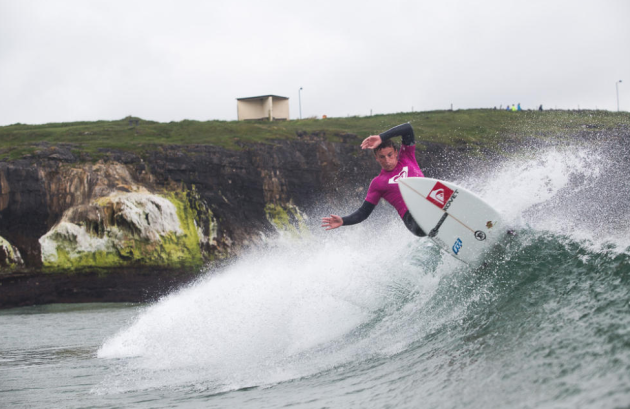 World Surf League World Surf League
He didn't start quite as early on as O'Flaherty, but surfing was also a big thing in the McDaid household, so the Sligo youngster pretty much fell into it.
"I started surfing when I was like 10 with my dad just pushing me into waves and stuff. Pretty much since then, I just kept it going.
"Dad surfed when he was younger years ago, and then he got all my brothers and sisters into surfing, but I was the only one that kept it going."
All of his siblings are older, and the baby of the house has been flying the flag since. It all started as a pastime, he could take it or leave it. Then he started surfing every day.
His mid-teens saw him secure his first sponsor, and it also gave him the confidence to someday pursue professional surfing.
Recently signed with Rip Curl Europe, McDaid also has his sights set on the Olympic dream.
"It's definitely something that I'm looking to do.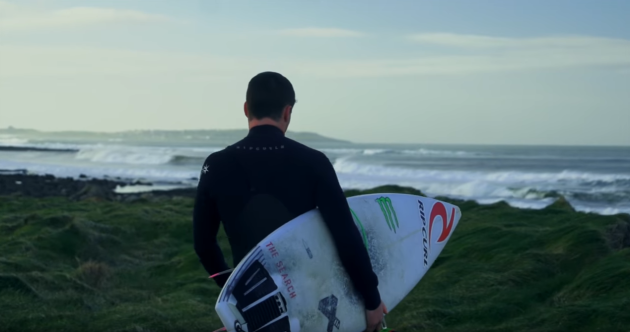 Winter Tides - Jonny MacCann Winter Tides - Jonny MacCann
"The Olympic Council haven't put out anything on how to qualify, or how they're going to do it yet so we just have to wait and see what you have to do to qualify for it, and see if I can get into it.
"Surfing has gotten a lot bigger in Ireland. There's a lot more people doing it and there's a lot more people travelling here. It's gotten out there that Ireland has really good waves, and it's world-famous for the waves we have here."
While Mullaghmore in Co Sligo and Aileen's Wave in Co Clare are the 'premier waves' in O'Flaherty's eyes, McDaid prefers a spot further north — Bundoran.
"There's lots of different types of waves up there, you can get anything you want. It's definitely the best up there."
When asked about the peak of his career to date, the 20-year-old says that he hasn't had 'any single big moment'.
He agrees that the best is yet to come, half-jokingly.
Anyone with a keen interest in Irish surfing knows that his future is bright, and while he may not have had one single standout moment, he's had plenty of big ones to date.
His plan for the rest of the year is to travel, and participate in the WQS (World Qualifying Series) competitions throughout Europe and around the world.
Like O'Flaherty, his daily life revolves around surfing. He incorporates running, swimming and gym work into his training regime, but he'd rather be out on the water with his board.
"If there's waves, I'd pretty much surf all day."
Compared to his friends, and others around his age, McDaid leads a rather atypical life. No college, no assignments, no work, no part-time jobs.
"I just surf. It keeps me going."
It's simple. But he wouldn't change it for the world.
Set on the Wild Atlantic Way, Winter Tides, is an Irish surf film produced and directed by Jonny MacCann. The film will premiere at Irish surf festival Shore Shots, which takes place on 22 and 23 April.
The42 is on Instagram! Tap the button below on your phone to follow us!