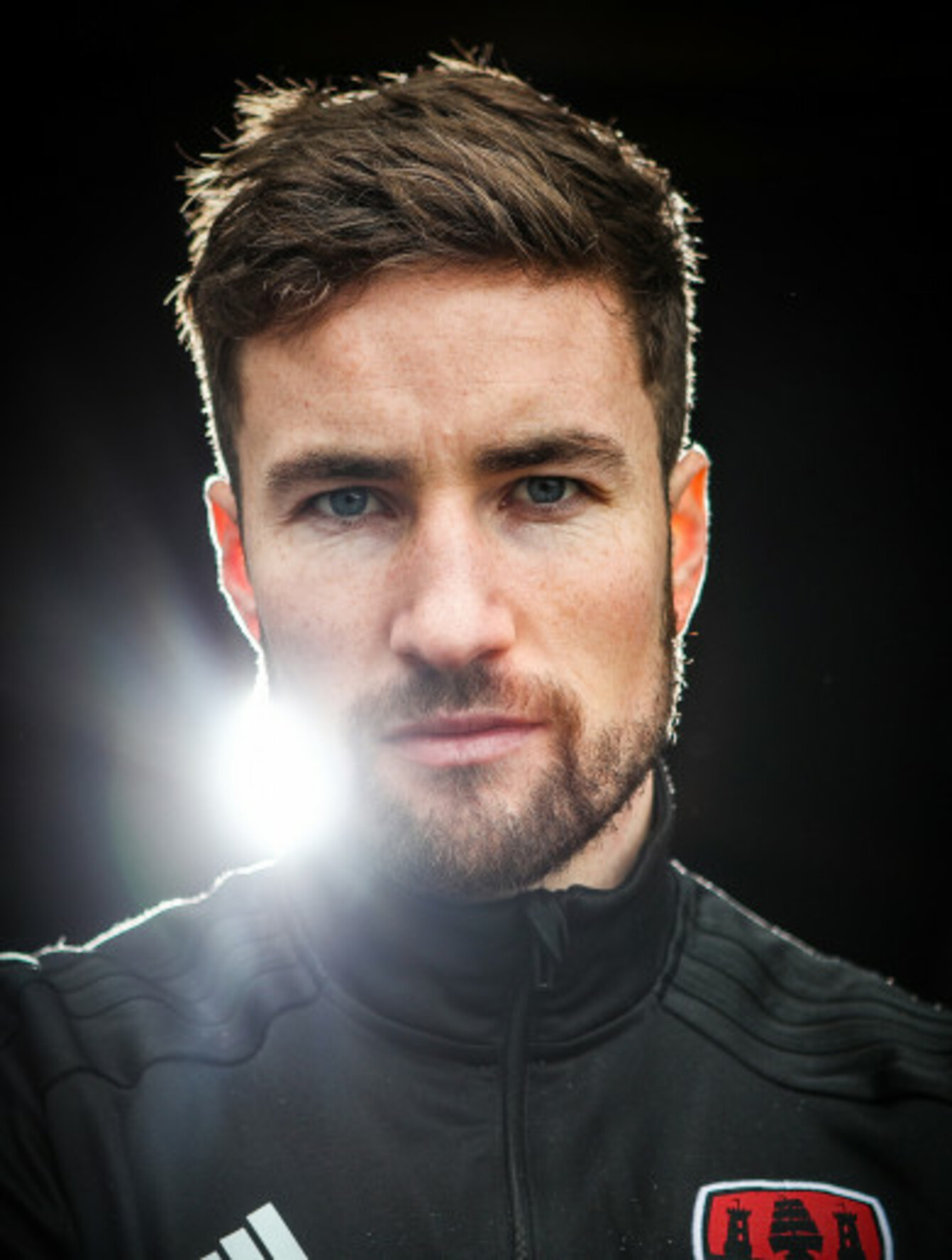 Gearoid Morrissey pictured at Cork City's media day for the 2018 FAI Cup final.
Image: James Crombie/INPHO
Gearoid Morrissey pictured at Cork City's media day for the 2018 FAI Cup final.
Image: James Crombie/INPHO
THERE ARE CERTAIN images in Gearoid Morrissey's head which he hopes will shape his involvement in a third FAI Cup final.
Celebrating in front of the Cork City supporters at the Lansdowne Road end of the Aviva Stadium after the full-time whistle in Sunday afternoon's meeting with Dundalk.
Carrying the cup through the streets of Cork city centre at Monday night's homecoming.
Bringing the silverware back to the family home in Mahon — for a third year in a row — where no one would have been prouder than his late brother Thomas.
For Morrissey, the visualisation of victory is not a product of arrogance or disrespect for the opposition, but an essential component of the preparation process.
His second spell at Cork City, which is now at the end of its third season, has yielded enough success to convince him that it's a worthwhile exercise.
"They say success breeds success and that's one of the main factors of it," he says. "You've already achieved it so you know you can do it again. It's positive re-enforcement.
"What's the alternative? You start going the other way and thinking 'what if we don't win?' That's a complete waste of time. It doesn't help anybody.
"It's not that you're thinking it's definitely going to happen and we're going to be on Grand Parade with the cup in front of all the supporters on Monday night. But you do have to think about that possibility because it incentivises you and gives you the boost you need.
"It's a brilliant feeling when the people of Cork are out to support you. Naturally you want that again. The little steps you go through individually leading up to games are important. That'd be one of them for me. I think it all helps."
Morrissey was one of the key figures in Cork City's double-winning season of 2017. In a readers' poll which was conducted on The42 at the end of last season, only runaway winner Sean Maguire picked up more votes for the SSE Airtricity League player of the year award.
The influential midfielder hoped for more of the same this year, but — as has been the case for the majority of his team-mates — things haven't gone according to plan. While City relinquished their Premier Division title to Dundalk, his campaign was interrupted by injuries.
The 26-year-old has certainly made some significant contributions in 2018. He popped up with an 89th-minute winner against Bohemians, scored the only goal of the game against Dundalk at Turner's Cross in April, and was outstanding in the first leg of the Champions League clash with Legia Warsaw until injury forced him out of the tie.
However, Morrissey feels his overall input hasn't matched his own expectations; a challenge which was made substantially more difficult by the intermittent nature of his involvement. 
"It was an extremely frustrating year," he admits. "It seemed like whenever I got going, I stopped. In fairness to the physios, the sports science fellas and everybody involved on that side, you can't emulate what you get from a game.
"Physical fitness is obviously important, but there's a confidence that comes from playing games where you know you're at your best. You can only get that from playing.
"I was talking to John Cotter [assistant manager] about a scenario, for example, where the ball is coming out of the sky and there's no one around you. In one instance you might put your foot through it and balloon it over the bar. In the next one you take it down, get your foot on it and make a pass.
"It takes games to get to the level where you handle that right, but you don't have the confidence for it when you're coming back from injuries. It was very frustrating in that respect.
"There was no massive injury, really. They were just niggly ones that took time. Everybody here is very good at making sure you're at it, but you do lose your match fitness. It takes games to get that back and you end up running out of time with how quickly the league passes by."
While Sunday's meeting with the Lilywhites will offer Cork City a chance to end the season on a positive note, Morrissey insists that a win won't compensate for the failure of John Caulfield's side to successfully defend the league title.
For the majority of the campaign, the title race looked set to go down to the wire. Yet as City struggled to shake off a European hangover which saw them take just two points from a possible 15 after their elimination at the hands of Rosenborg, a ruthless Dundalk side capitalised and regained the trophy with three games to spare.
"At the end of the day, you have to look in the mirror and be honest," Morrissey says. "We had a shocking month where we lost it. It would be extremely naive just to leave that go. John [Caulfield] would definitely make sure it's something we look at anyway.
"It's also important for yourself to look back at it through the off-season and try to identify what you could have done better in terms of your own training and your own approach. Sunday won't paper over any cracks. The tough period I mentioned, we'll use that as a tool and learn from it."
During two separate spells which have spanned eight seasons, Morrissey has witnessed plenty of changes since he made his Cork City debut in 2010. From a mid-table First Division side to Premier Division and FAI Cup winners, the club has come a long way during his involvement.
Central to that progress has been current manager John Caulfield. Since taking over ahead of the 2014 campaign, Caulfield has ushered in the most successful period in the 34-year history of the club.
As well as being at the helm when City ended 12-year wait for a Premier Division title, Caulfield is one win away from a third success in the FAI Cup — a competition the club had won only twice previously. They also haven't finished a league campaign outside the top two in his five years in the job.
In spite of that success, the City boss and his players have recently been forced to contend with some criticism locally. Their title prospects faded rapidly following a disappointing European campaign, and while Morrissey can understand fans' frustrations, he points out that their backing is now more valuable than ever.
"Fans are great. They're what it's about. They're entitled to an opinion," he says. "But the consistency of this club has been so good. When there is a bit of criticism, I think it's definitely from a minority. But it's at times when things aren't going well that you really need their support, because it can help you to turn it around.
"From what I can see, there aren't too many people complaining this week because there's a cup final ahead. Sometimes people will get a bit spoiled, I suppose. 
"This is our fourth year in a row in a cup final, challenging for the league and being in Europe. It can be easy to get caught up in it all, but it's important to have a bit of perspective as well; to stand back and remember where it was and look at where it is now.
"You roll with the criticism. It's part and parcel of being a professional in this sport. But as I said, it's important for people to remember that when the chips are down, that's when we really need their support.
"Sport is full of ups and downs. Unfortunately for us, when we had a down period, Dundalk pounced. It happens. It could very easily have gone the other way and you wouldn't be getting that negative feedback.
"We've been challenging every year, which doesn't just happen automatically. It takes a huge effort from management, staff, players and everyone involved. Like I said, a bit of perspective is always helpful."
Cork City know they haven't lived up to their own standards in 2018, but if positive visualisation proves its worth to Gearoid Morrissey once more at the Aviva Stadium, there's unlikely to be a winter of discontent on Leeside.
Subscribe to our new podcast, Heineken Rugby Weekly on The42, here: