OF THE 28-man Georgia squad head coach Milton Haig named for this month's series of Test matches against Tonga, Ireland and Japan, 16 of the players are currently plying their trade in France.
But for injuries, the percentage would be even higher. Georgian rugby is heavily reliant on the French leagues as a home for its best players.
In total, there are 42 Georgians employed by French rugby clubs at present, according to the revealing statistics published by Tier 2 Rugby. Even more remarkable is that no less than 28 of those players are props.
There is a three-tier 'Georgia Championship' on the ground in the eastern European nation, with an eight-team professional top league, but the pick of Georgian players are financially and competively better off in searching out deals abroad.
We've had a long history with French clubs, starting with props and forwards, but now we're starting to get some backs into Pro D2 teams," says Georgia head coach Milton Haig.
"It's important for us that we can get our players over there. Our competition is not that strong yet, so we're working on that. But from an economic point of view for our players and from a playing-at-a-high-level point of view, it's important that we get them, not just into France, but anywhere they can play top-level rugby."
There are numerous tales of French clubs being extremely reluctant to release Polynesian players for lesser-profile international fixtures, but Haig insists that Georgia have not had similar issues.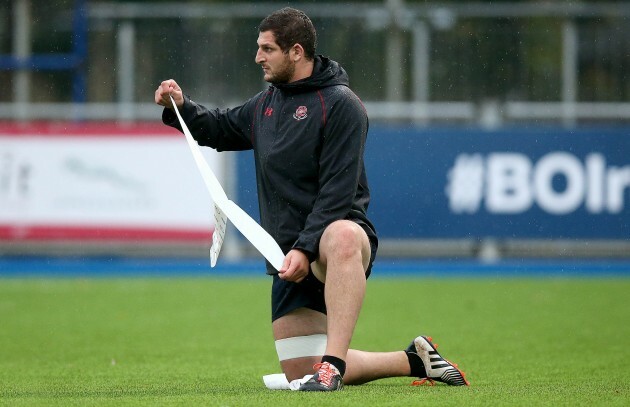 Donall Farmer / INPHO Toulon lock Konstantin Mikautadze is a player of quality. Donall Farmer / INPHO / INPHO
That is, in large part, down to the players themselves and their sheer desire to line out for Georgia. Haig recounts prop Levan Chilachava and lock Konstantin Mikautadze, both just 23, standing up to Toulon during one brief dispute.
"The difference between our guys and the Polynesian boys is that these guys really want to play for the country. I'm not saying that the other guys don't, but these guys will walk over hot coals to play for their country," explains Haig.
"When you look at it, the players have got a lot of influence on whether they are going to come or not. I've got a couple of young players in Toulon and last year when Bernard Laporte said, 'No you can't go,' they said 'See ya, I'm off. It's my country.' And it's because playing for their country is important."
Happily for Chilachava [who has 16 international caps] and Mikautadze [24 caps], that particular episode ended happily, with Toulon bearing no ill feelings.
Breakdown of Georgia's November Tests 28-man squad

France-based: 16     Georgia-based: 10     Russia-based: 1

England-based: 1
One of the major shames ahead of Sunday's meeting between Georgia and Ireland is that three of the visitors' finest players are currently injured.
Toulon's Mamuka 'Gorgodzilla' Gorgodze has been felled by a knee injury, Clermont prop Davit Zirakashvili is suffering the effects of concussion and fellow front row Vasil Kakovin of Toulouse is also missing.
"That's rugby," comments a philosophical Haig, "we aren't the first team and we won't be the last to have that situation. The reality is that it is going to be a tough ask this weekend but it's about what we do with that opportunity."
Donall Farmer / INPHO Fullback Merab Kvirikashvili plays in France's Fédérale 1. Donall Farmer / INPHO / INPHO
Regardless of those injuries, Haig can still call upon physically intimidating figures such as Viktor Kolelishvili of Clermont at openside, Stade Français tighthead Davit Kubriashvili and Montpellier loosehead Mikheil Nariashvili in his forward pack this weekend.
The backline will make for a less stellar cast. None of the 13 backs in Haig's squad play in a top-level European league, although the likes of Agen wing Tamaz Mchedlidze and Aurillac centre Merab Sharikadze are contracted in France's Pro D2.
Out-half Lasha Malaguradze plays in Fédérale 1, France's semi-professional third tier, along with two other Georgian backs. The rest of the backline options are based in Georgia, apart from centre David Kacharavara, who plays in Russia.
Haig believes that whatever about the good work his assistant Michael Bradley is doing with Georgian backs, getting them into the top levels of the European club game is the swiftest route to improvement.
We want to get them anywhere that is going to improve their rugby, whether that is France, the UK or Ireland."
Georgia squad for November Tests:
Hookers:
Simon Maisuradze [Avenir Valencien - Fédérale 1]
Shalva Mamukashvili [Sale Sharks - Premiership]
Props: 
Levan Chilachava [Toulon - Top 14]
Davit Kubriashvili [Stade Français - Top 14]
Mikheil Nariashvili [Montpellier - Top 14]
Zurab Zhvania [Stade Français - Top 14]
Second Rows:
Levan Datunashvili [Aurillac - Pro D2]
Lasha Lomidze [Béziers - Pro D2]
Konstantin Mikautadze [Toulon - Top 14]
Giorgi Nemsadze [Tarbes - Pro D2]
Back rows:
Giorgi Chkhaidze [Lille - Fédérale 1]
Viktor Kolelishvili [Clermont - Top 14]
Giorgi Tkhilaishvili [Batumi - Georgia]
Dimitri Basilaia [Perpignan - Pro D2]
Beka Bitsadze [Locomotive -  Georgia]
Scrum-halves:
Giorgi Begadze [Kochebi - Georgia]
Vazha Khutsishvili [Kashebi - Georgia]
Out-halves:
Lasha Malaghuradze [Stade Bagnérais - Fédérale 1]
Lasha Khmaladze [Lelo Saracens - Georgia]
Centres:
Merab Sharikadze [Aurillac - Pro D2]
Davit Kacharava [Yenisey-STM - Russia]
Sandro Todua [Lelo Saracens - Georgia]
Giorgi Aptsiauri [Aia - Georgia]
Back threes:
Merab Kvirikashvili [Montlucon - Fédérale 1]
Tamaz Mchedlidze [Agen - Pro D2]
Irakli Machkhaneli (captain) [Armazi - Georgia]
Beka Tsiklauri [Locomotive - Georgia]
Muraz Giorgadze [Armazi - Georgia]
Possible starting XV: M Kvirikashvili; I Machkhaneli (capt), D Kacharava, M Sharikadze, T Mchedlidze; L Malaghuradze, G Begadze; M Nariashvili, S Mamukashvili, D Kubriashvili; K Mikautadze, L Datunashvili; G Tkhilaishvili, V Kolelishvili, G Chkhaidze.