AS DERRY CITY prepare to face into Europe on Thursday night against FC Midtjylland, there will be an absence in the dressing that won't go unnoticed.
When the team's players finish their pre-game preparations in Denmark, strap their laces, pull up their socks and prepare to take to the field in their Europa League first round qualifier, they might allow themselves a few quiet moments to reflect on how much their captain would have loved this.
Finishing fourth, eighth and seventh in the Premier Division since 2014, last year saw Derry end up in third place, qualifying for Europe for the first time in four years.
They were led by the vision of manager Kenny Shiels in his first season in the dugout, as well as the commanding leadership of captain Ryan McBride on the field of play.
They were a tough team, but a stylish one too. The Brandywell was a hard place to come away from with a victory — only two teams did so in 2016 — but it also witnessed some fine football from the club's young prospects in attack. There was all of the grit and determination of a Derry side, but also a newer guile and craft about their performances.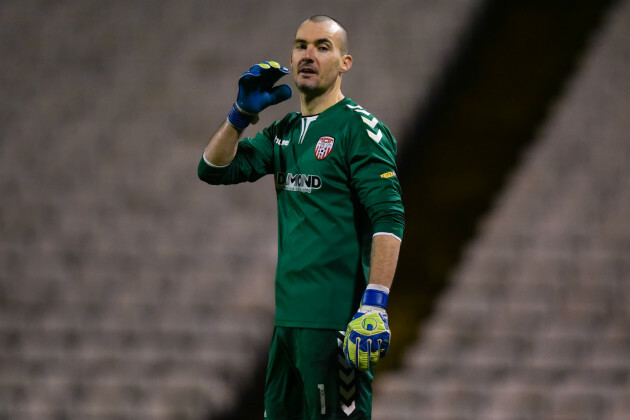 Tom Beary / INPHO Derry City captain Ger Doherty. Tom Beary / INPHO / INPHO
It was in defence where the club's backbone lay. Derry conceded just 15 goals at home all season in 2016 — five of those in one game versus Dundalk — and in the process kept eight clean sheets in 15 home games. This was thanks to the defence that captain McBride commanded and the safe pair of hands behind him between the goalposts.
McBride knew he could trust his goalkeeper and likewise Ger Doherty knew he could rely on his captain. Theirs was a friendship on and off the pitch as Brandywell men through and through — both lived a stone's throw from the stadium itself, McBride could even see the green turf of the pitch from his bedroom window.
It has been three months since the tragic passing of Derry City's club captain, aged just 27. Goalkeeper Doherty admits that the pain of his loss remains, even when they try to regain some sense of normality to their day-to-day lives following the tragedy.
"I'm still probably trying to get my head around it at times," he explains.
Just the shock of the whole thing was unbelievable. I never thought something like this would happen here. You see it happening in other leagues and it's hard to comprehend at times."
Doherty has spent almost a decade at Derry City and has taken the captain's armband for the club since his friend's passing in late March. The goalkeeper made his debut for the club in 1998, aged 16, and returned in 2008 where he has remained ever since.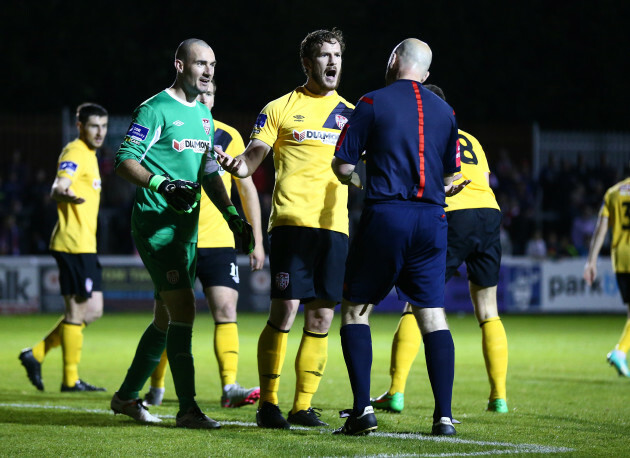 Cathal Noonan / INPHO Ger Doherty and Ryan McBride playing for Derry City. Cathal Noonan / INPHO / INPHO
Taking the captaincy of his boyhood club was a duty of care he has overseen admirably, earning the respect and admiration of the wider Derry community for his leadership over the past three months.
"We have leaders throughout our team that can do the same job that I do. It was just something I had to do and the captaincy is something I'm enjoying around the community.
But more than anything it's to keep Ryan's memory alive. It was strange at the start but as a club and as a city we are coming out the other end of it now.
"It was hard but the support I got, not just from our own players supporting each other and sticking together, but the support I got personally from Ryan's family and from his girlfriend Mairead and her friends.
"They have all supported me through it too because they knew I was close to Ryan and knew that I realised how much the club and the captaincy meant to him.
"I just didn't want to let Ryan down in a way," he said of taking the armband.
I just wanted to be a leader like Ryan was to us. It was hard at the time and there was a period where we pondered what could have been and what not. It's hard to say, but we just had to get on with it."
Derry were flying high in the Premier Division a month into the new campaign, with four wins from four, having beaten Bohemians, Limerick, Shamrock Rovers and Drogheda United.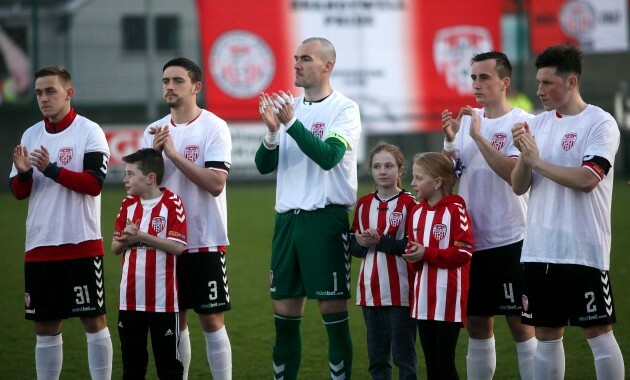 Presseye / Lorcan Doherty/INPHO Presseye / Lorcan Doherty/INPHO / Lorcan Doherty/INPHO
McBride scored in two of those games, including a stunning second-half header against Rovers in Tallaght Stadium before another three days later in a 3-1 win against the champions in Maginn Park.
But on 19 March, a day after leading Derry to a 4-0 victory at home to Drogheda, the news emerged of his sudden death at his home in the Brandywell district of the city. Tributes poured in from all corners of the island for a man who had only ever dreamed of leading his local club.
Other footballers have dreams of going across the water and playing for Man United and Celtic", he had said. "But my dream as a boy was to play for Derry City and that came true."
A quiet man, but also a warrior, at times unknowable but always committed and unwavering.
"I think it would be sort of strange for people outside of Derry and the club to understand the kind of person that Ryan was," says Doherty.
"The difference between seeing him on the pitch and outside the club, or in work or around the town, or at training was massive. He was an absolute warrior when he got on that pitch. But then after the match and during the week he wouldn't open his mouth and was the quietest man in the world.
He was a funny fella too. He was very like his father. His father was exactly like him — a tough player and a hard man, but very, very quiet off the pitch and a big family man. That's exactly the way Ryan was too.
"You could have kicked a ball from Ryan's yard into the Brandywell. He was at a couple of different junior clubs and never really changed throughout. He had a serious grounding in him. He wasn't somebody who went to England and then came back and thought he was this or that.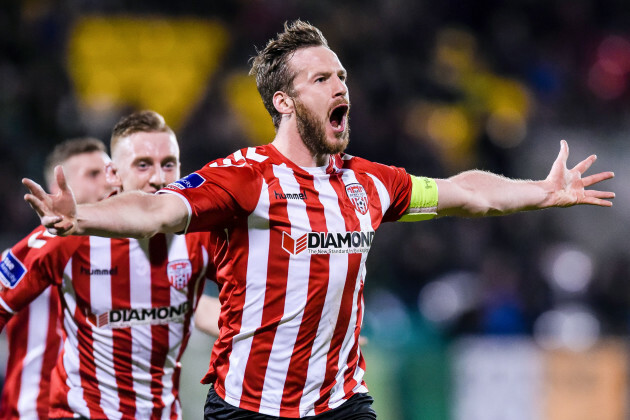 Tom Beary / INPHO McBride celebrates scoring the winner against Shamrock Rovers in March. Tom Beary / INPHO / INPHO
He was just a Derry man through and through. Even getting into the team when we played the FAI Cup final in 2012, he was unbelievably proud. He would talk about that final a lot and then to be made captain — everything was just pure pride for him."
Doherty is a Brandywell local too and lives just a short walk from his friend's resting place in Derry cemetery, where he is buried alongside his mother Noreen. Doherty explains that even before his passing McBride was a revered figure in the Derry community and had been for years.
Even before he passed away there were murals of him down where he lived in the Brandywell on the walls. He was respected well before anything over the last year happened.
"All of the tributes that came in just showed how much people thought of him around Derry. To be honest he thought the exact same of Derry City too."
On Thursday, Doherty will lead Derry City into European competition for the first time in four years. In 2013, they went down 7-2 to Trabzonspor, despite scoring two away goals in the opening leg in Turkey.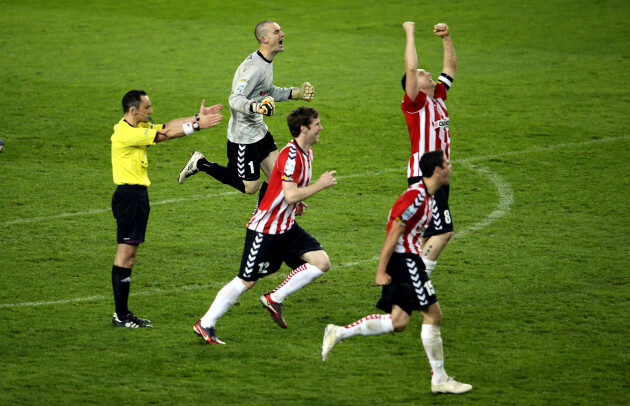 Cathal Noonan / INPHO Doherty and McBride celebrate Derry's 2012 FAI Cup final victory. Cathal Noonan / INPHO / INPHO
The transformation at the club since Kenny Shiels took charge in November 2015 has been drastic. The Candystripes won the FAI Cup in 2012 but since had claimed no silverware and a highest league finish of fourth, a lowest of eighth.
Doherty says he is looking forward to the test of European football come Thursday night and reflects that it is the reward of a year of hard work and progression for Derry last season.
"It is a tough draw, the toughest draw we could have got. At the end of the day that's why you try and perform so well during the whole year, so you can get into Europe and see what happens.
There's a lot of young players in our squad who have never experienced this before. I'm excited for them and for the preparation and flying out there and playing against different styles of football.
"It's going to be a massive experience and a massive learning curve for the younger boys in the squad and it will stand them all in good stead."
Exclusive Six
Nations Analysis
Get Murray Kinsella's exclusive analysis of Ireland's Six Nations campaign this spring
Become a Member
Doherty explains that Shiels has been an inspiring figure within the club since taking over, and despite his critics in the media for his outspoken opinions and brutal honesty, he has earned the respect of the players and the community.
To be fair to Kenny, I know sometimes he gets a hard time in the press, but he is the most honest manager I have ever worked under. There is no bluffing with him, he will just tell you straight and that's the type of person I like to deal with.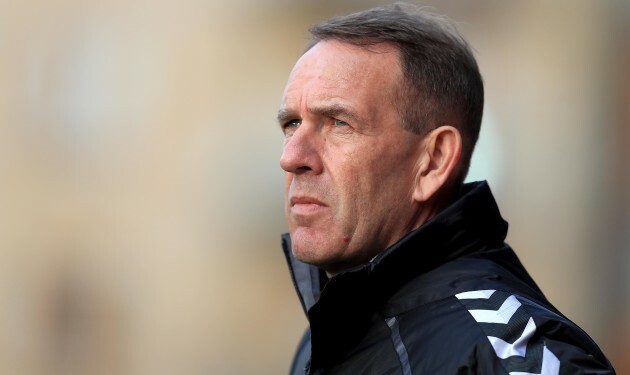 Donall Farmer / INPHO Kenny Shiels. "He leaves his house at five o'clock in the morning and he'd be setting up the pitch for training in the dark." Donall Farmer / INPHO / INPHO
"I think our squad has bought into his mentality too that you're not going to get away with anything. When he came in last year it was a breath of fresh air for the whole city and the whole club.
"Even if we were sitting down to prepare for a game he could change our mentality towards the team that we are playing against. We buy into what he is saying with a fresh pair of eyes and think that maybe he sees things differently.
We did really well last year. Overall everyone at the club and around the city really respects him. I've never seen a manager work as hard as Kenny in my life. He leaves his house at five o'clock in the morning and he'd be setting up the pitch for training in the dark.
"We'd come in and everything would be ready for us. That's the way he likes to prepare, he's hands-on and I can't speak highly enough of the man. The work and the quality he has brought to the club is there for everybody to see."
Doherty believes doing well in Europe is a possiblity for Derry, despite a tough draw against FC Midtjylland, a club who qualified for the Europa League in 2015 and faced Manchester United in the process.
The Derry captain maintains nonetheless that the League of Ireland club have earned their right to compete just like every other club at this stage in the competition. It is just reward for a brilliant campaign in 2016.
"Like everybody else in the draw we've earned our position there and it's up to us as a team and as a group of players to go out and try and perform as best we can. As I say, you never know. If you get a win you get that momentum, same as in the league. You get on a run and you kick on from there.
I think because Dundalk and Cork did so well last year that it gives you the motivation to try your best. Like them we play League of Ireland teams every week and don't do too badly, so we should be putting it on ourselves and have that ambition.
"Kenny is really trying to get that mindset into us this year that we're not just here to make up the numbers."
When the 35-year-old goalkeeper leads his side out it will feel like something is missing. But he explains that the team have taken a duty upon themselves to do their friend and captain proud. A player who worked so hard for them to get into Europe throughout last season.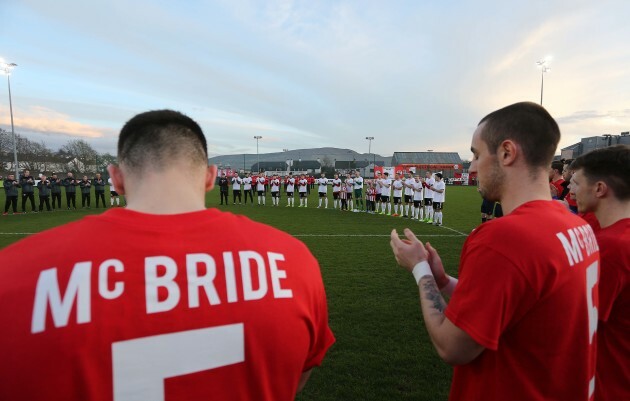 Presseye / Lorcan Doherty/INPHO Bray Wanderers players wear t-shirts in tribute to Ryan McBride. Presseye / Lorcan Doherty/INPHO / Lorcan Doherty/INPHO
They will play the return leg in Sligo Rovers' stadium The Showgrounds, but Doherty explains that in Maginn Park, their temporary home while the Brandywell undergoes renovation, there is a reminder of McBride's place in the side each and every week when they leave the dressing room.
"There's a big poster beside the door just before we walk out of the changing room in Maginn Park. It's always a reminder that Ryan is always going to be there.
"The shock of it has worn off but we know Ryan is still around. I live 20 yards away from the cemetery and sometimes I'll take a walk over and have a look around. It's still sort of raw seeing his picture on a headstone.
Ryan fought his heart out last year to win us games — that's why we are in Europe — and he definitely won't be forgotten about.
"That's the way football clubs are, people get together and stick together and be strong for each other. That's what we've done and what we will continue to do."
The42 is on Instagram! Tap the button below on your phone to follow us!